New Jersey-based progressive metal unit EAST OF THE WALL will be releasing their fourth full-length, Redaction Artifacts, on October 29th, once again through Translation Loss Records.
EAST OF THE WALL's first record since the departure of bassist Brett Bamberger and guitarist Kevin Conway sees the band's style expanding into a newer archetype, the sound of Redaction Artifacts surging with a more direct and driving core while the mellower and melodious atmospheres of the songwriting sound more vibrant and cohesive than ever. In Conway and Bamberger's place, the band's remaining members — Chris Alfano, who moved from guitar/vocals to bass/vocals, guitarist/vocalist Matt Lupo, and drummer Seth Rheam — have added Ray Suhy, a jaw-dropping guitar shredder from Portland, Maine, as well as guitarist/vocalist Greg Kuter, who adds the strongest melodic vocal presence the band has yet had.
Redaction Artifacts is the densest EAST OF THE WALL record to date, with eleven tracks of intricately conceived genre jumping metal. The album was tracked by Eric Rachel (Municipal Waste, God Forbid, Burnt By The Sun, Skid Row) at Trax East, and Todd Hutchinsen (Zud, The Baltic Sea) at Acadia Recording, and mixed by Eric Rachel at Trax East. In addition to the digital and CD versions through Translation Loss, Science Of Silence will be releasing the record on vinyl as a double LP.
Stay tuned for tunes from Redaction Artifacts and more to hit, including the band's first official video and more. In the meantime fans can check out the cover art and a Youtube trailer for the album below.
EAST OF THE WALL has confirmed several shows over the coming weeks, including several tri-state record release shows. Expect a barrage of new tour dates to be announced over the coming weeks and into next year.
EAST OF THE WALL Live:
10/13/2013 The Championship – Trenton, NJ w/ Diecast, Enemies Deceased
10/25/2013 Casa De Swezey (Record Release Show) – Centereach, NY w/ Old Wounds, Cryptodira
10/26/2013 ABC No Rio (3pm Matinee Record Release Show) – New York, NY w/ So Hideous, Meek Is Murder
10/26/2013 The Saint (Record Release Show) – Asbury Park, NJ w/ Tidal Arms, Estella
10/27/2013 TBA (Record Release Show) – Philadelphia, PA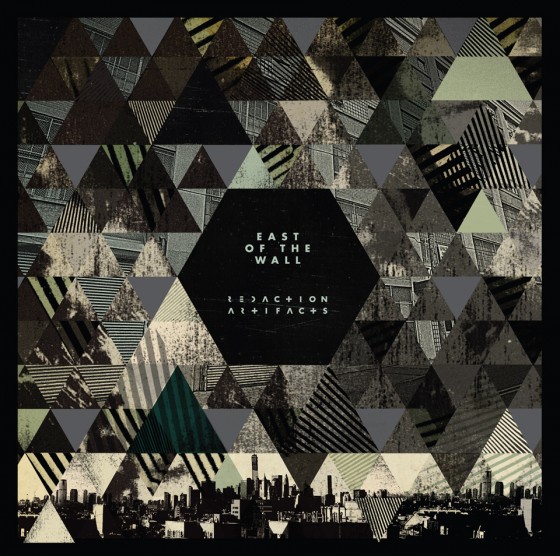 Redaction Artifacts Track Listing:
1. Solving The Correspondence Problem
2. I'm Always Fighting Drago
3. Obfuscator Dye
4. The Fractal Canopy
5. Arbiters Meet
6. Third-Person Camera
7. Excessive Convulsive
8. The Methuselah Tree
9. A Negligible Senescence
10. Redaction Artifacts
11. Noir Filter
http://www.eastofthewall.com
http://eastofthewall.bandcamp.com
http://www.twitter.com/eastofthewall
http://www.facebook.com/eastofthewall
http://www.translationloss.com