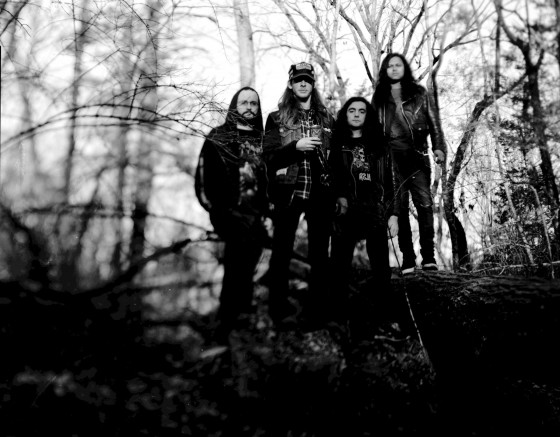 With a clear-cut mission of laying waste to all in their path with musically depraved indifference, today Harrisonburg, Virginia-based battalion EARTHLING blasts a shot of their mighty riffiage point blank into the populous realms through Pitchfork. Busting loose from the band's Dark Path debut LP, the second track from the album "Resent" is a prime example of EARTHLING's ominous, upbeat, corroded thrash, kicking off with what sounds like a drunken Exploited track that gets lost in an opium forest during an apocalyptic dust storm blackout, whirling into a white-knuckled spiral of face-erasing hammersolos and a cavalcade of percussive destruction.
Sound good? Pitchfork has you covered, releasing a statement which noted how the band: "…push each part of the song decisively into the red, so that, just when the whole thing starts to wobble, they transition and regain their footing. The instability breeds the same sort of excitement as a mosh pit, where the risk of wiping out only increases the thrill of serving as a standing pinball."
Dark Path will be forged on May 7th on CD/LP and digital, released by the band's cohorts at Forcefield Recording. The LP version will be pressed with 100 copies of yellow/red haze vinyl with half of the pressing shipping out with the band on tour, beginning this week as EARTHLING hits the road with local blackened sludgesmiths Inter Arma through the Northeastern states, and then again in the second half of May through the Midwest. A new tour poster crafted by Richmond artist Will Towels, EARTHLING video documentation and more can be witnessed below.
EARTHLING Northeast Tour w/ Inter Arma:
4/19/2013 Reggie's – Wilmington, NC w/ Inter Arma
4/20/2013 TBA – North Carolina w/ Inter Arma
4/21/2013 Slims – Raleigh, NC w/ Inter Arma, Salvacion
4/22/2013 Blue Nile – Harrisonburg, VA w/ Inter Arma, Midnight Eye
4/23/2013 The Lab – Washington, DC w/ Inter Arma, Midnight Eye
4/24/2013 Kung Fu Necktie – Philadelphia, PA w/ Inter Arma
4/25/2013 The Dustbowl – Hadley, MA w/ Inter Arma
4/26/2013 Democracy Center – Boston, MA w/ Inter Arma, Ramming Speed
4/27/2013 Saint Vitus Bar – Brooklyn, NY w/ Inter Arma, Batillus
4/28/2013 Golden West Cafe – Baltimore, MD w/ Inter Arma, Triac
EARTHLING May Midwest Tour:
5/15/2013 Al's Sidecar – Lexington, KY
5/16/2013 TBA – Indianapolis, IN
5/17/2013 Livewire – Chicago, IL w/ Oblong Box
5/18/2013 Cusumano's – Saint Louis, IL w/ Oblong Box
5/19/2013 Lost Cross – Carbondale, IL w/ Zuul
5/20/2013 Owl Farm – Nashville, TN w/ Across Tundras
5/28/2013 Blue Nile – Harrisonburg, VA w/ Cobalt & Lord Mantis
Having released a pair of three-song demos, a split 7″ with the mighty Valkyrie, and having extensively inundated their local DIY music circuit, EARTHLING has crafted a crusty, blackened, thrashing hybrid of metal drawing influences from across the spectrum of extreme music. Finally capturing their corrosive sound in the studio, and now prepares to unleash hell upon its own kind with Dark Path. A diverse, premier debut offering which will undoubtedly appeal to fans of all things ripping, Dark Path is a coarse display of the band's terrorizing spirit; a ravenous force that has guided the group through countless shows, relentless demo recordings, and over five years of sheer sacrifice. Recorded by Garret Morris (Windhand, Cough, Parasytic, Bastard Sapling) and mastered by Mikey Allred (Inter Arma, Hellbender, Across Tundras), one can rest assured that this album is well versed in sonic mayhem. Earthling naturally teamed-up with seasoned local label, Forcefield Records, who now boasts the album as one of its most gripping releases, and EARTHLING as one of its most promising bands.
https://www.facebook.com/earthling.virginia
http://www.forcefieldrecords.org
https://www.facebook.com/ForcefieldRecords