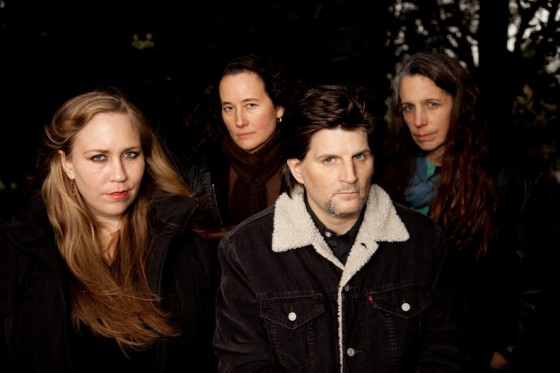 EARTH — who are about to embark on their next installment of tour dates in support of their Angels Of Darkness, Demons Of Light 1 opus throughout the Midwest and East Coast US in two weeks — have just confirmed a new full set of West Coast dates for the Summer months as well!
Today EARTH officially unveil eight brand new West Coast shows for July and August, based around their previously-announced performance at Washington's What The Heck? Fest. The new dates will see the band headlining shows in Oregon, California and their home state of Washington, with direct support from Angelo Spencer et Les Hauts Sommets on all dates, and will also include special guests including Wyrd Visions, Whirr and Tiny Vipers on several shows.
EARTH's founder/guitarist Dylan Carlson and drummer Adrienne Davies are available to American writers for phone interviews once again next week on Tuesday, May 31, and Wednesday, May 1 between the hours of 2pm and 9pm EST. Please get in touch right away to schedule a chat with one of them.
EARTH Confirmed Live Performances:
Midwest/East Coast American Tour:
6/08/2011 Mayne Stage – Chicago, IL w/ Ô Paon
6/09/2011 Mad Planet – Milwaukee, WI w/ Ô Paon
6/10/2011 Magic Stick – Detroit, MI w/ Ô Paon, Isosceles Mountain
6/11/2011 The Strutt – Kalamazoo, MI w/ Ô Paon
6/12/2011 Grog Shop – Cleveland, OH w/ Ô Paon
6/13/2011 Johnny Brenda's – Philadelphia, PA w/ Ô Paon
6/14/2011 Wadsworth Atheneum – Hartford, CT w/ Ô Paon
6/15/2011 Middle East Downstairs – Boston, MA w/ Ô Paon
6/16/2011 Le Poisson Rouge – New York City, NY w/ Ô Paon
6/17/2011 Ottobar – Baltimore, MD w/ Ô Paon
6/18/2011 Braddock Carnegie Library – Braddock, PA w/ Ô Paon
6/19/2011 The Historic Southgate House – Newport, KY w/ Ô Paon
*NEW – West Coast Tour:
7/13/2011 Doug Fir – Portland, OR w/ Angelo Spencer et Les Hauts Sommets, Wyrd Visions
7/14/2011 The Northern – Olympia, WA w/ Angelo Spencer et Les Hauts Sommets, Wyrd Visions
7/16/2011 Port Warehouse – Anacortes, WA @ What The Heck? Fest [info]
7/21/2011 Catalyst Atrium – Santa Cruz, CA w/ Angelo Spencer et Les Hauts Sommets
7/22/2011 Slim's – San Francisco, CA w/ Angelo Spencer et Les Hauts Sommets, Whirr
7/23/2011 Echoplex – Los Angeles, CA w/ Angelo Spencer et Les Hauts Sommets
7/24/2011 Casbah – San Diego, CA w/ Angelo Spencer et Les Hauts Sommets
8/02/2011 Tractor Tavern – Seattle, WA w/ Angelo Spencer et Les Hauts Sommets, Tiny Vipers
8/05/2011 The Shakedown – Bellingham, WA w/ The Narrows, Cold Lake
9/09/11 Hopscotch Music Festival – Raleigh, NC [info]
10/02/2011 I'll Be Your Mirror, curated by Portishead & ATP – Asbury Park, NJ [info]
http://www.thronesanddominions.com
http://www.myspace.com/earthofficial
http://www.southernlord.com
http://blog.southernlord.com
http://www.myspace.com/southernlordrecordings
http://twitter.com/twatterlord