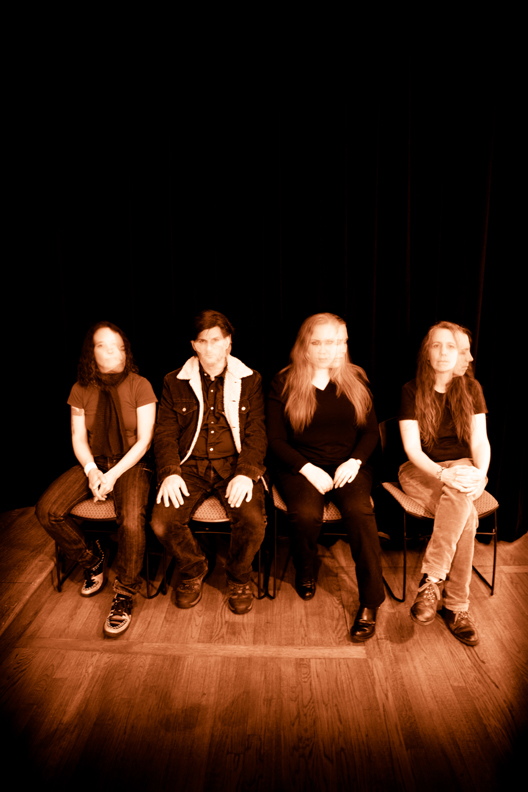 American drone ensemble EARTH yesterday completed their five-week European tour with support from Sabbath Assembly, the successful venture coming to a smashing close in Brugge, Belgium.
EARTH are now headed back to Washington to rest up for a few weeks, and prepare for the next leg of their Angels Of Darkness, Demos Of Light 1 tour. Embarking in early June, EARTH will perform for twelve cities throughout the Midwest and Northeast U.S., bringing Ô Paon along for the ride.
The band will not sit around long after, as EARTH are currently plotting upcoming West Coast and Southeast U.S. tours for the Summer months, which will be announced in the coming weeks.
Other confirmed American festival appearances for EARTH in the months ahead include What The Heck? Fest, in their home state of Washington this July, joined by Liturgy, Mount Eerie, Ô Paon, Thrones and many more. EARTH are also confirmed to perform at Hopscotch Music Festival, in Raleigh, North Carolina alongside The Flaming Lips, Swans, Rhys Chatham and countless other acts. In October, EARTH will return to the East Coast where they've been invited to take part in I'll Be Your Mirror, curated by Portishead & ATP America, appearing at the massive festival with Swans, Mogwai, Shellac and dozens more.
Midwest/East Coast American Tour:
6/08/2011 Mayne Stage – Chicago, IL w/ Ô Paon
6/09/2011 Mad Planet – Milwaukee, WI w/ Ô Paon
6/10/2011 Magic Stick – Detroit, MI w/ Ô Paon, Isosceles Mountain
6/11/2011 The Strutt – Kalamazoo, MI w/ Ô Paon
6/12/2011 Grog Shop – Cleveland, OH w/ Ô Paon
6/13/2011 Johnny Brenda's – Philadelphia, PA w/ Ô Paon
6/14/2011 Wadsworth Atheneum – Hartford, CT w/ Ô Paon
6/15/2011 Middle East Downstairs – Boston, MA w/ Ô Paon
6/16/2011 Le Poisson Rouge – New York City, NY w/ Ô Paon
6/17/2011 Ottobar – Baltimore, MD w/ Ô Paon
6/18/2011 Braddock Carnegie Library – Braddock, PA w/ Ô Paon
6/19/2011 The Historic Southgate House – Newport, KY w/ Ô Paon
7/16/2011 What the Heck Fest – Anacortes, WA [info]
9/09/11 Hopscotch Music Festival – Raleigh, NC [info]
10/02/2011 I'll Be Your Mirror, curated by Portishead & ATP – Asbury Park, NJ [info]
Stay tuned for more interview opportunities with the members of EARTH in the coming weeks, and for more tour dates to be announced as well. Reviews copies of Angels Of Darkness, Demos Of Light 1 are also still available.
"The combination of revisiting the discordant drone of the early days with the dustbowl desolation of its current method is a winning formula…" – Relix Magazine
"…there's a twang and smolder to its sound, whammy bars smear honeyed licks into gold-leaf lattices, and the moniker has taken on a rootsy ring." – Filter Magazine
"…the intricacies of this Earth… demand attention and immersion. That is, check in, not out, and you'll rarely hear four players with as much quiet command." – Pitchfork
"…Earth's newest album manages to redefine American roots music, their impressionistic colossus a potential crossover for fans of antiquated country, folk and blues music. 10/10" – No Ripcord
"…unlike most heavy-music acts it changed over time as human beings actually do. Its music became lighter and clearer and wiser; it started having more to do with Indian music and La Monte Young and Miles Davis's 'In a Silent Way.'" – The New York Times
"As Earth developed its heavy instrumental vision in the past six years, subtle deviation has been crucial to the band's renewal. Angels of Darkness, Demons of Light 1 is the latest installment in that trajectory, adding a cello, desert blues and British folk-rock motifs to Earth's slow-moving Americana." – NPR
"…for those who can surrender to the serene and gradually unfolding sound, this hour-long listen is simply copasetic. 9/10" – The Montreal Mirror 'album of the week'
"…Angels of Darkness, Demons of Light 1 invites its listeners into that silent continuum that makes music whole. 4/5" – Tiny Mix Tapes
http://www.thronesanddominions.com
http://www.myspace.com/earthofficial
http://www.southernlord.com
http://blog.southernlord.com
http://www.myspace.com/southernlordrecordings
http://twitter.com/twatterlord