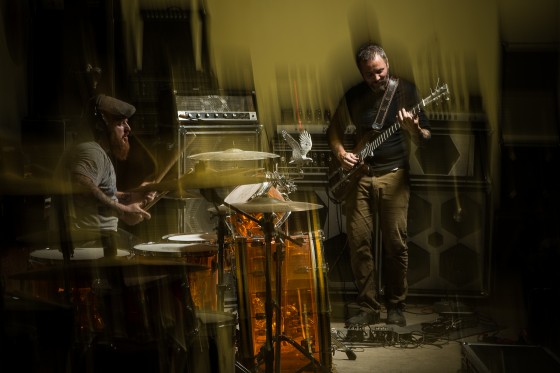 As The Feather Tipped the Serpent's Scale — the sophomore LP from Salt Lake City-based duo EAGLE TWIN — nears official release via Southern Lord at the end of this month, today Guitar World is hosting a stream of the second song from the highly anticipated album. Clocking in with over nine massive minutes of the band's revered monstrous, mutating riff buildups and devastating percussion, "Ballad of Job Cain Part II" perfectly displays the outfit's unique style that has captivated fans since their 2007 inception.
Also, this week Spin Magazine posted their 5 Best New Artists For August 2012 list, which includes EAGLE TWIN!
The new hype lands in conjunction with EAGLE TWIN's first full-on live trek in support of the release of The Feather Tipped the Serpent's Scale, as the duo are currently ripping through a dozen cities in a counter-clockwise path down the West Coast with support from venomous fellow Salt Lake City act Gaza, including a performance at this year's The Power Of The Riff West festival in Los Angeles. EAGLE TWIN will be debuting some new amplification equipment in the form of HEX cabs and tube amps on this tour, a brand built by the members of the band and couple of their cohorts. Goatsnake, Sunn 0))) and other notable acts have been seen utilizing some of this HEX gear over recent years, and now EAGLE TWIN will be putting their own gear to the test on the current dates.
The Feather Tipped the Serpent's Scale, picks up right where the EAGLE TWIN's acclaimed 2009-released debut LP The Unkindness of Crows left off. In this installment the crows documented in the first album have battled the sun and were burned back down to earth as black snakes, the concept of the album continuing mainly on the snake and its various mythic and symbolic incarnations. Ultimately the great ancestral snake is transformed from its lowly beginnings back into a bird soaring upon the thermals. As with The Unkindness of Crows, guitarist Gentry Densley (ex-Iceburn) drummer Tyler Smith (ex-Form of Rocket) recorded The Feather Tipped the Serpent's Scale with Randall Dunn at London Bridge Studio, the finished product bellowing with over fifty minutes of the band's most mammoth material to date.
EAGLE TWIN West Coast Tour w/ Gaza:
8/02/2012 The Boise Venue – Boise, ID
8/03/2012 El Corazon – Seattle, WA
8/04/2012 Backspace Cafe – Portland, OR
8/05/2012 Origami Recording Lounge – Chico, CA
8/06/2012 Ryan's Saloon – Reno, NV
8/07/2012 Thee Parkside – San Francisco, CA
8/08/2012 CYC (Chinatown Youth Center) – Fresno, CA
8/09/2012 Secret Desert Show – Death Valley, CA
8/10/2012 Kensington Club – San Diego, CA
8/11/2012 Echo/Echoplex – Los Angeles, CA @ The Power Of The Riff West [info/tickets]
8/12/2012 Chasers Nightclub – Scottsdale, AZ
EAGLE TWIN New Zealand/Australia Tour w/ Russian Circles:
9/26/2012 Kings Arms Tavern – Newton, NZ
9/27/2012 San Francisco Bathhouse – Wellington, NZ
9/28/2012 Corner Hotel – Melbourne
9/29/2012 Fowler's Live – Adelaide
9/30/2012 The Bakery – Perth w/ Drowning Horse
10/04/2012 ANU Bar – Canberra
10/05/2012 The Zoo – Brisbane
10/06/2012 The Hi Fi – Sydney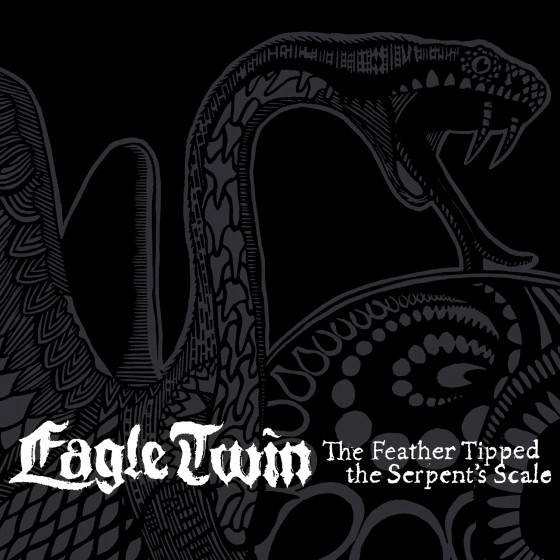 http://www.myspace.com/eagletwin
http://www.facebook.com/hex.cabs
http://www.southernlord.com
http://blog.southernlord.com
http://twitter.com/twatterlord