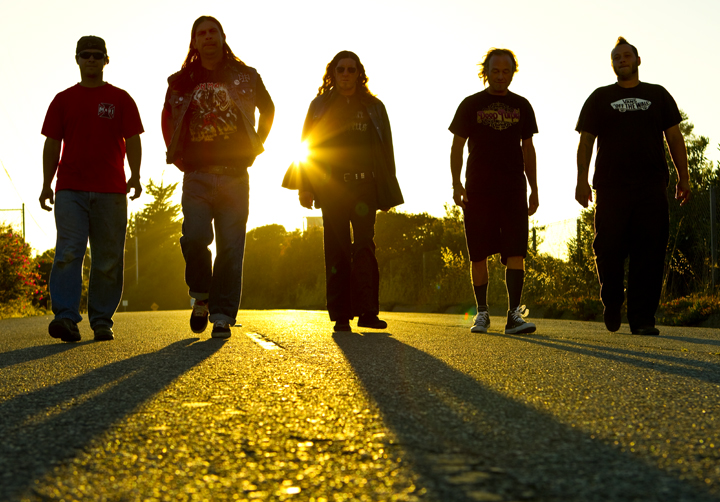 DUSTED ANGEL's long-anticipated full length Earth Sick Mind is out now via Mankind Records, bearing seven thunderous anthems for public consumption. The band's blend of raging rock/hardcore crossover and cerebral doom elements has been slowly infecting full-on headbangers, stoner rock aficionados and all in between over the past two years, and it all comes together seamlessly on the 40-minute long debut album.
Merging DUSTED ANGEL's longstanding ties to West Coast hardcore/rock as well as their infamous California surf and skate legacy — with several members hailing from notorious SST surf/skatecore legends Bl'ast — the band have teamed up with the almighty Thrasher Magazine in celebration of the release of DA's album, with a full-page ad and promotion in the December issue of the mag (out 11/15) where readers can receive a free copy of Earth Sick Mind with a one-year subscription to the mag!
After recently storming San Francisco opening for DC Hardcore legends Scream last month, DUSTED ANGEL are busy racking up more live dates for the coming months. Within the coming weeks we'll be announcing the band's upcoming participation in one badass West Coast tour early in 2011; more details will follow very shortly. For now catch them live at the Art n' Soul presents Modern Living event at San Jose's Voodoo Lounge next week; an event chock full of partying, art, music, and a full-on skate ramp setup, for a day of total debauchery.
DUSTED ANGEL live:
11/17/2010 Voodoo Lounge – San Jose, CA w/ Hightower
DUSTED ANGEL contains members of skatecore legends Bl'ast, metal experimentalists Spaceboy, corrosive sludge metal act Gargantula and more. All longtime friends from time spent in previous bands, or just from growing up in the Santa Cruz skate/surf/slam scene together for the past 20 years, brought DUSTED ANGEL together in 2008. They've done nothing but rock your face off ever since…
Interviews with frontman Clifford Dinsmore are available via phone or email anytime! Contact Earsplit for promos, interviews or any other press requests for DUSTED ANGEL.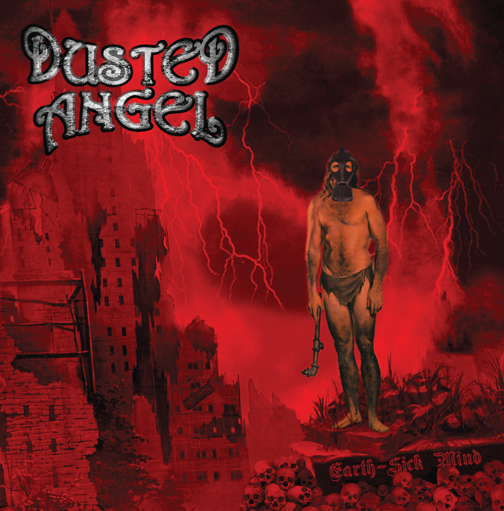 "…no doom fan should miss out on Dusted Angel. As classic and downright airtight as their take on the heavy blues is, there's still a lot of hardcore vitriol and fist-pumping metal erupting from every orifice of Earth Sick Mind." – Hellride Music
"Seven slow to mid-paced songs with plenty of huge, infectious riffs, a thick production with a nicely audible bass, hard hitting percussion, and a gruff wail from vocalist Clifford Dinsmore all come together to produce a solid stoner metal album." – About.com
"…Dusted Angel are a solid band with a wealth of experience that more than pays off on Earth Sick Mind. They've played with Fu Manchu, Nebula, Saviours, Saint Vitus and Black Cobra, and I can wholeheartedly recommend Dusted Angel to any fan of those bands." – The Sleeping Shaman
"…it plays like math, jazz and head expanded paraphernalia in a post-Black Flag, post-90s, post-Kyuss, post-Helmet musicscape." – Stereokiller
Stay tuned for more updates on the album, the shows, the chaos, of DUSTED ANGEL.
http://www.myspace.com/dustedangelrocks
http://www.mankindrecords.com
http://www.myspace.com/mankindrecords