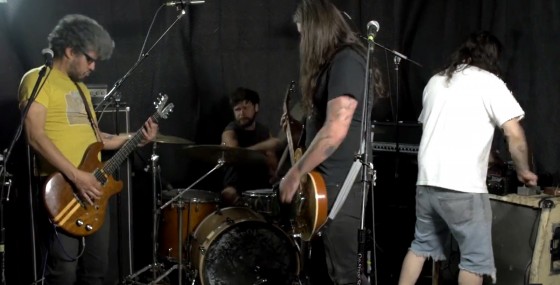 Noncompliant to even the term "noise ordinance," Northwestern hardcore/noise addicts DRUNK DAD recently raided TVPDX Portland Television studios to lay down a half-six-pack of tracks, the first of which now spills out onto public domain. The first of several bludgeoning video segments from this session drops today with "Whiskey Liver," culled from their 2014 Eolian Empire-released debut LP, Ripper Killer. Multiple cameras and sound engineering duties courtesy of TVPDX and Caravan Recordings capture the horde delivering their intoxicating, sonic demolition, the primary noise rock-soaked quartet joined in the studio by harsh noise soloist and cohort REDNECK, as on the album.
Scope the DRUNK DAD sickos' "Whiskey Liver" in HD A/V with TVPDX at THIS LOCATION.
The additional two tracks captured at this session will also be released in the coming days as DRUNK DAD hits the road again. The band scathes their hometown with labelmates Hot Victory tonight, May 14th, with a three-city trek through Sacramento, Oakland and Reno hammering the West Coast next week, on May 21st, 22nd and 24th, respectively.
DRUNK DAD Live:
5/14/2015 Star Bar – Portland, OR w/ Hot Victory, Moan [info]
5/21/2015 The Colonial Cafe – Sacramento, CA w/ Columbian Necktie, XtomhanX [info]
5/22/2015 The Golden Bull – Oakland, CA w/ Ditch Witch, Crypt Trip, Hellbeard [info]
5/24/2015 The Loving Cup – Reno, NV w/ Elephant Rifle, Sisters Doom [info]
Released through Eolian Empire in July 2014, DRUNK DAD's Ripper Killer LP inebriated the planet, inciting jeers from mags like Decibel, who issued that the band's depravity combines, "the thunderous sludge of Melvins, the confrontational punk rock of Flipper, and the abrasion and psychosis of Harvey Milk," and Noisey, who championed the band, "a bunch of irreverent, whiskey-swilling noisemakers, roaming the streets of Portland's nightlife in an effort to refuel their Jim Beam tanks," continuing, "when they tell you their genre is 'fuck you all' wave, they mean it. Really. Fuck you all, and fuck you for asking." Zero Tolerance offered in part, "DRUNK DAD do that ugly rot-that-walks sound with a pair of still-functioning bull-sized testicles," Invisible Oranges likened Ripper Killer to, "a triple word score for 'noise rock' and 'grunge'," and Verbicide called the record, "equal parts shocking, thrilling, and kick ass."
Get ready for another raging bender in the months ahead as DRUNK DAD preps new anthems of dissolution for release later this year.
http://www.facebook.com/drunkdadsagainstmothers
http://www.drunkdad.bandcamp.com
http://www.eolianempire.com
http://goods.eolianempire.com
http://www.facebook.com/eolianempire