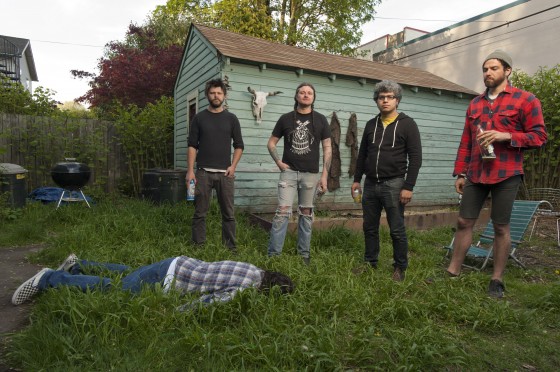 Since Portland, Oregon's fuck-you-all-wave outfit, DRUNK DAD, is about to unload their debut LP Ripper Killer on Tuesday, the fine enablers at Invisible Oranges have aided in spreading the word early by streaming the entire gruesome platter this fine Friday.
In just over a half-hour of destructive loathing and bloodclot-fueled tirades amidst an avalanche of gnarled, backbending riffs, indiscriminately devastating drumrolls and punishing noise outbursts, Ripper Killer takes DRUNK DAD's jacked-up homicidal grunge metal to new lows; songs which are receiving fired-up fist-pumps from critics and believers well beyond their home turf, including comprehensive extreme underground outlet Invisible Oranges. Now streaming the entire eight Ripper Killer outbursts, the stream's paired write-up oozes praise all over the shredding ways of the record, stating it's "like a triple word score for 'noise rock' and 'grunge.' Where other wearers of those styles are content to do a community theater approximation of danger, DRUNK DAD go right for the jugular." It continues, "'Fuck in Garbage' squirms like the Melvins and has a Flipper-y antagonism. The title track is Nirvana augmented by old Dwarves and might be one of the few songs created in his spirit that Cobain would've enjoyed. But DRUNK DAD are their own thing, far more electric than imitators could ever hope to be."
Get caught in the knock-down, drag-out style of Ripper Killer at Invisible Oranges HERE.
Ever wanted to hear what Kurt Cobain throwing the Butthole Surfers and Melvins in a wood chipper sounds like? DRUNK DAD breaks down the stifling genre walls of yore and rewires the wreckage into a megaheavy alloy of scuzz, filth, and noise; a caustic cocktail of influential Pacific Northwestern alumni spiked with ipecac and bits of glass and bone, dredging out noise-infused chaos like a plane crashing into your face during the worst hangover ever, in part courtesy of local harsh noise cohort and labelmate, REDNECK, who helps soil the majority of Ripper Killer and even has a track of his own. Portland outsider label, Eolian Empire, will release Ripper Killer on July 1st via digital delivery and heavyweight 180-gram LP in a run of 475 copies, each including a 12″ x 24″ poster/insert and digital download code. Preorders are live; send a small fraction of your beer fund HERE.
A hometown record release show has been booked for July 11th at the Information Warehouse, where DRUNK DAD will destroy everything in earshot alongside Eolian Empire cohorts Honduran and Big Black Cloud, and support from Tyrants and Health Problems. The band will also take part in the Eolian-booked anti-fest, Festicide, erupting in Portland directly in the way of Musicfest NW this August; DRUNK DAD will take part in a slamming all-ages matinee at Slabtown on August 17th. And the band's September US tour with Honduran is nearly booked, and will be announced in the coming days.
DRUNK DAD Live:
7/11/2014 411 Warehouse – Portland, OR *record release show w/ Honduran, Big Black Cloud, Tyrants, Health Problems
8/17/2014 Slabtown – Portland, OR @ Festicide
http://www.facebook.com/drunkdadsagainstmothers
http://www.drunkdad.bandcamp.com
http://www.eolianempire.com
http://goods.eolianempire.com
https://www.facebook.com/eolianempire