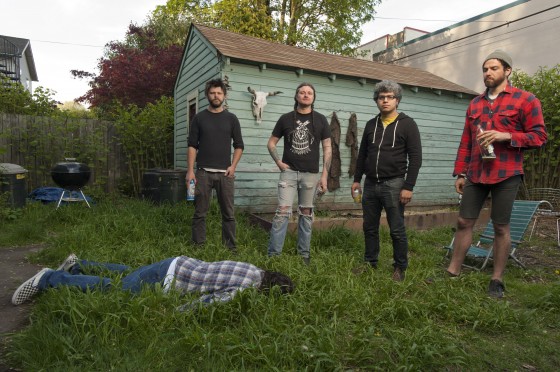 The members of Portland, Oregon's self-proclaimed "fuck-you-all-wave" unit, DRUNK DAD, is getting juiced-up in preparation for the release of their debut LP, Ripper Killer, and today the first shot of the album's nihilism has been poured four your intoxication at Noisey/VICE.
As outsider label Eolian Empire loads Ripper Killer into their mortars, DRUNK DAD is more than obliged to give the public to get a sonic beating from their gnarly Ripper Killer, in the form of the loaded and unhinged slam of "Light A Fire." Like a caustic cocktail of influential Pacific Northwestern alumni spiked with ipecac and bits of glass and bone, a driving Poison Idea-speed intro soaked in Nirvana-esque bending and crooning seemingly falls apart midway through the track, dredging out noise-infused chaos like a plane crashing into your face during the worst hangover ever, giving the listener an emotional beatdown of the insensitive kind, in part courtesy of local harsh noise cohort and labelmate, REDNECK, who helps soil the majority of Ripper Killer and even has a track of his own. Alongside this first taste of the LP, folks can also get a whiff of the band's antagonistic outlook with an in-depth feature, "I Got Drunk With A Band Called Drunk Dad," where the bros simply mince humankind down to a pulp amidst rounds of the finest shitty whisky at the local watering trough.
Get ripped and "Light A Fire" with DRUNK DAD at Noisey RIGHT HERE.
Ripper Killer Track Listing:
1. Five Pack
2. Life's Work
3. Fuck in Garbage
4. Light a Fire
5. S.O.U.
6. Ripper Killer
7. Worthless
8. Whiskey Liver
Preorders for the heavyweight 180-gram LP in a run of 500 copies, each including a 12″ x 24″ poster/insert and digital download code, are live in advance of Ripper Killer's July 1st release from the Eolian hut HERE.
DRUNK DAD is booking a record release show for Ripper Killer in late June, as well as a wide-scale US tour with labelmates Honduran at the end of the Summer to be announced soon. In the meantime, they'll waste those in attendance at the Stoneburner record release show tonight, May 9th, also joined by Murmurs, Snakes and Recessions, followed by another hometown gig on May 30th with Rabbits and Montreal's The Great Sabatini.
DRUNK DAD Live:
5/09/2014 Tonic Lounge – Portland, OR w/ Stoneburner, Murmurs, Snakes, Recessions [info]
5/30/2014 The Know – Portland, OR w/ Rabbits, The Great Sabatini [info]
Breaking down the stifling genre walls of yore, DRUNK DAD rewires the wreckage into a megaheavy alloy of filth, and noise in a knock-down, drag-out war of ill will wrapped in a nasty bow. Hatched at long disintegrating Portland punk house/venue Failhaus in 2010 — at first an almost homage, albeit a convincing one, to their Northwest heavy heroes — DRUNK DAD quickly shoved their own way forward, dragging their dirty NW rock roots through sludge and noise and then mashing them together with metallic hardcore and avant diversions to form their own crusty scuzzcore. Not known for going easy, they went at it even harder this time through the tracking process, the angst now culminated in their gnarliest, most inventive noise yet in their first LP, Ripper Killer.
http://www.facebook.com/drunkdadsagainstmothers
http://www.drunkdad.bandcamp.com
http://www.eolianempire.com
http://goods.eolianempire.com
https://www.facebook.com/eolianempire