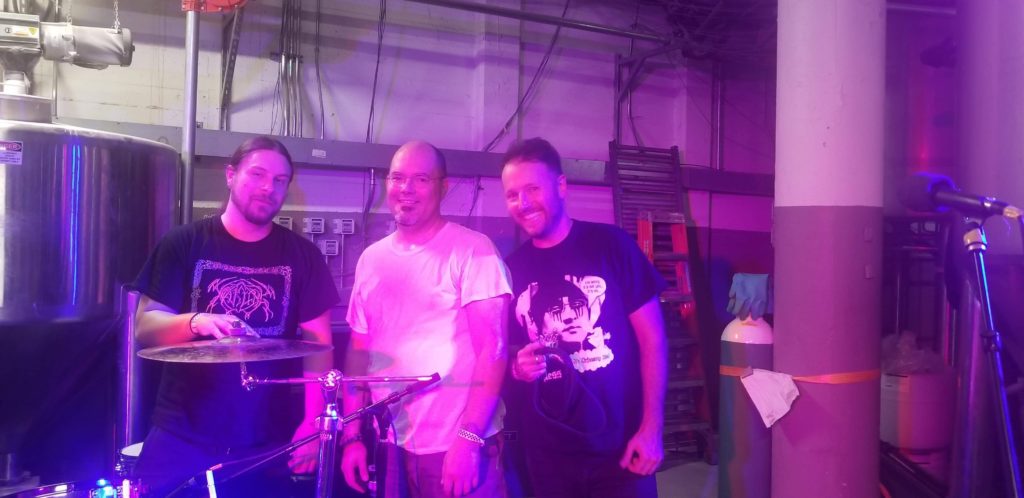 [photo by Will Cook]
Northern Virginia's grind/rock trio DRUGS OF FAITH is currently in the studio capturing what will become their next release.
DRUGS OF FAITH is recording with Kevin Bernsten at Developing Nations in Baltimore (Noisem, Full Of Hell, Magrudergrind, Ilsa), having captured most of the guitars, bass, and drums last weekend. They will return this weekend to record vocals and complete the process, after which, the tracks will be mixed on location and sent to JC Griffin at Lakebottom Recording for mastering. The tracks will see release in the form of a new 7″ EP through Selfmadegod Records in 2019.
DRUGS OF FAITH's lineup features vocalist/guitarist Richard Johnson (Enemy Soil, Agoraphobic Nosebleed), bassist Ivan Khilko (Belus), and drummer Ethan Griffiths (Embra). Since its 2002 inception the band has delivered several albums among a line of demos, EPs, and splits with Antigama and Cloud Rat, with releases on Selfmadegod Records, Malokul, Contaminated Tones, an installment of the Decibel Magazine Flexi Series. and more.
Watch for additional details on the band's incoming EP, live dates, and more to be released in the weeks ahead.
http://www.drugsoffaith.com
http://www.facebook.com/drugsoffaith
https://drugsoffaith.bandcamp.com
http://www.selfmadegod.com
http://www.facebook.com/selfmadegod
http://www.youtube.com/user/SelfmadegodRecords
https://selfmadegod.bandcamp.com
https://twitter.com/selfmadegodrec