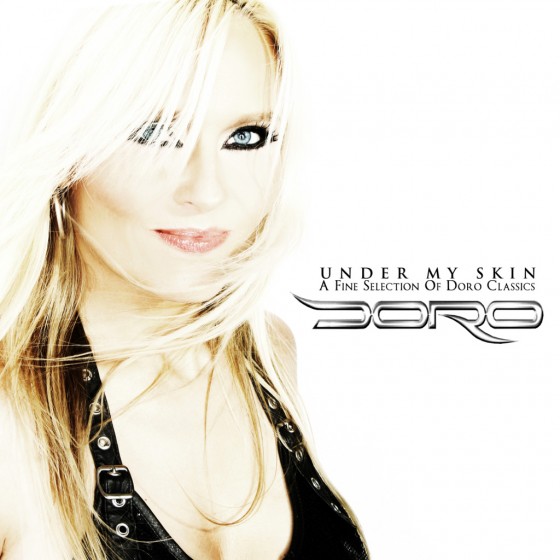 Legendary Queen of Metal, DORO PESCH, will release Under My Skin – A Fine Selection Of Doro Classics in North America via AFM Records next month. Set for release on August 14, 2012, the mammoth career-spanning retrospective – which already entered the German charts at #53 upon its first week of release overseas – includes more than 30 tracks spread across two CDs. Compiled in close collaboration between AFM and DORO herself, the gorgeous package offers an abundance of DORO staples as well as rare B-side singles and hand-written liner notes. Under My Skin… is also available in a limited wooden fanbox edition (1000 copies; import only) which includes a two-CD digipak, flag, patch, bracelet, a postcard and a certificate of authenticity. For more info, point your browser HERE.
Under My Skin – A Fine Selection Of Doro Classics Track Listing:
CD 1
01. All We Are (Version 2007)
02. You're My Family
03. I Rule The Ruins
04. Celebrate
05. The Night Of The Warlock
06. Strangers Yesterday
07. Walking With The Angels
08. Metal Tango
09. Thunderspell
10. Herzblut
11. Warrior Soul
12. My Majesty
13. Für Immer
14. Love Me In Black
15. Always Live To Win
16. Running From The Devil
17. Above The Ashes
18. Let Love Rain On Me

CD 2
01. Celebrate (Full Metal Female Version)
02. Rescue Me
03. Rare Diamond (Acoustic Version)
04. Angel In The Dark
05. 1999
06. In Liebe Und Freundschaft
07. I Lay My Head Upon My Sword
08. Tausend Mal gelebt
09. Wildfire
10. Breaking The Law
11. She's Like Thunder (Version 2005)
12. The Queen
13. You Won My Love
14. Lonely Wolf
In related news, DORO was recently added to the third annual 70000 Tons Of Metal lineup. The original heavy metal cruise takes place in January 2013 and features 40 metal bands and 2,000 fans from all over the world seafaring the Caribbean on a luxury cruise ship for a 5-day/4-night ocean adventure. Sporting the biggest open air stage to sail the open seas, the world's biggest floating heavy metal festival will include: Ensiferum, Lacuna Coil, Nile, In Flames, Immolation and more! For more info, go to THIS LOCATION.

DORO was recently featured in Decibel Magazine's August 2012 special "Women In Metal" issue. In an interview conducted by J. Bennett, DORO discusses her new Raise Your Fist record, reminisces about quitting her job in 1986 to tour with Judas Priest, what her one-year stint in a hospital years ago taught her, and the nexus of attitude and being dignified. If you missed it, you can still secure your copy HERE.
http://ww.DORO.de
http://ww.facebook.com/DOROOFFICIAL
http://www.twitter.com/DOROOFFICIAL
http://www.YouTube.com/DOROOFFICIAL
http://www.myspace.com/DOROBAND
http://www.afm-records.de
http://de-de.facebook.com/afmrecords