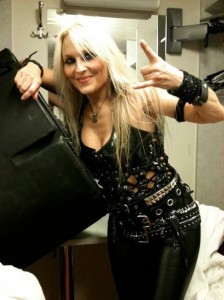 Legendary metal maven, DORO PESCH, will perform a special show in New York City this Fall. Scheduled for September 9, 2011 at the Gramercy Theatre, the show will mark the official U.S. screening/release party for DORO's 25 Years In Rock DVD, set for release in North America via Nuclear Blast on September 13. Released in Europe late last year (also via Nuclear Blast), the epic 2 DVD/CD set includes DORO's 25-year anniversary show in its entirety as well as out-takes from her 2,500th concert and so much more. Tickets for the show will go on sale July 6, 2011. For more info, point your browser HERE.
In related news, professionally filmed video footage PESCH's entire Hellfest performance in Clisson, France can be viewed HERE (courtesy of Arte, a Franco-German TV network).
an TV network)
For the next three nights, the German metal queen will be filling in for singer Tim "Ripper" Owens on the following Dio Disciples dates:
7/01/2011 Rockstar Live – Bilbao, Spain
7/02/2011 Heineken – Madrid, Spain
7/03/2011 Bikini – Barcelona, Spain
Dio Disciples is the new project featuring former Dio members Rudy Sarzo (bass), Simon Wright (drums), Craig Goldy (guitar) and Scott Warren (keyboards), along with Owens and additional singer Toby Jepson, who pay tribute to legendary vocalist, Ronnie James Dio. Owens was unable to make the Spanish shows to celebrate his daughter's wedding.
Commented Pesch: "I'm so excited to be a part of this tour. I listened day and night to Ronnie James Dio's amazingly wonderful song and I will try me very best to do a good job with them. I feel so honored and blessed to be a part of this and to keep Dio's music and magic alive. He was truly the greatest rock and metal singer of all time. We love you, Ronnie. I will sing my heart out for you and the fans. "
More DORO news, including additional U.S. dates, to come. In the meantime, be sure to check out DORO's new (and official) fan page at: http://www.facebook.com/DoroOfficial.
* * *