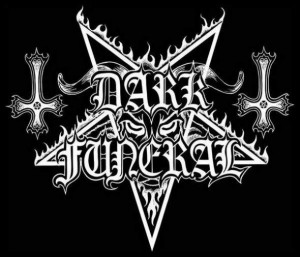 Swedish black metallers, DARK FUNERAL, have officially announced a replacement for longtime vocalist,
Emperor Magus Caligula. In an official statement from guitarist Lord Ahriman:
"It surely was not an easy task to find a worthy replacement for Emperor Magus Caligula, who has been doing an amazing job for DARK FUNERAL during the past 15 years. He has not only been 'the vocalist' for the band, but also a very good friend and he always will be! Anyway, ten months of intense searching worldwide has finally given result and I'm very proud to announce and welcome Nachtgarm to the horde.
I think I can speak for everyone in the band and say that besides completely knocking us down with the strength of his vocals and wide register, what truly blew us away was his presence, energy and the amazing spirit he showed during the final audition. He just came into the rehearsal room and took his rightful spot. And then just set the whole place on hellfire!
It's really hard to explain 'that' certain feeling one is looking for, but once you get it, you just know that you've found the right man for the job. And that is something we all got 'deluxe.' No doubt about that! Mankind has no idea what is coming upon them. And I can't wait to bring this maniac on tour for the world to experience DARK FUNERAL in the most intense and hellish way ever!
During the time we've been looking for a new vocalist and drummer, we've received over 1000 applications. The interest to join DARK FUNERAL has been way over expectation and quite overwhelming to say the least. And I'd like to take this opportunity to thank everyone who applied for the jobs. One thing is for sure: There are a lot of unknown talents out there. And once they've found the right band to deliver their goods, I'm sure we all will hear from many of these guys in the future. Good luck!"
Guitarist Chaq Mol comments: "When E.M. Caligula quit the band my first thought was, 'how the fuck will we be able to find a worthy replacement now?' In my eyes, he was the best vocalist in the black metal scene. After we had listened to a couple of hundred applicants, there were two guys that really stood out and sounded very promising. The question was, would they nail it on a live audition too, and would their personalities be of the kind we were looking for? Well, after ten months, we finally found the right man for the job! And all my previous doubts and concerns are now a memory forgotten. Nachtgarm, welcome to the horde!"
Adds Nachtgarm: "To me, DARK FUNERAL is the epitome of black metal. To be a member of this institution now, is not only a big honor for me, but is also complementing my work as a lead singer as well as my action at the front of the stage throughout the years. Consequently, I am very glad that DARK FUNERAL put their unholy faith in me and my abilities. As the successor of Emperor Magus Caligula, I am quite aware of the high expectations being directed to my person. However, I can assure every one of you out there that with every breath I take I will live up to these expectations. Hands down. This is the arrival of Satan's Empire. Now let us set this world aflame!"
In related news, DARK FUNERAL have been added to the 70000 Tons Of Metal bill for 2012. The World's Biggest Floating Heavy Metal Festival will sail Monday, January 23, 2012 aboard the Royal Caribbean "Majesty Of The Seas" from Miami, Florida to George Town, Cayman Islands and will return Friday, January 27, 2012. Other bands confirmed for the event include: Amorphis, Coroner, Moonsorrow, My Dying Bride, Nightwish, Pestilence Therion and many others. Ticket prices start at US $666 plus US $289 taxes and fees per person and include all on-board entertainment, non-alcoholic/non-carbonated beverages, all meals at the dining rooms and most on-board restaurants. There's even 24-hour room service!
What are you waiting for? You might even need a vacation from this vacation when all is said and done! Check out: http://www.70000tons.com for more information and book your cabin NOW!
Nachtgarm on Facebook:
http://www.facebook.com/pages/Nachtgarm-Dark-Funeral/203369516376117
Lord Ahriman on facebook:
http://www.facebook.com/LordAhriman666
Dark Funeral on facebook
http://www.facebook.com/darkfuneral
Diaboliswear on facebook [webshop]
http://www.facebook.com/diaboliswear
http://www.darkfuneral.se
http://www.myspace.com/darkfuneral
http://www.twitter.com/darkfuneral
* * * *