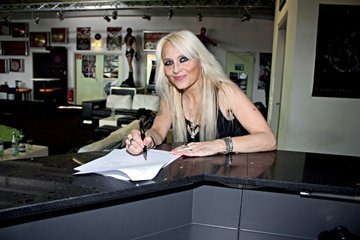 Nuclear Blast Records Europe is proud to announce the signing of German metal queen DORO PESCH. The first mutual release will be the 2 DVD/CD set entitled 25 Years In Rock featuring the entire 25-year anniversary concert at the ISS Dome in Düsseldorf, Germany. The jaw-dropping performance includes a career-spanning set list and guest performances in front of 10,000 fans as well as a China special, out takes from DORO's 2,500th gig and more. The release is planned for November 2010. Further details to be unveiled soon.
Commented PESCH: "I'm absolutely happy to be a part of Nuclear Blast now and am looking forward to putting the pedal to the metal together!"
Added Nuclear Blast founder, owner and CEO Markus Staiger: "We're so proud to welcome the greatest, most important and most influential German rock singer DORO PESCH to the Nuclear Blast Family. DORO has influenced our musical universe like no other! Back in the '80s she already made history with Warlock, and ever since she's been defending her undisputed title as #1. Her striking solo career is a victorious march and her live performance still fascinates. In addition, DORO is such a fantastic, tender and gracious person who lives for her fans which has impressed us ever since. We are looking forward to the upcoming DVD 25 Years In Rock and the following studio albums."
In related news, PESCH will make her Japanese debut this fall with three special dates in Tokyo, Nagoya and Osaka!
DORO PESCH – Japan 2010:
10/08/2010 Holiday Shinjuku – Tokyo, Japan
10/10/2010 Holiday Nagoya – Nagoya, Japan
10/11/2010 Holiday Osaka – Osaka, Japan
Said an excited PESCH of the upcoming shows, "I always knew we had a strong fanbase in Japan and I'm so happy to finally be able to play there. I can't believe it! I'm so excited and so looking forward to meeting everybody, putting on great shows and rocking together with the fans!"
The metal maven and her bandmates are currently gearing up for a run of festival dates including:
6/25/2010 Graspop – Dessel, Belgium
7/09/2010 Rock Karz – Ballenstedt, Germany
7/17/2010 Bang Your Head – Balingen, Germany
7/18/2010 Masters Of Rock – Vicovize, Czech Republic
7/29/2010 Rock Arena Festival – St. Goarshausen, Germany
8/15/2010 Bloodstock Open Air – Derbyshire, UK
http://www.doropesch.com
http://www.myspace.com/doroband
http://www.nuclearblast.de