Canada's tech-death metal magicians DIVINITY are set to embark on their latest in-country tour offensive this week, which is being dubbed the The Singulari-tour 2010, in support of their latest full-length The Singularity. Beginning this Saturday at the Noctis IV Metalfest and Conference — in DIVINITY's hometown of Calgary, Alberta — DIVINITY will rage the stage alongside Sodom, Ex Deo, The Devil's Blood and countless more at the festival before hitting the road for the first half of October. They'll tear their way through the country appearing alongside Beneath The Massacre, Goatwhore, The Black Dahlia Murder and more over the two-week assault, ending the festivities at the Metalfest 10 at Trois-Rivieres alongside Misery Index, Despised Icon and more on October 15th.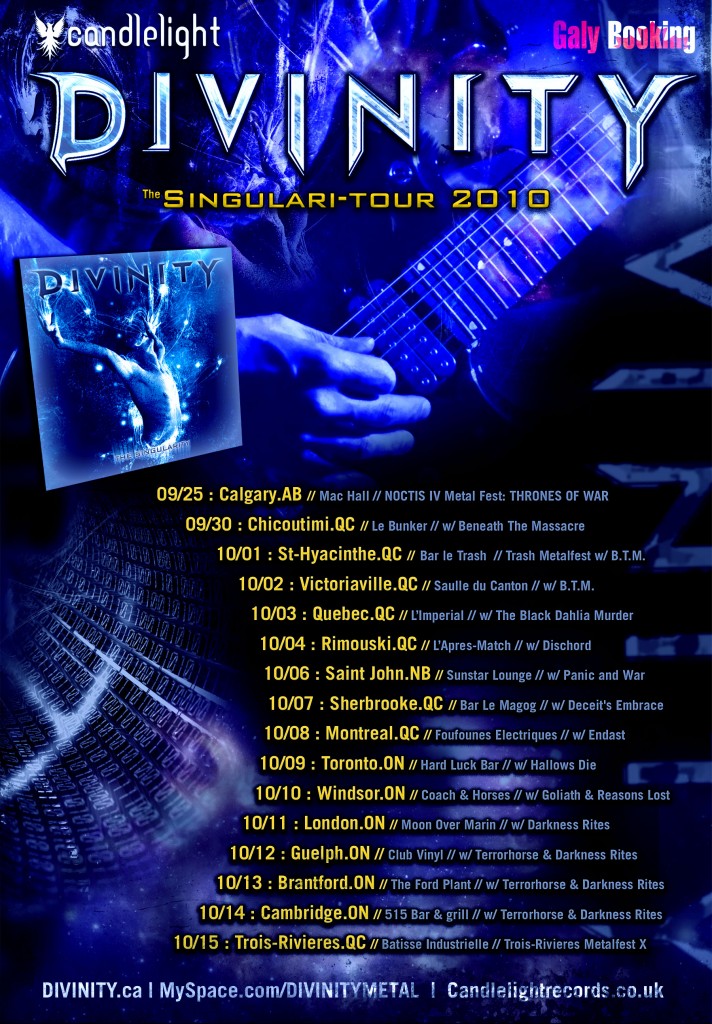 DIVINITY Singulari-tour 2010:
9/25/2010 Macewan Hall – Calgary, AB @ Noctis IV Festival
9/30/2010 Le Bunker – Chicoutimi w/ Beneath The Massacre
10/1/2010 Bar le Trash – St-Hyacinthe, QC @ Trash Metalfest w/ Beneath The Massacre
10/2/2010 Salle du Canton – Victoriaville (Warwick), QC w/ Beneath The Massacre
10/3/2010 L'Imperial – Quebec, QC w/ The Black Dahlia Murder, Goatwhore, Arkaik
10/4/2010 L'Apres-Match – Rimouski, QC w/ Dischord
10/6/2010 Sunstar Lounge – Saint John, NB w/ Panic and War
10/7/2010 Bar Le Magog – Sherbrooke, QC w/ Deciet's Embrace
10/8/2010 Foufounes Electriques – Montreal, QC w/ Endast
10/9/2010 Hard Luck Bar – Toronto, ON w/ Hallows Die
10/10/2010 Coach and Horses – Windor, ON w/ Goliath, Reasons Lost
10/11/2010 Moon Over Marin – London, ON w/ Darkness Rites
10/12/2010 Club Vinyl – Guelph, ON w/ Terrorhorse, Darkness Rites
10/13/2010 The Ford Plant – Brantford, ON w/ Terrorhorse, Darkness Rites
10/14/2010 515 Bar & Grill – Cambridge, ON w/ Terrorhorse, Darkness Rites
10/15/2010 Batisse Industrielle – Trois-Rivieres, QC @ Metalfest 10 w/ Despised Icon, Misery Index
DIVINITY's latest full-length The Singularity was released by Candlelight Records in North America this past August. The impressive nine-track album flows through all sorts of metal territories, fusing technical death metal with progressive metal elements into an undeniably infectious blend of brilliance and brutality. The Singularity recently won an Alberta Metal Award for album of the year on Pitch Black Magazine's site: http://pitchblack.ca/2010/08/01/alberta-metal-awards-nominees.
Check out the recent video the band made for the Ernie Ball Musicman Youtube video series here:
"This one is a thoroughly crushing and assailing effort, and it should appeal to many metal fans on the 'extreme' end of the spectrum." – Alarm Magazine
"While technical wizardry can be impressive, it doesn't necessarily hold up on repeated listens. Divinity walks that tightrope expertly, with enough catchiness and memorable moments to make The Singularity an album worth revisiting." 4/5 – About.com
"…I can't help but recommend this to just about anyone who relishes all the progression, cross-pollination of genres, and amazing instrumental work characteristic of quality modern metal music." 8.8/10 – Metal Review
Stay tuned for more DIVINITY tour updates in the coming months. Interviews with the band and promos of The Singularity are available now via Earsplit.
http://www.divinity.ca
http://www.myspace.com/divinitymetal
http://www.facebook.com/pages/Divinity/12560300399
http://www.candlelightrecordsusa.com
http://www.myspace.com/candlelightrecordsusa