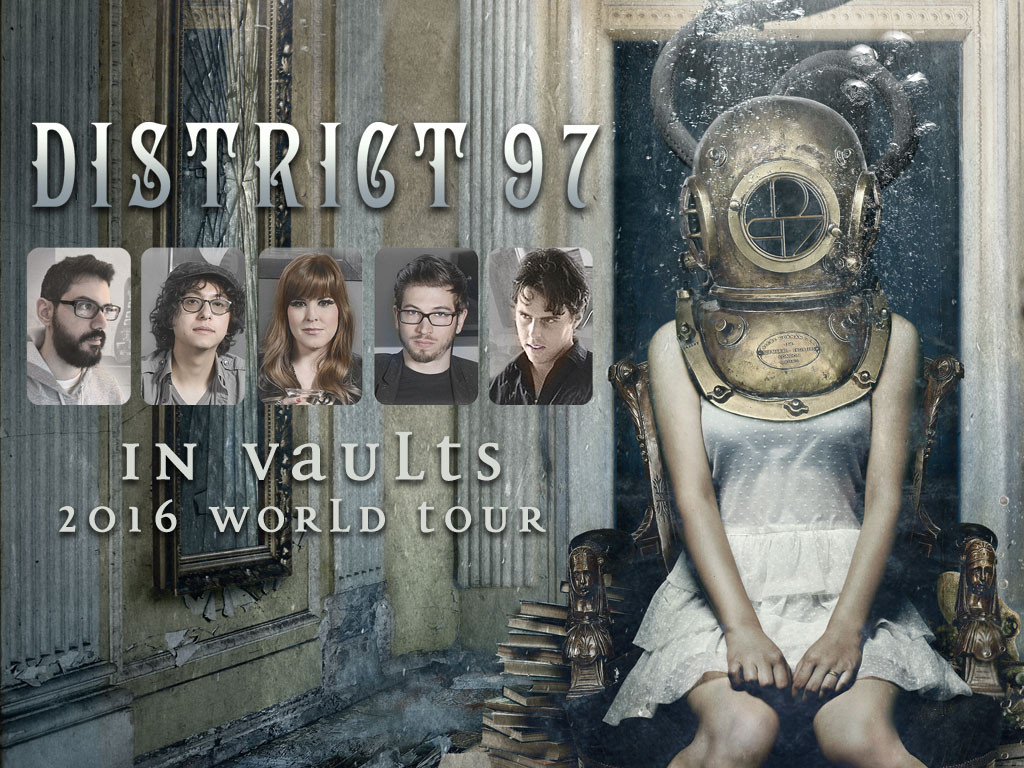 Following the triumphant release of their third full-length album, In Vaults, through Laser's Edge in August, Chicago prog/alternative rock act DISTRICT 97 confirms several changes in the band's lineup in advance of their impending very first world tour next year, and announces the first round of European tour dates.
Through a fully amicable separation, DISTRICT 97 has parted ways with Rob Clearfield and Patrick Mulcahy, replacing them with two other talented Chicago-based musicians Andrew Lawrence on keyboards and Tim Seisser on bass. The rest of the band is grateful to Clearfield and Mulcahy for their immeasurable contributions to the band for for nearly a decade, yet is excited to welcome the new members aboard for their next chapter. Footage of Tim Seisser is viewable HERE and a clip of Andrew Lawrence HERE.
With the new member installations complete, the new DISTRICT 97 lineup will take to stages around the globe next year. The band has already confirmed a leg of European tour dates in March, with shows across the UK followed by a set at Art Rock IV Festival in Reichenbach, Germany and Progdreams Festival in Zoetermeer, Netherlands, with more shows to be confirmed. On the tour, the band will be spotlighting material from In Vaults, as well as music from across their catalog. It is a rare treat indeed that they are able to team up overseas with another artist at the forefront of American Progressive Rock, Dave Kerzner. These will be very special shows not likely to be repeated.
Upon their stateside return the tour will continue throughought the US Midwest and East Coast in May, with a show in New Jersey already confirmed and shows in Chicago, Detroit, Cleveland, Baltimore, Philly, New York, Boston and more coming together, making this the band's first ever world tour. Check out the band's website for more on the tour RIGHT HERE.
DISTRICT 97 World Tour 2016 Dates:
3/26/2015 The Borderline – London, UK w/ Dave Kerzner Band [info]
3/27/2015 The Musician's Pub -Liecester, UK w/ Dave Kerzner Band [info]
3/28/2015 The Robin 2 – Bilstn, UK w/ Dave Kerzner Band [info]
3/29/2015 Sound Control – Manchester, UK w/ Dave Kerzner Band [info]
3/31/2015 Das Rind – Russellsheim, DE w/ Dave Kerzner Band
4/01/2015 Art Rock IV Festival – Reichenbach, DE w/ IQ, RPWL [info]
4/02/2015 Z-Bau Nuremburg, DE w/ Effloresce
4/03/2015 Progdreams Festival – Zoetermeer, NL w/ Three Friends, Focus and more [info]
5/17/2015 Roxy and Duke's – Dunellen, NJ
DISTRICT 97's drummer and primary composer, Jonathan Schang, is honored to be among those nominated in the Prog Category of the 2016 Modern Drummer Readers Poll. He is in very good company with Gavin Harrison, Marco Minneman, Todd Sucherman, and Matt Garsika! Cast your vote HERE.
View the "Snow Country" video through Prog Magazine now at THIS LOCATION.
In Vaults is available for streaming and download in 24-bit/96khz high quality audio RIGHT HERE, the CD version is available HERE and the standard digital HERE.
With nine brand new tracks delivering over an hour of DISTRICT 97's energetic progressive, alternative, metal, pop crossover, the immaculately produced In Vaults shows this young, diversified rock outfit in their most impressive form yet. In Vaults boasts the band's evocative and powerful songwriting and musical deliverance, as well as a searing performance from American Idol Top 10 Female Finalist, Leslie Hunt. The album was recorded at IV Lab Studios in Chicago, engineered by Chris Harden with additional engineering by Shane Hendrickson, mixed by Jeff Fox and Rich Mouser (Spock's Beard, Transatlantic) at The Mouse House Studio, mastered by Grammy winning engineer Bob Katz, and dons stunning imagery by Björn Gooßes of Killustraitions.
Among glowing media reactions, prog/rock drum luminary Bill Bruford (Yes, King Crimson, Genesis, etc.) recently issued to DISTRICT 97 in response to their latest material, "The playing sounds uniformly dynamite and quality oozes from every pore."
http://www.district97.net
http://www.facebook.com/District97
http://www.twitter.com/District97
http://www.youtube.com/user/D97Music
http://www.lasersedgegroup.com
http://www.facebook.com/TheLasersEdge
http://www.twitter.com/thelasersedge