Resurrected New York City grindcore/punk legends DISASSOCIATE are back with an updated lineup and enough vitriol to level a nation.
Featuring founding frontman Ralphyboy, guitarists Michael Dimmitt (Mutilation Rites) and Jimmy Aly (Swollen Organs, The Communion), drummer Kenny Appell (White Widows Pact), and bassist Avi Kulawy (Magrudergrind, Ruine), DISASSOCIATE will return to the stage next week after a two-and-a-half-year silence for four shows opening for Eyehategod. Additional support will be provided by Negative Approach, Sheer Terror, and Phobia on select dates. From there, the band will make their debut appearance at Maryland Deathfest in Baltimore, Maryland with Cro-Mags, Carnivore A.D., Indian, and more. In August, DISASSOCIATE will play this year's edition of Skull Fest in Pittsburgh, Pennsylvania alongside Poison Idea, Dropdead, Sheer Terror, and others with more dates to be announced in the coming weeks. The band is currently working on material for a new release later this year.
Comments Ralphyboy, "After many tours and lineup changes, DISASSOCIATE seems to have found its cause with the current lineup. Our new songs are faster and more aggressive than ever. It seems like the chemistry with these guys is working out real well. We have recaptured the fun and downright raw punk/grind style that made DISASSOCIATE who we are today."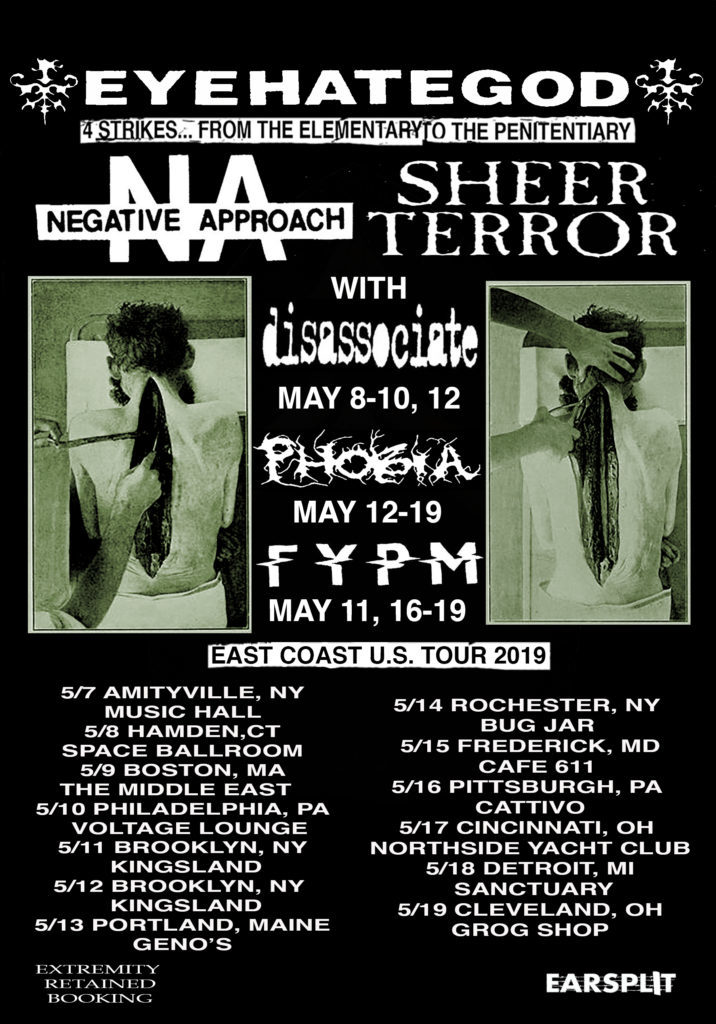 DISASSOCIATE w/ Eyehategod, Negative Approach, Sheer Terror:
5/08/2019 Space Ballroom – Hamden, CT
5/09/2019 Middle East Restaurant And Nightclub – Cambridge, MA
5/10/2019 Voltage Lounge – Philadelphia, PA
5/12/2019 The Kingsland – Brooklyn, NY w/ Phobia
5/23/2019 Maryland Deathfest – Baltimore, MD *
6/22/2019 Gold Sounds – Brooklyn, NY *
8/15/2019 Skull Fest – Pittsburgh, PA *
* DISASSOCIATE only
Hailing from the gritty streets of the New York City's Lower East Side, DISASSOCIATE rose from the ashes of hardcore unit Jesus Chrust in 1992. Forged by Ralph "Ralphyboy" Lantigua, renowned hardcore and punk promoter at the iconic CBGBs club (the undisputed birthplace of punk), DISASSOCIATE released three LPs and have toured the US and Japan multiple times sharing stages with the likes of Mastodon, Neurosis, Disfear, Mayhem, Lamb Of God, Mercyful Fate, and Corrupted. The band went on a seven-year hiatus until 2016 when they reared their heads again playing sporadic shows with a new lineup, including a special NYC performance with Discharge, Eyehategod, And Toxic Holocaust at Webster Hall.
DISASSOCIATE:
Ralphyboy – vocals
Michael Dimmit – guitar
Jimmy Aly – guitar
Kenny Appell – drums
Avi Kulawy – bass
https://www.facebook.com/disassociateofficial/
https://disassociate1.bandcamp.com/