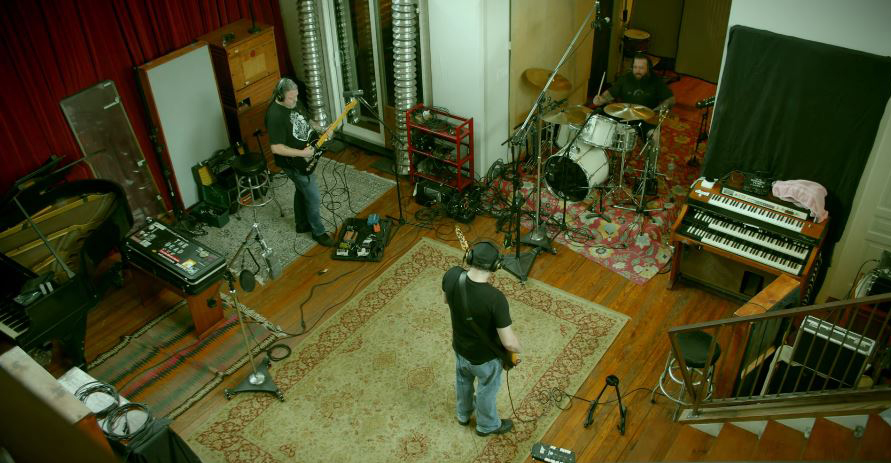 As Austin-based noise rock trio DINING WITH DOGS prepares to release their debut LP, The Problem With Friends, this Friday, BrooklynVegan is hosting an exclusive advance stream of the entire album.
DINING WITH DOGS rises from the ashes of The Dead See, with drummer Josh Paul and guitarist/vocalist Mark Key (also of BLK OPS) joined by bassist Marcos Morales. Their debut full-length The Problem With Friends boasts ten bruising tracks which fuse noise rock riffage cranked to gnarled, sludgy depths with an intoxicating psychedelic aura.
The Problem With Friends was recorded in Austin with Craig Delony, who contributed additional synth tracks to the process. Mixed by Brendan Tobin (Red Sparrowes, Made Out Of Babies), mastered by Brad Boatright at Audiosiege (Integrity, Primitive Man, From Ashes Rise), and completed with artwork by Josh Paul, the LP will be released on a newly formed branch of Morales' Dirt City Studios, responsible for the direction of videos by Today Is The Day, Primitive Man, Inter Arma, and many more.
BrooklynVegan is streaming the entire record ahead of its release, noting in part, "…The Jesus Lizard and Scratch Acid's David Yow recommends their upcoming debut album The Problem With Friends. Well, sort of. 'I've not heard it, I don't know what it sounds like, but they paid me twenty bucks to tell you about it,' he says. It makes sense that David Yow would like this album though – it's not too far removed from the type of noisy post-hardcore that his own bands helped pioneer, and DINING WITH DOGS do this type of thing well."
Stream DINING WITH DOGS' entire The Problem With Friends early at BrooklynVegan RIGHT HERE.
The Problem With Friends will see release on 12″ clear vinyl and all digital outlets this Friday, May 15th. Find preorders at the Dirt City webshop HERE and Bandcamp HERE,
DINING WITH DOGS will support the album by performing a record release show live from Austin venue The Lost Well this Sunday, May 17th; find details HERE. Also see the video for "Spreading Thin" HERE.
Guitarist/vocalist Mark Key writes of the album, "The title The Problem With Friends means that when you are close to people, they can hurt you. They die, they fail, and life carries on because the world itself can be cold and uncaring.
The three of us have been playing music together for twenty years. Last May, right after most of the tracks for this album were put down, our drummer collapsed at work. After being rushed to the hospital we found out he would need brain surgery. There have been times in the last year that we thought we were losing one of our best friends. We thought we were done and that this record would never see daylight. After surgery and two months in the hospital he has made a miraculous recovery, and the album name took on a new layer of irony.
I think it is important that the listener have the opportunity to interpret the lyrics for themselves but all of the lyrics (if there is a universal theme) deal with existential questions of modern life.
'Puzzled' was written for my young daughter: 'Life is not a puzzle to solve and there's no right answers.'
'Sweet Talkin' Psycho' is about lust that makes us do stupid things. Then later you say the girl was just too crazy for you but clearly you were acting crazy too.
'Spreading Thin' is about being homeless and broke. The streets are a jungle.
'Killing Machine' is about how violence is somehow part of our DNA as humans: 'Killer Apes have come a long way' but we are also destroying the planet and each other. 'It's time to erase the master race.'"
DINING WITH DOGS also recently recorded a cover of Today Is The Day's "The Kick Inside" which features TITD's frontman Steve Austin on vocals, the track recorded on Friday the 13th of this March, the last night before the COVID-19 impact ended the tour. See it alongside a David Yow (The Jesus Lizard) cameo and more HERE.
https://diningwithdogs.bandcamp.com
https://www.instagram.com/diningwithdogsmusic
https://www.facebook.com/diningwithdogs
http://dirtcitystudios.com