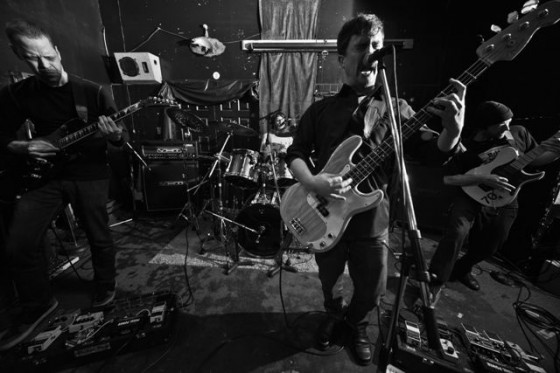 With Oakland-based DIMESLAND now just days from releasing their debut full-length, Psychogenic Atrophy, Decibel Magazine hurls the album's volatile next-to-last track towards the masses.
"Bound In Stone" is the name of the writhing seventh tune within the nearly forty-minute barrage of riveting, technical, and forward-thinking mad-scientist thrash implemented on DIMESLAND's Psychogenic Atrophy, the album recorded in crushing full analog courtesy of Justin Weis at Trakworx in South San Francisco (Ludicra, Cormorant, Slough Feg). The album is a noxious brew of unhinged metal indefinitely descendent to Voivod, Gorguts, Loincloth, Deathspell Omega and Portal yet with its own mutated genetics in control. Decibel states, "Complex frustration/anger/love is one of the perks of freaking out on heavy music," alongside the exclusive premiere of the track, which is fused to an interview on the album's inception with DIMESLAND guitarist Drew Cook.
Broadcast "Bound In Stone" from THIS LOCATION.
Also witness previously-released shredders in the form of "Dying Foretold" via Stereogum at THIS LOCATION and album opener "Are They Cannibals?" RIGHT HERE.
DIMESLAND will independently release Psychogenic Atrophy digitally on December 9th, with a CD version directly behind it and a deluxe vinyl release early next year. Preorders can be placed at iTunes HERE and Amazon HERE.
With a ravenous hunger for the bizarre, DIMESLAND proves themselves lethal once again, with the follow-up to their 2012-released Creepmoon debut EP. With members also holding rank within The Residents, Wild Hunt and others, DIMESLAND's sound is the result of a blend of controlled chaos and musical metamorphosis, heavy tension and dark psychedelia, creating a place where aggression and imagination merge harmonically, rhythmically and lyrically to explore the terrain of psychological havoc and mental fracture. The band's frantic and dense live performances feature songs woven together with shorter pieces and textures for an almost nonstop presentation of sound. Watch for new live actions to be announced in the near future.