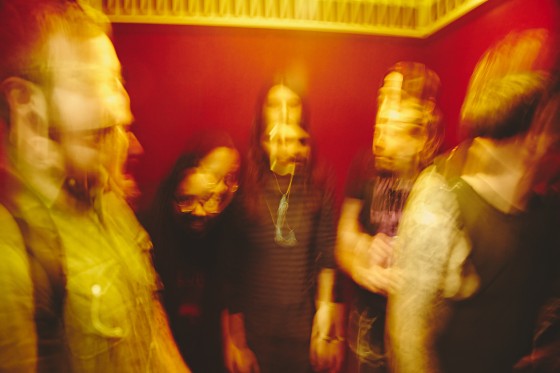 Los Angeles sludgecore malefactors, COLOMBIAN NECKTIE, are readying to close out the year with a brutal trio of live infiltrations next weekend. Set to commence on Friday, the band will raze Tucson, Twenty Nine Palms and Los Angeles performing material off their smoldering Twilight Upon Us full-length self-released earlier this year.
Relays the COLOMBIAN NECKTIE collective: "Before we recorded Twilight Upon Us, we live demoed the entire record at Stag Studio in North Hollywood. These songs really came to life in the live setting so we're stoked to get on the road and do it for real."
2015 onstage actions are currently in the plotting stages. In the meantime, check out some Ben Brincherhoff drum cam footage from the band's set at 5 Star Bar last month at THIS LOCATION.
COLOMBIAN NECKTIE:
12/12/2014 The District Tavern – Tucson, AZ
12/13/2014 American Art – Twenty Nine Palms, CA
12/14/2014 All Star Bar – Los Angeles, CA
Named in honor of a song by iconic noise rockers Big Black but more commonly known as a method of murder where the victim's throat is slashed and the tongue is pulled through the open wound, COLOMBIAN NECKTIE has earned a reputation for their thick, penetrating riffs incursions and relentless DIY work ethic. The band's Twilight Upon Us long player was tracked at Bright Lights Studios by Erol "Rollie" Ulug (Graf Orlock). Though clearly rooted in hardcore, tracks like the syncopated, sludgy death march of "Play The Game" and midtempo thrash of "Drought," complete with squealing synths, add a welcome dose of variance to an album that's uncompromising in its aggression. Echoes And Dust recommends the record, "if you're looking for some intense music that brings together some of your old favorites – Dystopia, Mohinder, Pg. 99 or even Cave In," while Ghost Cult likens the band to "Raging Speedhorn or Cancer Bats in its sound and intensity," specifically citing drummer Ben Brinckerhoff, "the unsung star of this show, constantly introduces deft changes which paradoxically pummel the brain."
Order COLOMBIAN NECKTIE's Twilight Upon Us today HERE.
"..scary sick.." – Decibel Magazine
"Check it out below if you like sludgy hardcore with just a light blackening on the edges and a pinch of noise rock." – The Sludgelord
"…a breath of fresh – or musty, depending on how you want it – air into the sludge world. If you're looking for a grimy, moody listen, look no further than COLOMBIAN NECKTIE." – Metal Storm
"…violent and impressive…" – Stereokiller
"Solidly standing on its own merits, the album slaps a fresh coat of paint on the old school and sharpens the dull edges back into combat readiness. Whether it is through the rejuvenated brevity of hardcore, the patient crawl of doom, or the upbeat groove of straight rock, COLOMBIAN NECKTIE has given the heavy music world a few much needed kicks in the teeth." – Violent Resonance
http://www.facebook.com/colombiannecktiela
http://www.twitter.com/necktielifela
http://www.instagram.com/necktielifela