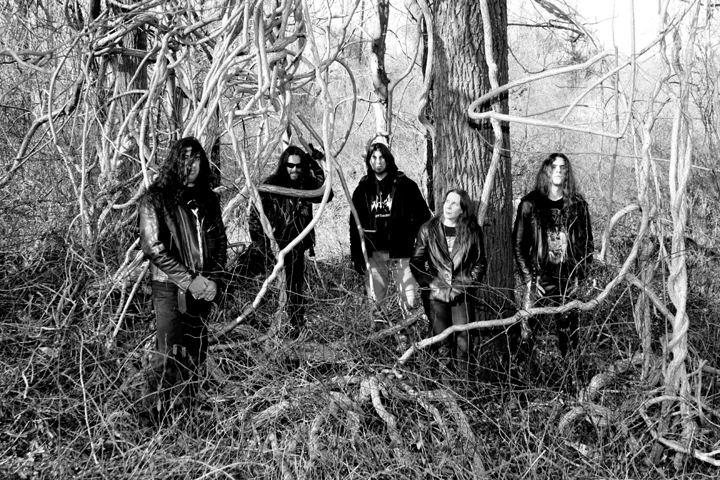 Paragon Records will unleash the third album from DIMENTIANON, New York's masters of chaotic metal, on October 19th, 2010. Entitled Collapse The Void, the album epitomizes the turbulent mixture of black, death and doom metal that has become the band's trademark style.
DIMENTIANON have been a force in New York City's extreme metal scene since their formation in 1995, the band then known as The Forgotten. With countless regional concerts under their belts, and backed with a solid resume of releases including the band's fist two full-lengths, multiple demos and a split release with funeral doom merchants Rigor Sardonicous, the DIMENTIANON of 2010 is by far the most powerful expression of the band's chaotic nature to date. Founding member vocalist Mike Zanchelli has led the unit through many lineup changes, currently rounded out by returning bassist Maureen Murphy, drummer Pete Christopher and guitarist Zoltan Valter (Sectioned).
Collapse The Void was recorded and produced by producer Pete Rutcho (Revocation, Graveheart, Frozen, Ravage) and features five massive tracks;, the shortest being just over three minutes, yet with the two longer tracks running closer to nine minutes. A maniacal yet well-orchestrated display of crushing haunting black/death metal with plenty of unexpected twists throughout, the album will surely arouse interest in any diehard fan of underground extreme metal.
Collapse The Void track listing:
1. Return…
2. Breathe Deep
3. Fragmented Nostalgia
4. The Forgotten
5. All Good Things End
Stay tuned for more news on DIMENTIANON activities to be posted throughout the year and well into 2011.
http://www.myspace.com/dimentianon
http://www.dimentianon.com
http://www.myspace.com/paragon_records
http://www.themetalunderground.com