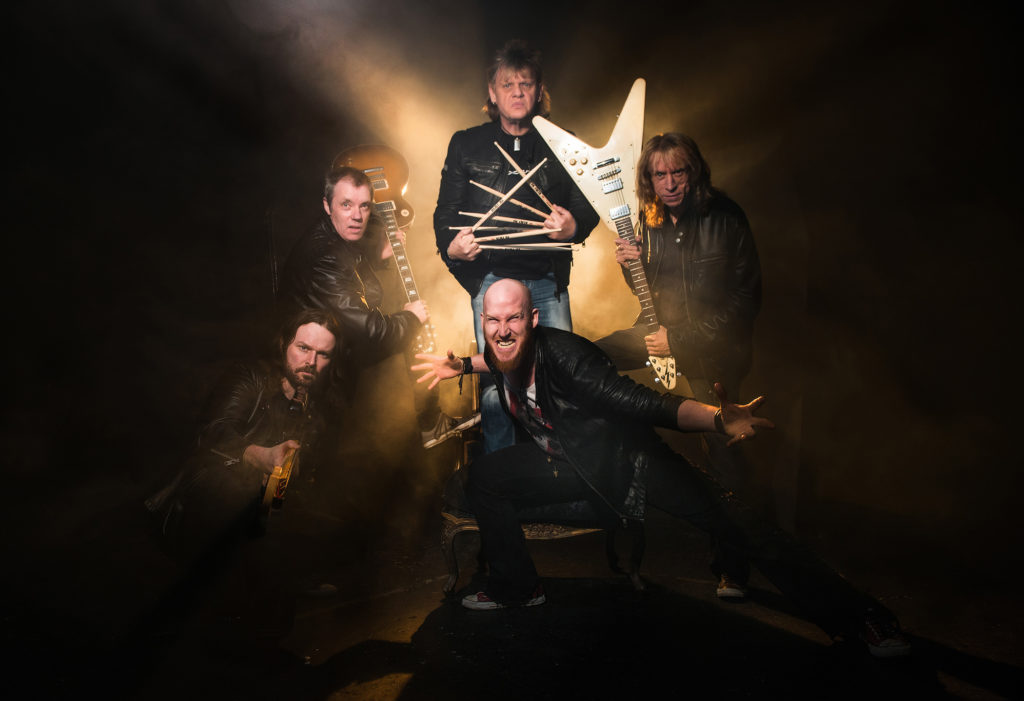 View / Share DIAMOND HEAD's "The Coffin Train" At THIS LOCATION
New Wave Of British Heavy Metal pioneers DIAMOND HEAD will issue their anticipated new full-length, The Coffin Train worldwide on Friday, May 24th via Silver Lining Music. In celebration of the record's release, the band is pleased to unveil the thought-provoking video for the album's title track.
Notes guitarist Brian Tatler, "I am very proud of this song and it's my favourite from the new album. It is one of the best songs I have ever co-written and cannot wait for people to hear it. I love dynamics and mood changes in songs and this has it all for me. From the clean, tension-building verse, stepping up for the bridge then dropping into a massive heavy chorus… At just over six minutes, it's an aural feast."
"It's easily the best song on this record," continues vocalist Rasmus Bom Andersen. "We put so much effort into making this a true DIAMOND HEAD song from start to finish and we hope our fans feel the same."
"Pure Class; it slows the pace down," adds drummer Karl Wilcox. "Fans and new-comers will appreciate the choice of Brian's guitar work. Guitars, groove, harmonies, and hooks abound, as this track rumbles along until it reaches its thundering finale. Take a seat…"
"The Coffin Train" video was produced and animated at All4band Motion & Design Studio under the visionary direction of Maria Goruleva.
View "The Coffin Train" as well as the bannd's previously-released videos for "Death By Design" and "Belly Of The Beast" below.

The Coffin Train will be released via Silver Lining Music May 24th. For preorder options, go to THIS LOCATION.
Formed in 1976 under the riff-rolling leadership of guitarist Brian Tatler, DIAMOND HEAD would quickly establish themselves as a vanguard of the exploding New Wave Of British Heavy Metal scene. With their genre-defining debut album Lightning To The Nations, DIAMOND HEAD became the band who influenced and opened gates for countless metal bands.
The Coffin Train, DIAMOND HEAD's eighth studio album, is a glorious testimony to Brian Tatler and Rasmus Bom Andersens' masterful ability to create the flavours necessary for prime DIAMOND HEAD music. At once fresh and exuberant while also being a stone-cold classic slice of old-school heavy metal excellence, the record is packed with the sort of riff-fuelled power that has become known for.
The record was recorded in several different places w guitars, bass, and vocals captured at Vigo Studios in Walsall and drums at Circle Studios in Birmingham. The album was produced and mixed at Ras' Raw Sound Studio in London.
When it comes to the concepts behind The Coffin Train, Tatler left the heart to Ras, who being a thinker and life-conceptualizer, doesn't lack sources of inspiration. DIAMOND HEAD have not only managed to create an album of pure heavy metal intensity, they have created a timeless aural statement which feels destined to see them delivering both The Coffin Train and DH 2.0 to more fans than ever.
DIAMOND HEAD will be touring Europe in the coming weeks and are confirmed on the line-up of two very special UK shows with NWOBHM giants, Saxon, which will take place on October 19th at the legendary Hammersmith in London and October 20th at the O2 Apollo in Manchester with additional shows to be announced soon.
DIAMOND HEAD:
6/21/2019 Hellfest – Clisson, FR
7/26/2019 Camp Bestival – East Lulworth, UK
7/27/2019 Rock & Blues Festival – Derbyshire, UK
8/03/2019 Wacken Open Air – Wacken, DE
8/24/2019 Stonedeaf Festival – Newark, UK
10/19/2019 Eventim Apollo – London, UK w/ Saxon
10/20/2019 o2 Apollo – Manchester, UK w/ Saxon
11/07-10/2019 Hard Rock Hell Festival – Great Yarmouth, UK
11/16/2019 – Cornwall Rocks Festival – Looe, UK
11/29/2019 Winterstorm Festival – Scotland, UK
"…Brian Tatler and DIAMOND HEAD are showing absolutely no signs of slowing down. Boasting a rich production, dependable, top-quality musicianship, and songwriting, and a classic NWOBHM sound imbued with progressive elements, The Coffin Train stands as one of the best albums of the band's lengthy career to date." — Ghost Cult
"The discussion over legacy bands churning out new material versus parading out the nostalgia classics on festival/tour runs could go on forever. Take the work on a case by case basis – it's clear that bands like Judas Priest and Saxon are not resting on their creative laurels, and thankfully DIAMOND HEAD still possess enough ability to deliver memorable, quality material to the public today as well. Another brilliant record, mates." — Dead Rhetoric
"…a great album with superb guitar work, a tight rhythm section and vocals that soar like an eagle." — The Rock Pit
"…one of the biggest and best surprises of 2019… DIAMOND HEAD deserves all the credit in the world for hitting the nail squarely on the head… best thing the band has done since Lightning to the Nations and maybe, MAYBE, even a little better." — The Metal Crypt
"…while their original groove showcases a steam engine-like reliability, The Coffin Train demonstrates DIAMOND HEAD's overall diversity and electricity." — KNAC.com
"…with The Coffin Train, DIAMOND HEAD once more reminds us of the power, potential, and promise of classic and traditional heavy metal. Easily recommended." — Danger Dog
"…after 43 years, they still burn strong… DIAMOND HEAD have never been better than right now. — Maximum Volume Music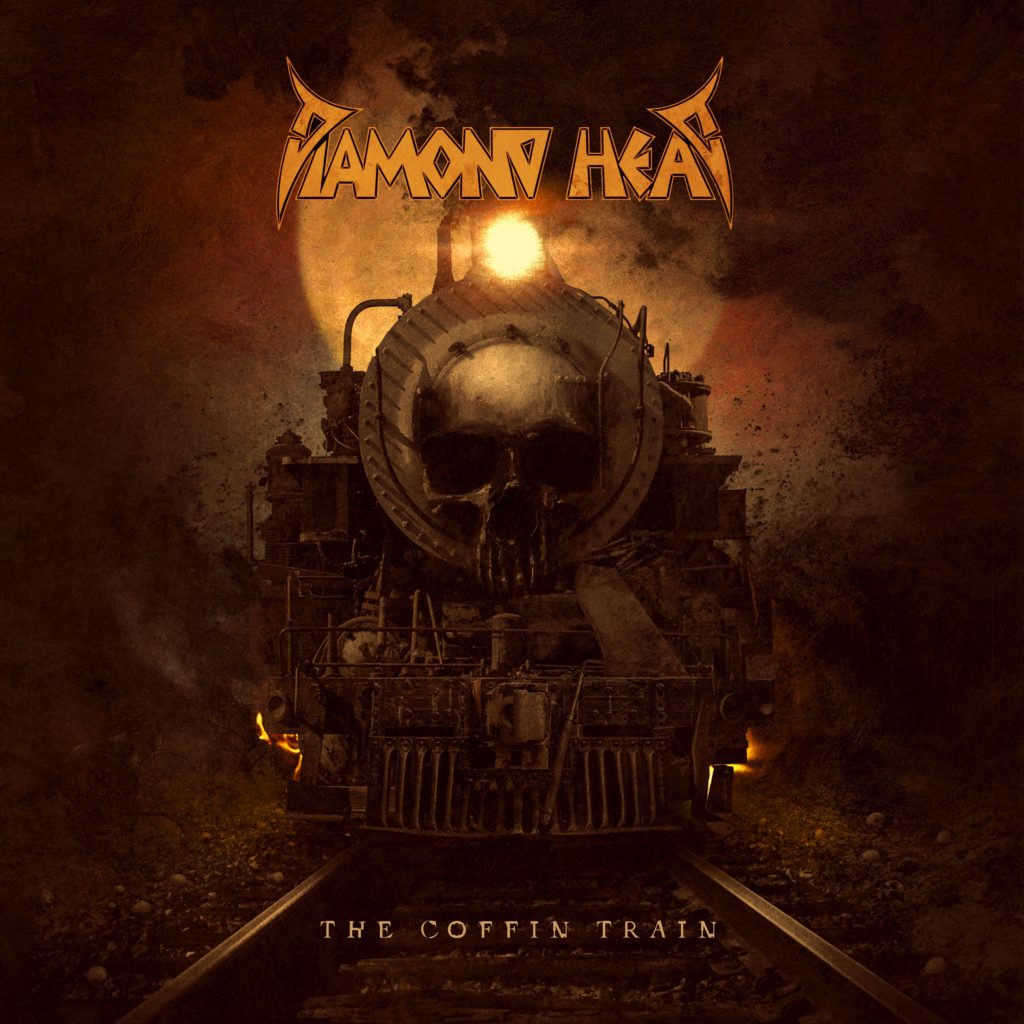 http://www.diamondheadofficial.com
http://www.facebook.com/DiamondHeadOfficial/
http://www.twitter.com/DH_Diamond_Head
http://www.instagram.com/diamond_head_official/
http://sl-music.net
http://www.facebook.com/Silver.Lining.Music.Ltd