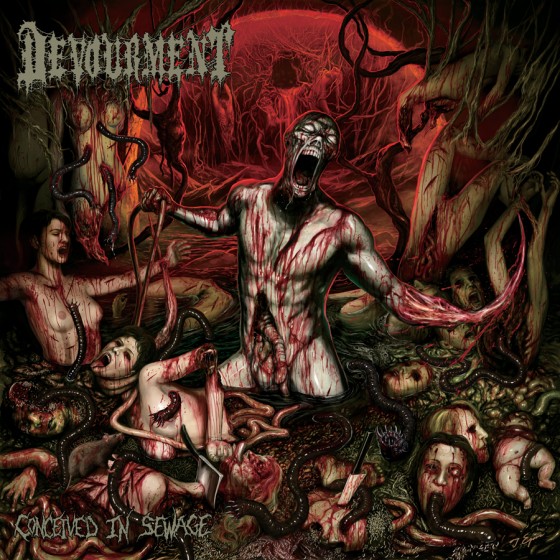 As the ongoing barrage of pre-release propaganda pushing the punishing new platter of splatter from slamming death metal squad DEVOURMENT's pending fifth full-length Conceived In Sewage continues, today massive entertainment portal Loudwire is hosting an exclusive stream of the album's closing track.
DEVOURMENT has also completed filming a new video for "Parasitic Eruption" with director Lior Spirer which will be available near the album's street date, nearing release on February 19th in North America, February 22nd in Benelux, Germany, Austria, Switzerland and Finland, and February 25 in the UK and rest of the world.
The first two in a trio of videos documenting the construction of Conceived In Sewage at Mana Studios with producer Erik Rutan (Morbid Angel, Hate Eternal) as well as a lyric video for the track "50 Ton War Machine" are all live at the official Relapse Youtube channel, in addition to the track "Legalize Homicide" anthem streaming at MetalSucks. Preorders for the album are available here.
DEVOURMENT Live Carnage:
3/15/2013 The Place Bar and Lounge – Brooklyn, NY w/ Internal Bleeding, Malignancy, more
3/16/2013 Gunners Run – Philadelphia, PA @ The Philly Infest w/ Brutal Truth, Phobia, Master, Malignancy, Embalmer, Cannabis Corpse, more
6/15/2013 The Cheyenne Saloon – Las Vegas, NV @ Las Vegas Deathfest w/ Defeated Sanity, Regurgitation, Infernal Dominion, Embalmer
"…death metal of the highest order… 5/5, Album of the Month" – Terrorizer
"…an album you want to listen to if you're in the mood for brutality. 5/5" – Headbang or GTFO
"This album feels bigger, better, fatter, heavier, more balanced, more thoughtful and just really NEW! 5/5" – Guttural Death
"This is by far one of the heaviest records I've ever heard. 5/5" – Stereokiller
"…a pure assault on your auditory senses. 5/5" – Stereokiller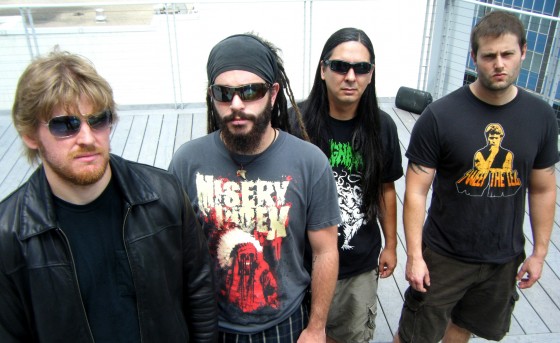 https://www.facebook.com/DevourmentOfficial
https://twitter.com/DevourmentBand
http://www.relapse.com
http://relapserecords.bandcamp.com
http://www.facebook.com/RelapseRecords