Italian progressive metal troupe KINGCROW proudly announces the band's forthcoming return to North America this Spring!
KINGCROW's fifth studio full-length In Crescendo is nearing release this Tuesday, February 12th via prog linchpin Sensory Records, a division of The Laser's Edge. Produced by the band at Sound Under Pressure in Rome, the massive album was then mixed by Giampiero Ulacco and mastered by Alan Douches at West West Side Music, the nearly hour-long opus reaping acclaim from heavy metal critics worldwide preceding its street date.
Today Brave Words & Bloody Knuckles has hosted an exclusive stream of "This Ain't Another Love Song," the second track from In Crescendo. Listen to it HERE.
Previously, PureGrainAudio released the album's opening track "Right Before" AT THIS LOCATION.
After a triumphant display at 2012's massive annual ProgPower USA festival, KINGCROW will return to the continent in support of In Crescendo. The trek will begin April 28th with a one-off in Atlanta, Georgia, before hooking up with Pain Of Salvation for the main tour. With more dates still being locked down, the tour will traverse through Virginia and Maryland before hitting the annual RosFest in Gettysburg, Pennsylvania alongside The Flower Kings, Shadow Gallery, Riverside and more. Following the festival the tour will hit New York City, then head into Canada for shows in Quebec City, Montreal and Toronto, then drop back into the US for shows in Chicago and Minneapolis. Stay tuned as new tour updates are announced in the coming weeks.
KINGCROW North American Tour:
4/28/2013 The Local – Atlanta, GA w/ Halcyon Way, Imminent Sonic Destruction
KINGCROW w/ Pain Of Salvation, Imminent Sonic Destruction:
5/01/2013 Empire – West Springfield, VA
5/02/2013 House Of Rock – White Marsh, MD
5/03/2013 RosFest Afterparty – Gettysburg, PA [KINCROW ONLY]
5/05/2013 The Marlin Room @ Webster Hall – New York, NY
5/07/2013 Le Cercle – Quebec City, QC
5/08/2013 Foufounes Electriques – Montreal, QC
5/09/2013 The Mod Club – Toronto, ON
5/10/2013 Reggie's – Chicago, IL
5/11/2013 Station 4 – Minneapolis, MN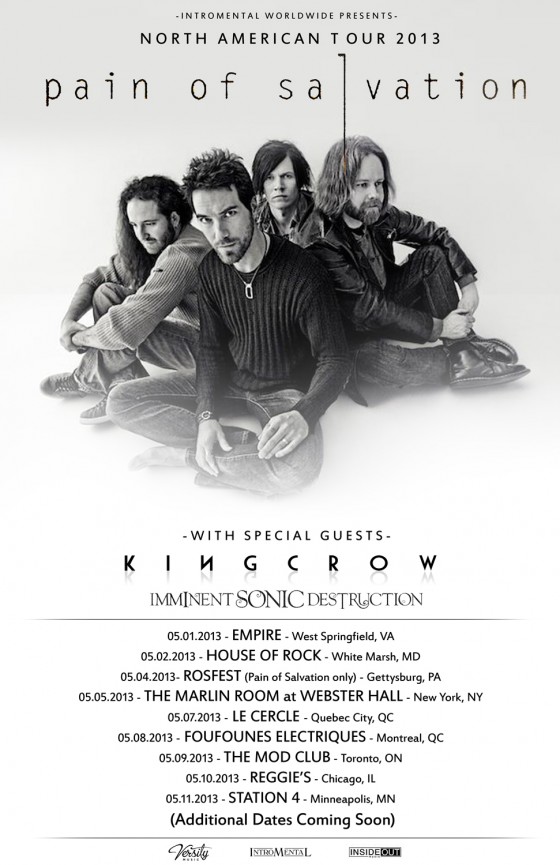 Having evolved from a mostly progressive metal direction, KINGCROW has increasingly expanded the scope of their sound to encompass elements of rock over recent years, nowadays culminating strong atmospheric components similar to Riverside, Porcupine Tree and Pink Floyd but also bearing a heavier, metallic semblance to Opeth and Dream Theater.
"…from start to finish, on In Crescendo, Kingcrow weaves an immensely entertaining tapestry of music, a fine merger of melodic heavier rock with its progressive rock and metal counterparts. 5/5" – Dangerdog Music Reviews
"…Kingcrow bring this album to a triumphant conclusion with so much great and complex at times music and as with the other seven songs the vocals are also very inviting. 4.5/5" – Sea Of Tranquility
"…a very fine mixture of modern progressive metal and mellow progressive rock, which is sure to please fans of both genres… 8/10" – My Global Mind
http://www.kingcrow.it
http://www.lasersedgegroup.com
https://www.facebook.com/TheLasersEdge