Los Angeles hardcore punk faction DESTROYED IN SECONDS (aka D.I.S.) have returned to their home of Deep Six Records for a proper vinyl release of Divide And Devour.
Initially released digitally and on limited-edition cassette last Spring, Divide And Devour spews forth eleven tracks of punishing, unrelenting d-beat ferocity. BrooklynVegan lauded a, "…a ruthless, d-beating ripper…," while Consequence Of Sound wrote, "Like many other crusties, these songs blend chainsaw guitar tone with furious leftist politics into a comforting stew for these disquieting times. Unlike many of their peers, DESTROYED IN SECONDS know how to lay into a riff – to be expected from veterans of Phobia and State Of Defiance."
Tracked by drummer Sean Vahle at Architeuthis Sound in North Hollywood, and mixed and mastered by John Haddad (Final Conflict, Phobia) at Trench Studios in Corona, the record includes the addition of bassist Kyle Hertz (Temple Of Dagon, State Of Defiance) and lead guitarist Christian La Rocca (Ruin, Gravehill, Cobra Venom), writing a new chapter of rage and fury for the band.
The vinyl edition of DESTROYED IN SECONDS' Divide And Devour will be released on May 21st. For preorders, visit Deep Six Records HERE or order directly from the band at THIS LOCATION.
View the band's previously released video for "The Badge" at THIS LOCATION.
Forged in 2008 in Los Angeles by original members of Phobia, Mange, and Eat The Living, DESTROYED IN SECONDS delivers a crushing powerhouse of Swedish influenced d-beat punk mixed with ripping metal and thrash. No strangers to the Los Angeles scene and beyond, DESTROYED IN SECONDS has shared stages with the likes of Victims, Wolfbrigade, Brujeria, Repulsion, Exhumed, English Dogs, Subhumans, Final Conflict, Darkest Hour, and Bio-Crisis, among countless others, in addition to appearances at major festivals such as Obscene Extreme North America. Obscene Extreme Europe, Maryland Deathfest, Los Angeles Murderfest, Show Your Scars Fest, and more with hopes to return to the stage in the months to come. Wrote No Clean Singing of the band's relentless live output, "I'd never heard of them before one of my buddies dragged me ailing to see them at the 2018 edition of Maryland Deathfest. I'm not sure exactly what it was about the band's performance – maybe it was their obnoxiously high energy levels despite their early afternoon slot, maybe it was their general 'give no fucks, take no prisoners' attitude, or maybe it was the fun way they ripped the piss out of one of our companions for wearing a black cowboy hat in the pit – but, whatever it was, I was instantly hooked."
"Like many other crusties, these songs blend chainsaw guitar tone with furious leftist politics into a comforting stew for these disquieting times. Unlike many of their peers, DESTROYED IN SECONDS know how to lay into a riff – to be expected from veterans of Phobia and State of Defiance." – Consequence Of Sound
"Direct, brief, deceptively nuanced and catchy, Divide And Devour by LA d-beat/thrash maniacs DESTROYED IN SECONDS kicks in faces and points accusing fingers while eliciting huge grins all round. Highly refreshing and therapeutic in these ugly times." – Distorted Sound
"…a ruthless, d-beating ripper…" – BrooklynVegan
"…a smoldering, energizing protest anthem…" – MetalSucks on "The Badge"
"If Stampin' Ground had emerged from the late eighties UK hardcore scene, had decided that their future lay squarely within the realms of d-beat and had then relocated to LA to hone and perfect their vision by playing a thousand shows in gang infested clubs and backyard parties, they would have sounded exactly like DESTROYED IN SECONDS." – Mass Movement
"There's fury in the music that befits the lyrics, channeled through battering drums, spine-shaking bass, heavy mauling and pulsing riffs, and flesh-scorching, throat-ripping vocals." – No Clean Singing
"…if you're looking for a skull-cracking blast of fascist-bashing fury wrapped in high-quality hardcore, well… D.I.S. is it." – Last Rites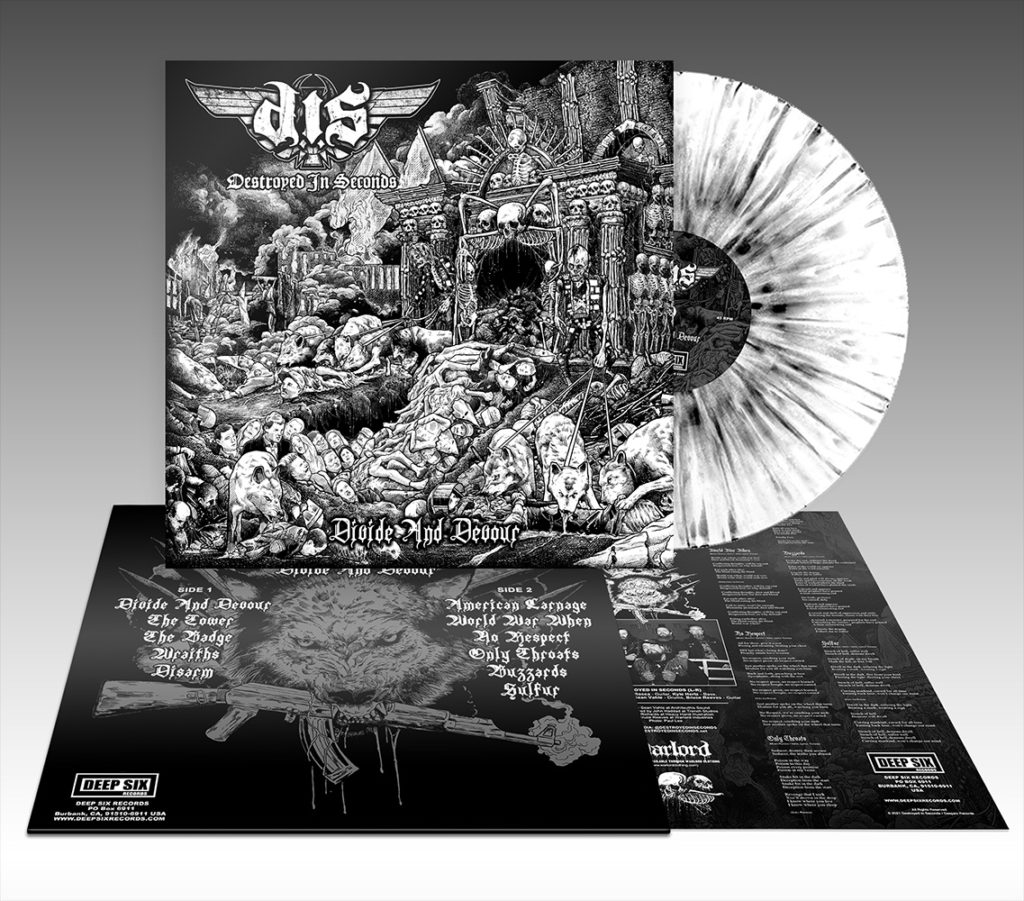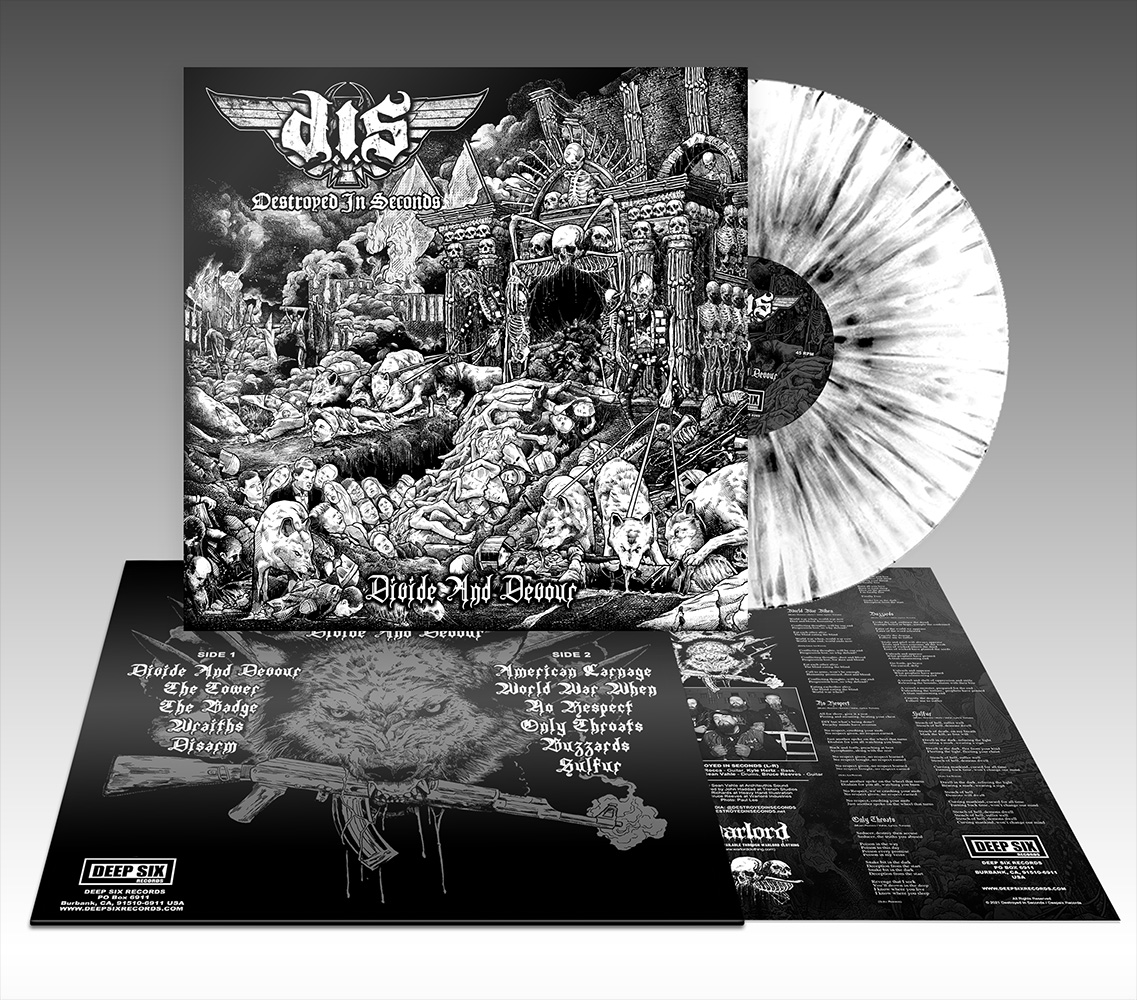 http://www.destroyedinseconds.net
http://www.facebook.com/destroyedinseconds
http://www.instagram.com/destroyedinseconds
http://destroyedinseconds.bandcamp.com
http://www.youtube.com/user/Dbeatdown
http://deepsixrecords.com
http://www.facebook.com/deepsixrecords