Tankcrimes will release West Side Horizons from Inglewood, California power violence veterans DESPISE YOU on CD and limited edition LP on August 6th!
Originally issued in 1999 on DESPISE YOU founder Chris Elder's Pessimiser label, the mammoth sixty-two-song compilation includes tracks taken from the band's split seven-inches with Stapled Shut, Suppression, and Crom, the PCP Scapegoat seven-inch, and the Left Back/Let Down and Reality #1 compilations as well as sixteen previously unreleased tracks, and more.The special Tankcrimes edition of West Side Horizons is available in two color variants — blue/purple smash w/ splatter and crystal-clear w/ splatter – and housed in a gatefold jacket with additional insert and download card.
Find LP preorders at THIS LOCATION and CD preorders at THIS LOCATION.
West Side Horizons Track Listing:
01. Culpa Mia *
02. Divisions *
03. It's All In God's Hands Now *
04. In My Abscence *
05. Lagrimas *
06. Two One Three *
07. Cut Your Arms Solves A Lot *
08. Bullshit Reflection *
09. My West Side Horizon *
10. You Make A Good Follower *
11. High & Defenseless *
12. Stupid Routines *
13. One More Rosary *
14. Burning In Hell (Possessed) *
15. Thirty-One Days Of Rain *
16. Passive Position
17. I End Me
18. Portrait
19. Lost & Losing
20. No More… Feelings
21. Euphoric Confusion
22. Been Lead
23. Hand Me Down Existencia
24. Shit Trait
25. Glasgow Relocation
26. Couch Slouch (D.R.I.)
27. Random Salvation
28. Encontraran Otro You
29. Unmoved – Complacent
30. Career Overview
31. Imajinate Que It's Fine
32. Pig Mindset
33. Puppet
34. If We Could Switch
35. Pacification Attempt
36. De Volada Decision
37. Loathe
38. Decline – Demise
39. Llevame
40. Past Reasons
41. PCP Scapegoat
42. Cesar Chavez
43. Guess
44. Guilty View
45. Busted Outlook
46. When You Fail
47. Nel Interesa
48. In Your Eyes (Circle Jerks)
49. Say You Felt This Way
50. Ensename Myself
51. Caring Less
52. Seen The Lines
53. Copied Demise
54. Swing And Cease
55. …And Always Gets Her Way
56. Born In The Dirt / Raised In A Hole
57. Despreciado Me Voy
58. Pa Que Te Sirve?
59. Taste The Steel
60. Tired Of Trying
61. Inborn Outcome
62. 9-13-91 *
* previously unreleased
Noted for their influence on the power violence movement, DESPISE YOU was forged in 1994 by guitarist Phil Vera (current Trappist) and vocalist/guitarist Chris Elder when the duo hosted an underground death metal/black metal-themed radio show called Hour Of The Goat on KXLU. The pair later recruited bassist and vocalist Lulu Hernandez as well as drummer Rob Alaniz. Together, the band fused the blasting of death metal with the ethics and urgency of hardcore punk. During their initial run, the group had a revolving door of members that included guitarist Jerry Flores from Excruciating Terror, drummer Martin Alvarado, and bassist Frank Espinoza from Stapled Shut and Nausea (Los Angeles).
Often labeled "the angriest band in the world" due in part to their bleak lyrics about topics like gang violence, misanthropy, and self-hate, DESPISE YOU would go on to release a host of split seven-inches and compilation tracks through labels such as Elder's Pessimiser and Slap-A-Ham before quietly breaking up in 1996.
In 2007, the band reunited to perform their first ever live show. Hernandez did not join for the reunion, so to fill in her place the band enlisted vocalist Cynthia Nishi and bassist Chris Dodge, operator of Slap-A-Ham and a former member of Spazz. In 2011, the group released the split album And On And On… with Agoraphobic Nosebleed, issued through Relapse Records. The split included the first material written by the band since their reformation. In 2014, Dodge left the group to focus more on his family.
"DESPISE YOU… counter frantic speeds and ripping vocal arrangements with slow, dingy dissonance, and a songwriting approach that actually feels energetic and memorable – as it should, it's just not something that many bands of this ilk have ever been able to achieve…Fucking classic." – Aversion Online
"Sixty-two songs of pain, hate, and violence… DESPISE YOU have carved their niche with a bent, rusty knife. They even do a disgusting cover of Possessed's 'Burning in Hell' from Seven Churches, and if that doesn't mean anything to you, that's your fault, not mine." – Lollipop Magazine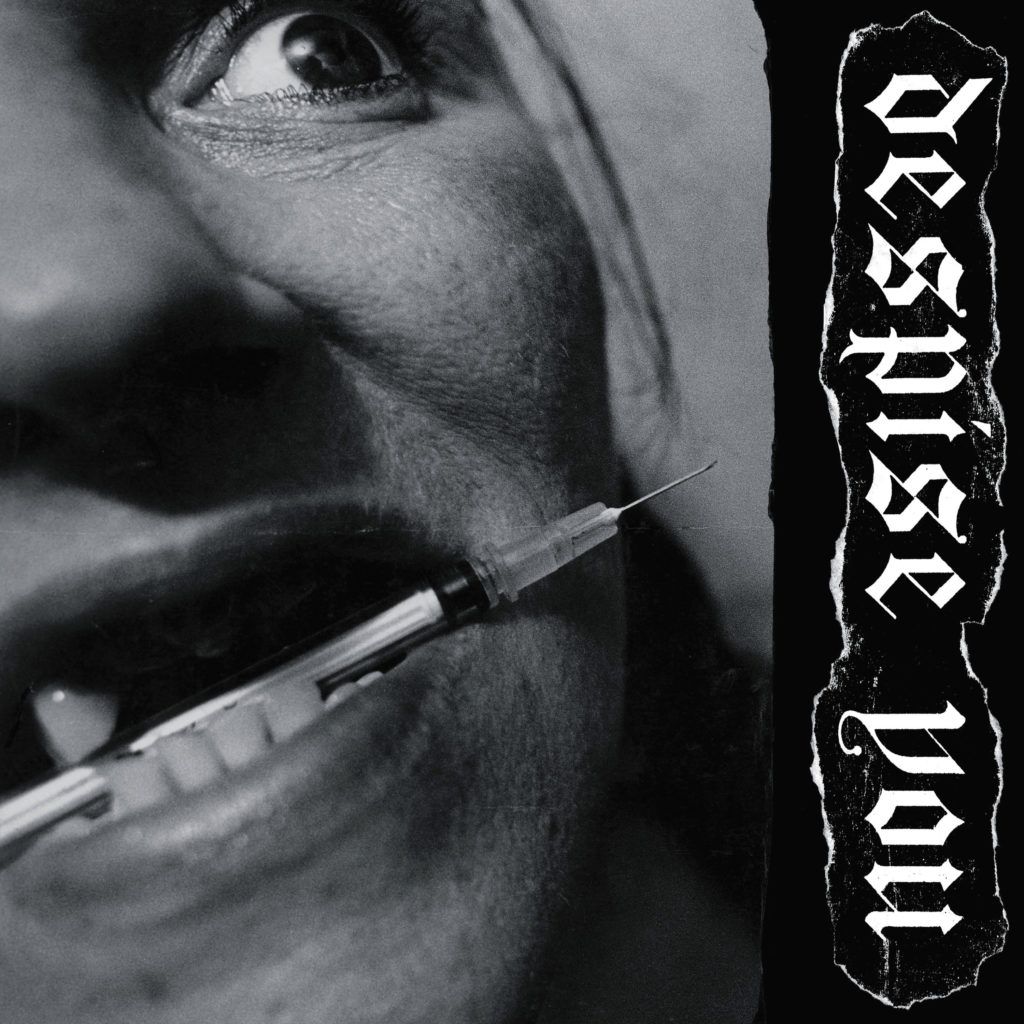 http://www.tankcrimes.com
http://www.facebook.com/tankcrimes
http://twitter.com/tankcrimes
http://www.instagram.com/tankcrimes
http://www.facebook.com/despiseyoulosangeles
https//despiseyou.bigcartel.com/