Prophecies And Lies is the latest release from North Carolina-based cult metal group DEMON EYE. Released in Europe earlier this summer and out now in North America, Prophecies And Lies was captured by Corrosion Of Conformity's Mike Dean and finds DEMON EYE's fusion of heavy classic rock, proto metal, and traditional doom at its most intense to date. A monolithic display of mighty riffs, haunting melodies, and fist-raising anthems, DEMON EYE conjures vintage, heavy darkness for modern day evils. Hailed Hellbound of the offering, "As far as the retro-rock/proto-doom spectrum is concerned, you might not hear a better album this year."
Prophecies And Lies is out now on CD, LP, and digital formats. Sample the record at THIS LOCATION.
For US CD orders go to THIS LOCATION. For US LP orders go to THIS LOCATION. For orders outside of the US, go HERE.
Additionally, you can check out a mini DEMON EYE documentary shot prior to the recording of Prophecies And Lies as well as live footage of the band at Maryland Doom Fest 2017 below.
DEMON EYE will embark on a bout of live performances through Virginia, Pennsylvania, Michigan, Indiana, and their home state of North Carolina beginning later this month. See all confirmed dates below!
DEMON EYE:
9/29/2017 Strange Matter – Richmond, VA
9/30/2017 The Taphouse – Norfolk, VA w/ The Norfolk Nightmares
10/04/2017 Neptune's – Raleigh, NC w/ Man Forever
11/15/2017 The Garage – Winston Salem, NC w/ Lords Of Mace
11/16/2017 Howlers – Pittsburgh, PA w/ Horehound
11/17/2017 Small's – Detroit, MI
11/18/2017 Taps Live – Indianapolis, IN w/ Karma To Burn
12/01/2017 Snug Harbor – Charlotte, NC
Issues Cryptic Rock of Prophecies And Lies, "For a band that has only been around for five years, DEMON EYE seems to have the stamina of one who has existed for thirty years, as well as that overachiever knowledge of their predecessors which gives them legs of steel in which to stand on. The future looks bright…" Shockwave Magazine concurs championing a, "…sharp, edgy and exceptional…," offering. Angry Meta Guy notes, "With so many bands reaching backwards in hopes for something new, it's refreshing when a band actually accomplishes that goal simply by injecting their own energy into a well-worn mix. DEMON EYE crafted a solid, energetic slab of groove with Prophecies And Lies, and it's a sound that's sure to worm its way into your eardrums…" while Ghost Cult lauds a, "compelling, old school metal album full of great songcraft and guitar work that shows you that you can have a retro outlook and still sound fresh."
DEMON EYE was unearthed in Raleigh, North Carolina during the Spring of 2012. Shortly thereafter, the band began receiving international recognition for their highly-acclaimed songcraft and stunning live performances. DEMON EYE channels the introspective darkness of Pentagram, the heavy grooves of Black Sabbath, and the fist-banging shred of early Iron Maiden. They have shared the stage with the likes of Pentagram, Corrosion Of Conformity, High On Fire, Spirit Caravan, The Obsessed, The Sword, King's X, Loincloth, YOB, Witch Mountain, Lord Dying, and many more of their heavy brethren.
In early 2014, the band issued released their Soulseller Records debut, Leave The Light, which met with excellent worldwide reviews and earned them festival invites. Three years into their career, they released Tempora Infernalia which brought them to even wider audiences and solidified their fan base within the international metal community. Sputnik Music placed it among the "strongest albums 2015," About.com lauded a, "fine offering of smoky, doom-tinged '70s-style occult rock with reverent nods to Deep Purple, The Scorpions, Black Sabbath and Thin Lizzy," while Decibel Magazine hailed the band's, "doomy, very melodic dourness," adding, "there's no reason to not get pumped."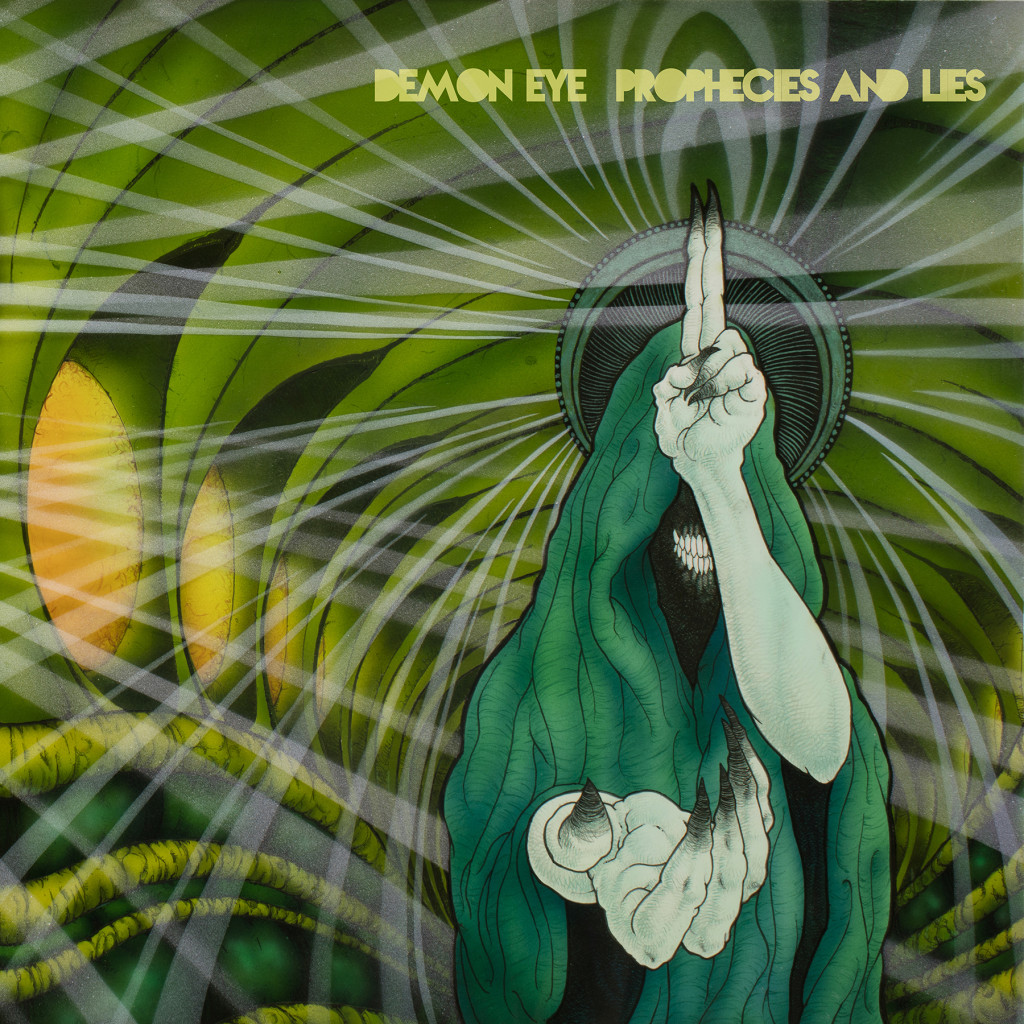 http://www.facebook.com/demoneyenc
http://www.demoneye.bandcamp.com
http://www.demoneyeofficial.com
http://www.soulsellerrecords.com