North Carolina-based DEMON EYE will unleash their third full-length, Prophecies And Lies, via Soulseller Records later this summer.
A monolithic display of mighty riffs, haunting melodies, and fist-raising anthems, the eleven-track burner was recorded by Corrosion Of Conformity's Mike Dean in the band's hometown of Raleigh and finds their fiery fusion of heavy classic rock, proto metal, and traditional doom at its most intense to date. DEMON EYE conjures vintage, heavy darkness for modern day evils.
Prophecies And Lies will be released on August 11th on CD, vinyl, and digital formats. In the meantime, sample album opener, "The Waters And The Wild" below.
In related news, DEMON EYE will play this year's edition of the Maryland Doom Fest alongside Captain Beyond, Lo-Pan, Brimstone Coven and more. The band will also play a record release show in August with Captain Beyond with additional live performances to be announced in the weeks to come.
DEMON EYE:
6/23/2017 Cafe 611 @ Maryland Doom Fest – Frederick, MD
8/18/2017 Pourhouse – Raleigh, NC w/ Captain Beyond [info]
Prophecies And Lies Track Listing:
1. The Waters And The Wild
2. In The Spider's Eye
3. The Redeemer
4. Kismet
5. Infinite Regress
6. Dying For It
7. Politic Devine
8. Power Of One
9. Vagabond
10. Prophecies And Lies
11. Morning's Son
DEMON EYE was unearthed in Raleigh, North Carolina during the Spring of 2012. Shortly thereafter, the band began receiving international recognition for their highly-acclaimed songcraft and stunning live performances. DEMON EYE channels the introspective darkness of Pentagram, the heavy grooves of Black Sabbath, and the fist-banging shred of early Iron Maiden. They have shared the stage with the likes of Pentagram, Corrosion Of Conformity, High On Fire, Spirit Caravan, The Obsessed, The Sword, King's X, Loincloth, YOB, Witch Mountain, Lord Dying, and many more of their heavy brethren.
In early 2014, the band issued released their Soulseller Records debut, Leave The Light, which met with excellent worldwide reviews and earned them festival invites. Three years into their career, they released Tempora Infernalia which brought them to even wider audiences and solidified their fan base within the international metal community. Sputnik Music placed it among the "strongest albums 2015," About.com lauded a, "fine offering of smoky, doom-tinged '70s-style occult rock with reverent nods to Deep Purple, The Scorpions, Black Sabbath and Thin Lizzy," while Decibel Magazine hailed the band's, "doomy, very melodic dourness," adding, "there's no reason to not get pumped." Added Pop Matters, "DEMON EYE whips listeners into a frenzy with a series of witchy songs that call to mind the classic era of 'eavy rock," DEMON EYE remains hellbent on bringing their hook-laden, dark riffin' songcraft to fans far and wide.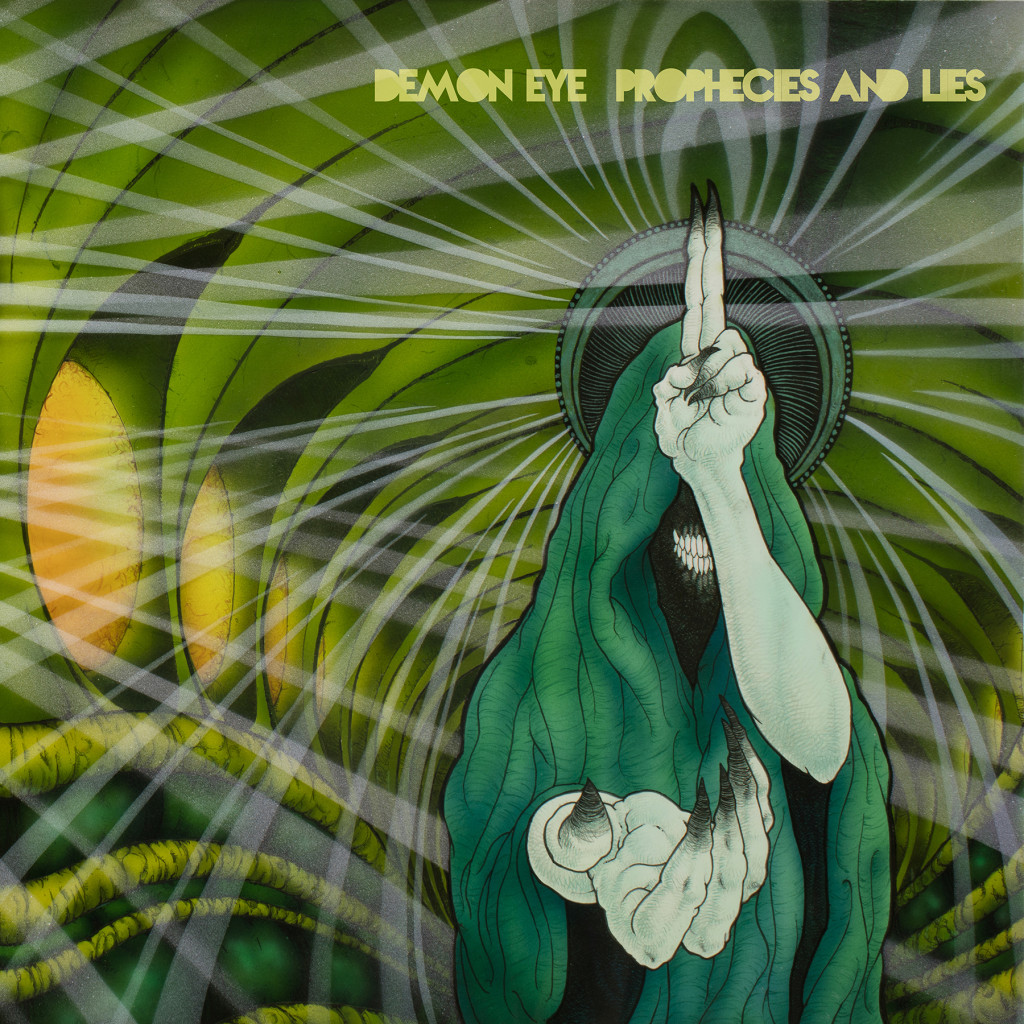 http://www.facebook.com/demoneyenc
http://www.demoneye.bandcamp.com
http://www.demoneyeofficial.com/
http://www.soulsellerrecords.com