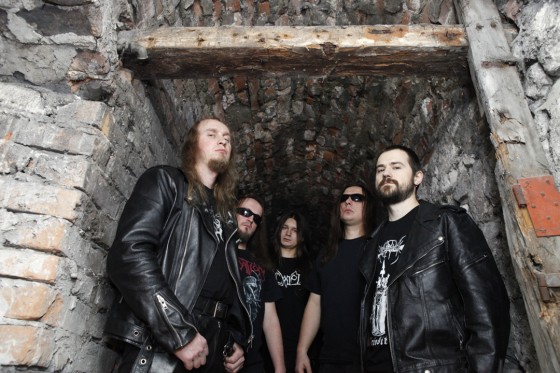 Top-tier Polish death metal band DEIVOS has signed a deal with Selfmadegod Records for the upcoming release their fourth full-length. The band is currently hard at work writing new material to be recorded early in the new year at Zed Studio (Black River, Rootwater, Frontside), the album tentatively slated for release in mid-2014.
Boasting a technical and cruel style of death metal inspired by some of the best bands of this genre including Morbid Angel, Suffocation and Cryptopsy, DEIVOS originated in 1997, releasing their first demo, Praised By Generations, in 1999. In 2003, they released the Hostile Blood MCD through Butchery Music, the EP enthusiastically accepted by the underground death community. In 2004, the band started to write new material for their first record which was ultimately recorded in January and February 2006 at the famous Hertz Studio (Decapitated, Vader). The record, entitled Emanation From Below, was released in Poland by Empire Records in November 2006. Thanks to Metal Mind Production, in January 2008 the record was subsequently released in Europe and then in the US in 2008. At the end of 2008 the band once again entered Hertz studio to record their second album Gospel Of Maggots, the album gaining the attention of American label Unique Leader Records who released it in February 2010. Following lineup changes, the band revisited Hertz Studio in February 2011 to record their third full-length effort, Demiurge of the Void, which was also released by Unique Leader in September 2011.
More info on DEIVOS and the act's pending new release will be announced in the months ahead.
https://www.facebook.com/Deivos
http://www.selfmadegod.com
http://www.youtube.com/user/SelfmadegodRecords
http://www.facebook.com/selfmadegod