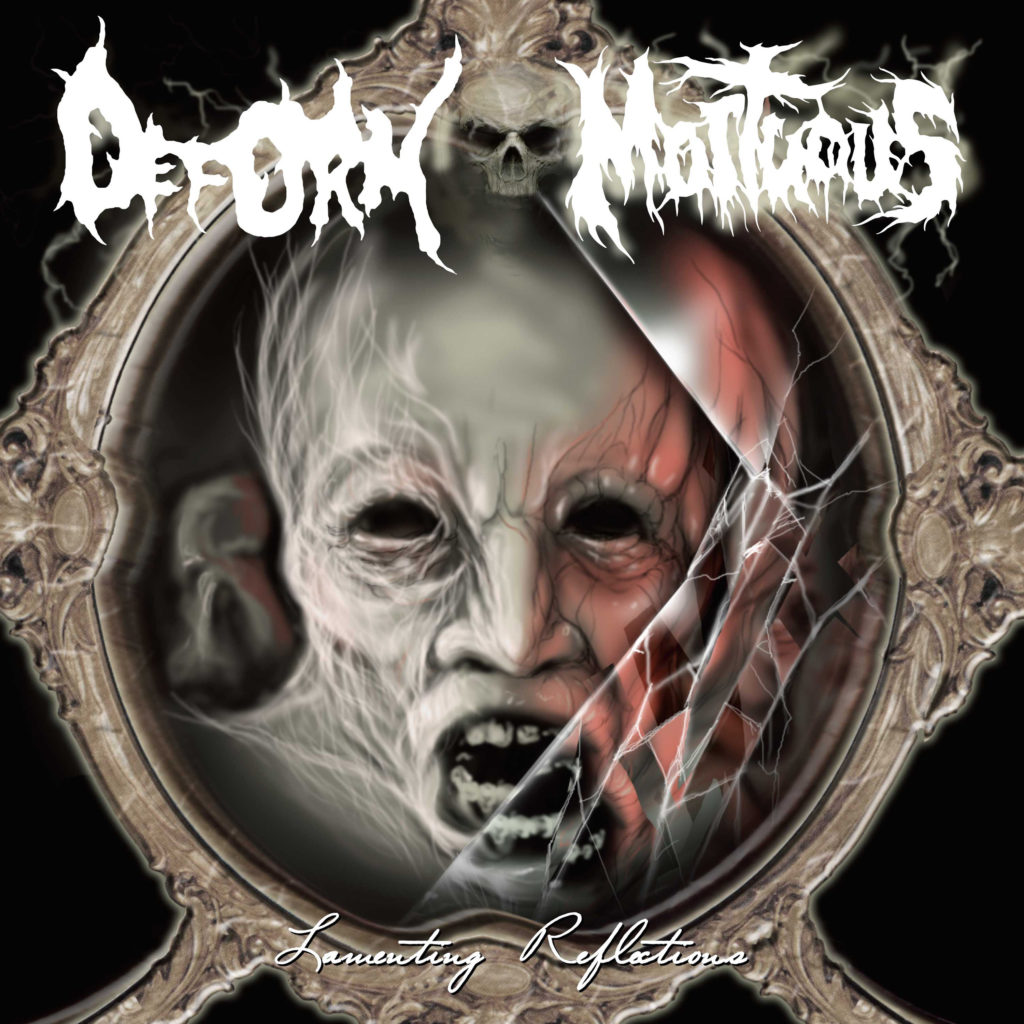 Lamenting Reflections is the impending split EP featuring now-defunct New Jersey death metalists DEFORM and California death dealers MORTUOUS. Set for official unveiling this Halloween, the limited three-song offering is dedicated to former DEFORM guitarist/vocalist Tim Ninerell, who took his own life in 2016.
In advance of its release, Cvlt Nation is currently streaming the release in full hailing "ten minutes of unrelenting death metal."
Hear Lamenting Reflections in its barbaric entirety, courtesy of Cvlt Nation, at THIS LOCATION.
Lamenting Reflections will be released digitally and on limited edition vinyl in two variants: 250 black and 250 bone (double-sided insert and download card included) on October 31st via Carbonized and Dawnbreed Records with an additional cassette release through Unholy Domain Records. For preorders visit carbonizedrecords.com and dawnbreed.com.
DEFORM formed in Hainesport, New Jersey in October of 2007 by guitarist/vocalist Tim Ninerell and drummer Mike Churry with the intention of playing true death metal. Influenced by the likes of Convulse, Accidental Suicide, and Viogression and initially operating under the name Desiccation, they wrote and recorded two demos before changing the name to Tenebrous. In 2008, they changed their name again to DEFORM. From 2009-2013, DEFORM composed tracks for their demo, Nefarious Impulses and a split with MORTUOUS, Lamenting Reflections. DEFORM's revolving lineup was eventually solidified in late 2013 with the addition of guitarist Alex Dobran, vocalist Josh Perrin (Basilysk), and additional guitarist Colin Tarvin (MORTUOUS, Acephalix, Deadpressure). DEFORM continued writing music and playing shows through much of 2014 until Tarvin returned to the West Coast to work with the new MORTUOUS lineup. Following his departure, DEFORM performed just a few more shows before they eventually disbanded in October 2015. On May 18th, 2016 Ninerell took his own life at the age of twenty-seven.
MORTUOUS was forged in San Jose, California in 2009 from the ashes of guitarist Colin Tarvin's previous project Funerealm. Tarvin began writing music in the vein of Incantation, Autopsy, and Viogression with lyrics centered heavily on philosophical views on death and anti-technological themes. Later that year he released the Mors Immortalis demo on Skeleton Plague Records which received praise and recognition throughout the underground death metal community. By 2010, MORTUOUS had a full lineup which included former Exhumed members drummer Col Jones and guitarist/vocalist Mike Beams as well as vocalist Al Tarvin-Kibler, and bassist Nick Scarboro. In 2013, the band parted ways with Tarvin-Kibler and Scarboro and recruited bassist Clint Roach. Drummer Chad Gailey of Necrot joined the fold that following year completing the band's current incarnation. MORTUOUS released the bestial fruits of its Through Wilderness debut in 2018 via a joint partnership between Carbonized and Tankcrimes Records in North America and Dawnbreed and Extremely Rotten Productions. The record boasted eight new tracks of relentless doom and death with nods to My Dying Bride, Paradise Lost, Rottrevore, and Disembowelment. Later that year, the band unveiled a split 7″ with Oakland's Scolex.
"Both bands play a brand of sickening and grisly old-school death metal that leaves you as nothing more than a bloodied pulp once all is said and done." — Cadaver Garden
http://www.facebook.com/deformnj/
http://facebook.com/mortuous/
http://www.instagram.com/mortuous
http://mortuousdeath.bandcamp.com
http://mortuous.storenvy.com
http://www.facebook.com/Carbonized-Records
http://www.carbonizedrecords.bandcamp.com
http://twitter.com/carbon_forms
http://www.dawnbreed.com