[photo by Jean Ribeiro]
A new video for "Espirais da Loucura" from Brazilian trio DEAFKIDS has been unveiled through an exclusive premiere at Revolver Magazine. The song is found on the band's explosive third LP, Metaprogramação, which was released in recent weeks through Neurosis' label, Neurot Recordings.
With harsh noise and industrial elements seamlessly melded into a volatile and rambunctious hybrid of ethnic jazz/world music-influenced punk, DEAFKIDS thematically tackles existential socio-political topics and dystopian themes through their own artistic lens. Their singular sound and manic energy coalesce to form one of the most intriguing and challenging acts in recent years.
The new video for for "Espirais da Loucura" was directed by Vitor Jabour. The band offers, "'Espirais da Loucura' illustrates the desperate layers of absurdist madness in its inner and outer aspects – cloistered witnesses in fields of agony – the inner war between our own personas and desires. In its outer aspects, it reflects the chaotic confusion of our daily struggles in socio-political realities, where present and future are being written in hopeless and dystopian lines by this fascist and corrupted misgovernment we are currently living in Brazil.
The video was created through analog circuit-bending by the Brazilian VJ Vitor Jabour, collaborating with what we call the 'Brazilian Lo-Fi Abuse,' by creating violent synesthetic sensations through the abstraction of colors, lights and sensory movements."
"Somewhere between Neurosis and Sepultura lies Brazil's DEAFKIDS, a self-described 'noise-punk' outfit that more than lives up to that descriptor," writes Revolver Magazine alongside their premiere of the "Espirais da Loucura" video. "The visual, a mix of scrambled lo-fi television noise obscuring ghostly figures, is as abstract and fascinating as the track itself, blooming once the teeth-clenching riff hits about halfway in."
See DEAFKIDS' "Espirais da Loucura" video at Revolver RIGHT HERE.
Metaprogramação offers a vertiginous, sensory insight on these inner conflicts and aspects of the animal being. Do not allow yourself to be programmed.
DEAFKIDS' Metaprogramação is out now on LP, CD, and digital formats through Neurot Recordings. Place digital preorders at Bandcamp HERE and physical orders at the Neurot webshop HERE.
The band will tour across Europe in support of the album this spring, leading with two sets at Roadburn Festival April 11th and 12th. These shows will be followed by several weeks of shows, the tour lasting into early May, and the band joined by Rakta for the journey.
DEAFKIDS will make their way onto North American soil for their first time this Summer, having been confirmed to support labelmates Neurosis alongside Bell Witch in August. The Eastern US and Southeastern Canadian dates run from August 7th through August 17th, with shows in Atlanta, Carrboro, Washington, Philadelphia, Brooklyn, Boston, Montreal, Toronto, Detroit, and Chicago.
Watch for additional tour dates, several videos from Metaprogramação, and more from DEAFKIDS to be posted in the weeks ahead.
DEAFKIDS w/ Rakta:
4/11/2019 Roadburn Festival 2019 -Tilburg, NL
4/12/2019 Roadburn Festival 2019 – Tilburg, NL w/ PetBrick
4/14/2019 – Amsterdam, NL
4/16/2019 D. K. Luksus – Wroclaw, PL
4/17/2019 Underdogs – Prague, CZ
4/18/2019 Urban Spree – Berlin, DE
4/19/2019 Merleyn – Nijmegen, NL
4/20/2019 The Lexington – London, UK
4/21/2019 Soup Kitchen – Manchester, UK
4/22/2019 The Hope & Ruin – Brighton, UK
4/23/2019 Moon – Cardiff, UK
4/24/2019 The Cluny – Newcastle, UK
4/25/2019 Rough Trade – Bristol, UK
4/26/2019 Olympic Cafe – Paris, FR
4/28/2019 SWR Barroselas Metalfest 2019 – Viana do Castelo, PT
4/29/2019 Mag4 – Bruxelles, BE
4/30/2019 Bar Hic – Rennes, FR
5/01/2019 Tri Martolod – Concarneau, FR
5/02/2019 Léo Ferré – Brest Espace, FR
5/03/2019 Les 3 Pieces – Rouen, FR
5/04/2019 Het Bos – Antwerp, BE
5/05/2019 Donau Festival 2019 – Donau, AU
w/ Bell Witch, Neurosis:
8/07/2019 The Masquerade – Atlanta, GA
8/08/2019 Cat's Cradle – Carrboro, NC
8/09/2019 9:30 Club – Washington, DC
8/10/2019 Theatre Of Living Arts – Philadelphia, PA
8/11/2019 Brooklyn Steel – Brooklyn, NY
8/13/2019 Paradise Rock Club – Boston, MA
8/14/2019 Corona Theatre – Montreal, QC
8/15/2019 The Opera House – Toronto, ON
8/16/2019 St. Andrews Hall – Detroit, MI
8/17/2019 Thalia Hall – Chicago, IL
While DEAFKIDS' previous release, Configuração Do Lamento, captured the group delving deep into their own diverse and discordant musical world, Metaprogramação pushes these elements to entirely new extremes. The band imprints a future-primitive psychic scenario into their music by weaving a fabric of electronic pulses, barrages of delay and noise, wailing guitars, and frenzied rhythms that ricochet aggressively between the speakers. Songs are urgent yet fluid, melting and dissolving into one another, culminating in a wild psychedelic journey that's bound to reach one's mind through the body while intoxicating both.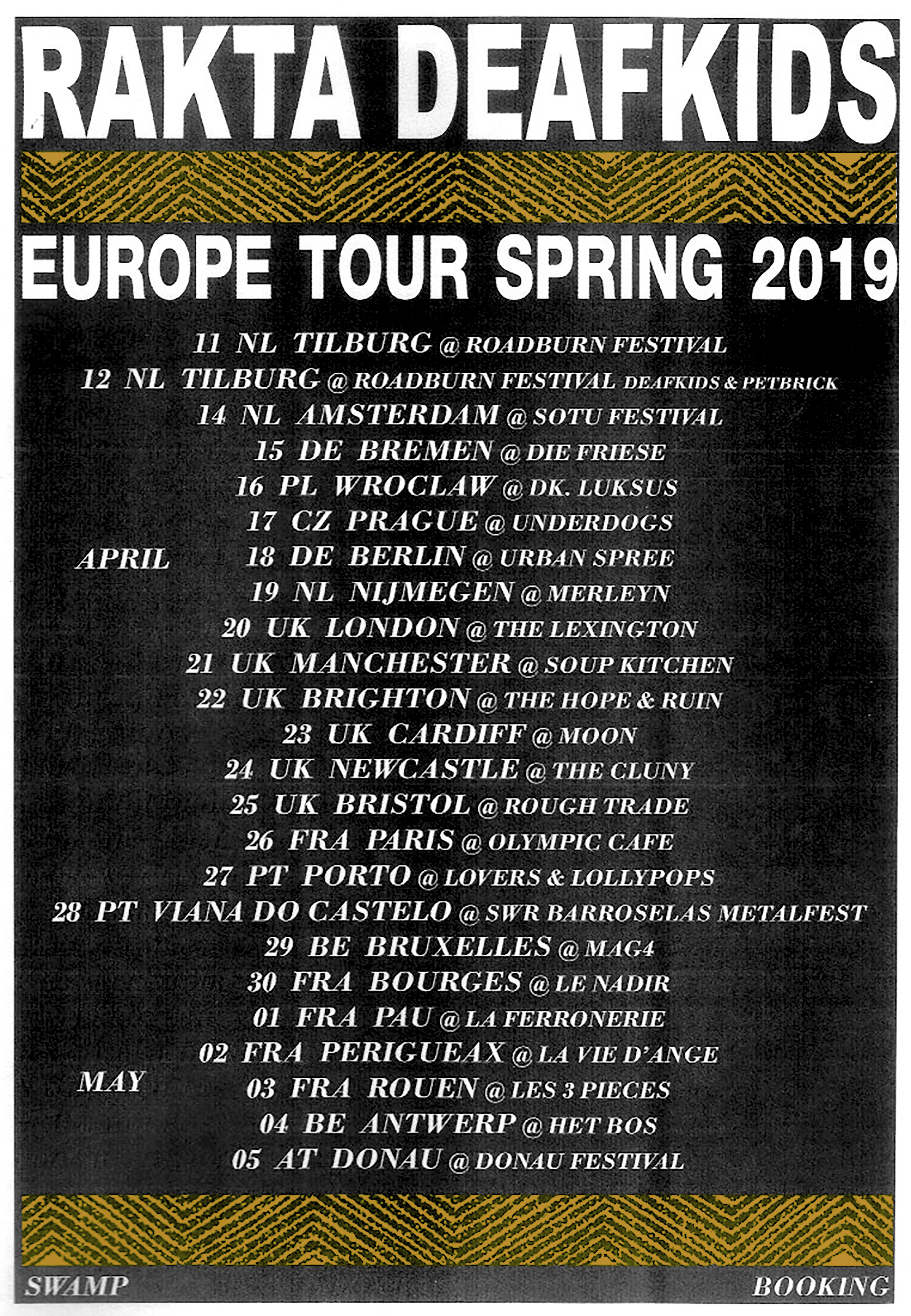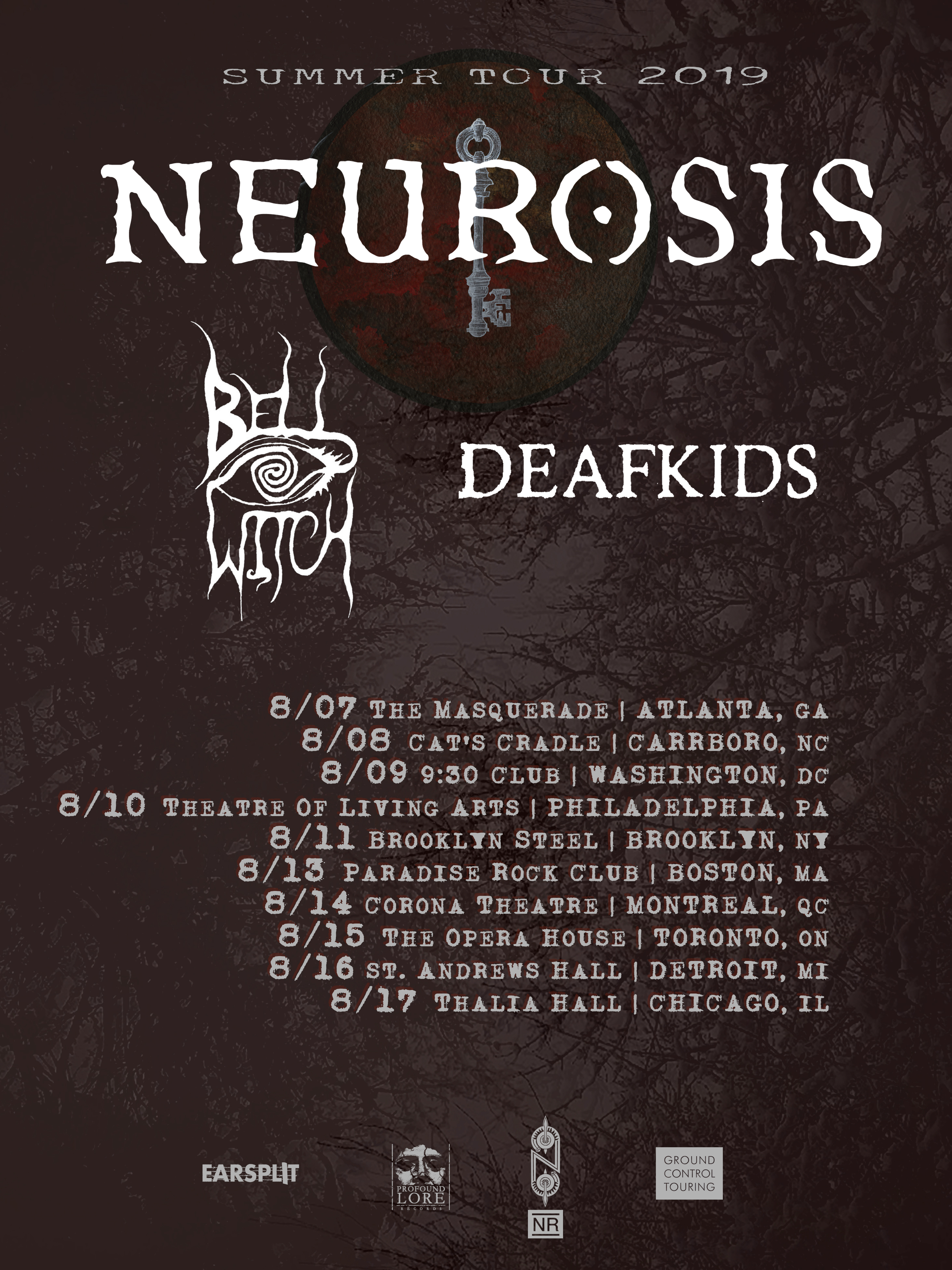 https://deafkidspunx.bandcamp.com
https://www.facebook.com/deafkidspunx
http://www.neurotrecordings.com
http://www.facebook.com/neurotrecordings
https://neurotrecordings.bandcamp.com
https://twitter.com/OfficialNeurot