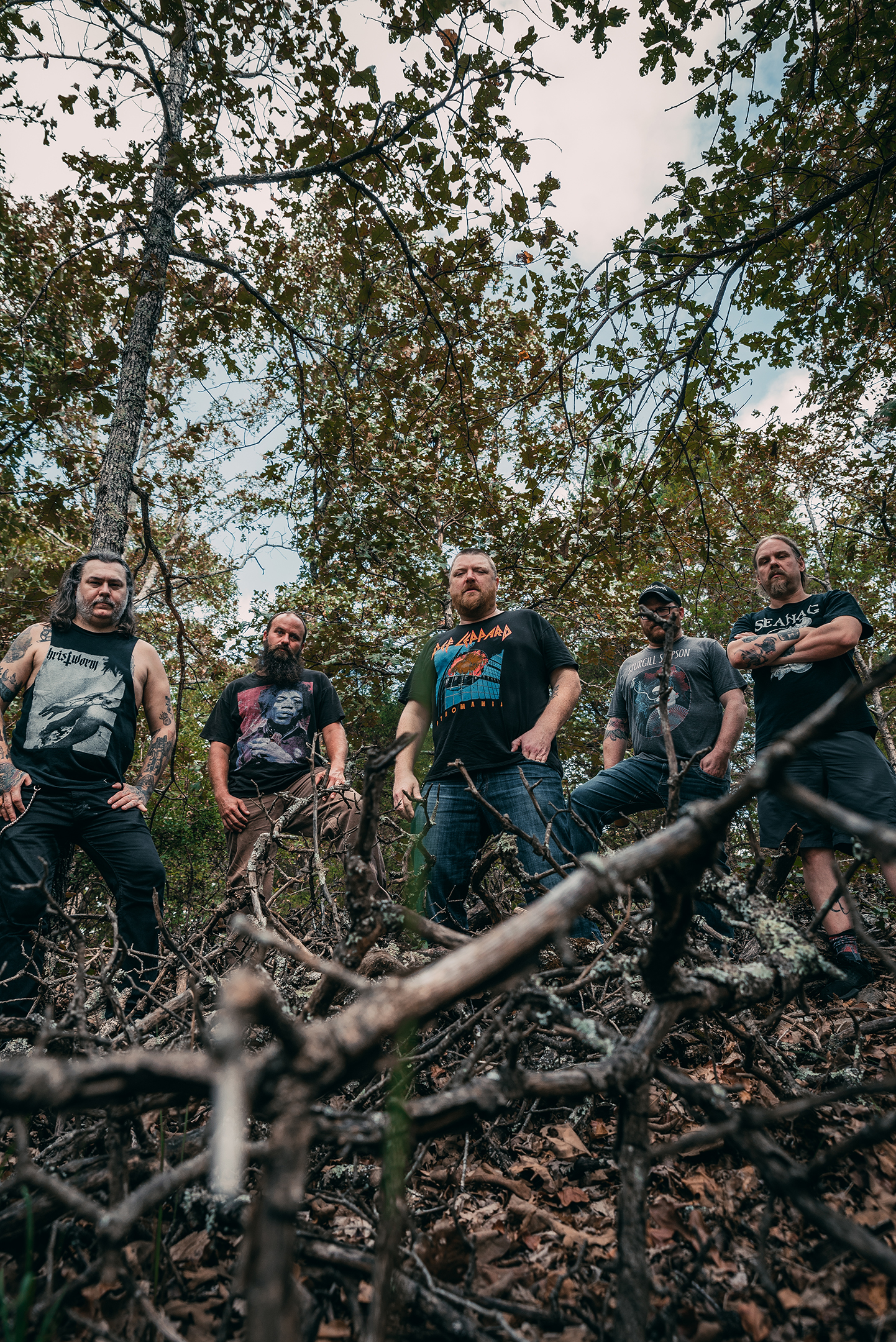 [photos by Adam Peterson]
Arkansas-based DEADBIRD – containing current and former members of Rwake, Iron Tongue, Pallbearer, and more – is preparing to release their first album in ten years with III: The Forest Within The Tree, through 20 Buck Spin in October. The album's magmatic new single "Alexandria" has been issued as the label posts preorders for the album.
Recorded in "the ZZ Top Room" at Ardent Studios and at AB Recording, both in Memphis, Tennessee, engineered, co-Produced, and mixed by Alan Burcham, and mastered by Brad Boatright at Audiosiege, III: The Forest Within The Tree features vibrant artwork by John Santos (Kylesa, Mutoid Man, Torche, Noothgrush, Catheter).
Stream DEADBIRD's "Alexandria" RIGHT HERE.
III: The Forest Within The Tree will see release on LP, CD, and digital formats via 20 Buck Spin on October 12th. Find preorders at the label webshop HERE and via Bandcamp where "Luciferous Heart" is also streaming HERE.
Stand by for additional audio samples to be released in the weeks ahead.
Following their set at Migration Festival in Pittsburgh in July DEADBIRD is booking new live actions in support of III: The Forest Within The Tree, including two record release shows for the album. The band will play two Arkansas shows the week of the album's release, performing n Little Rock on October 12th and Fayetteville on October 13th. Watch for more tour dates to be announced.
DEADBIRD Record Release Shows:
10/12/2018 White Water Tavern – Little Rock, AR w/ Terminal Nation, Tranquilo.
10/13/2018 Backspace – Fayetteville, AR w/ Bones Of The Earth, Groaners
A decade has now passed since the release of Twilight Ritual, the second LP from Little Rock/Fayetteville-based DEADBIRD. Though much has changed in the metal world since then DEADBIRD remains steadfast in their ability to sculpt heart-wrenching and gutsy songs from the deepest, darkest places within. Years of toil and scorched southern soil went into the band's third album III: The Forest Within The Tree resulting in forty haunting minutes of emotive turbulence and resolute grit.
An intense listen from the outset, after "The Singularity" intro the one-two punch of "Luciferous Heart" and "Heyday" carry the weight of the grandiose and the grave, burning with furor and primordial light. At times dipping into quietly morose acoustics and at others crushing with a Neurosis-like magnitude, DEADBIRD offers the scope of the world weary and of sentiment laid bare on compositions like "Brought Low" and "Bone & Ash."
Ten years is not a short time between albums, but the passing of years have solidified DEADBIRD into an entity well versed in the art of vigilance. The eight tracks comprising III: The Forest Within The Tree are their best to date and signal the awakening of new day for the band. The album is a must-hear release for fans of Rwake, Samothrace, Neurosis, Alice In Chains, Kylesa, Pallbearer, Spirit Adrift, His Hero Is Gone, and El Dopa.
https://www.facebook.com/Deadbird1332
http://www.20buckspin.com
http://www.facebook.com/20buckspin
http://twitter.com/20buckspinlabel
http://listen.20buckspin.com