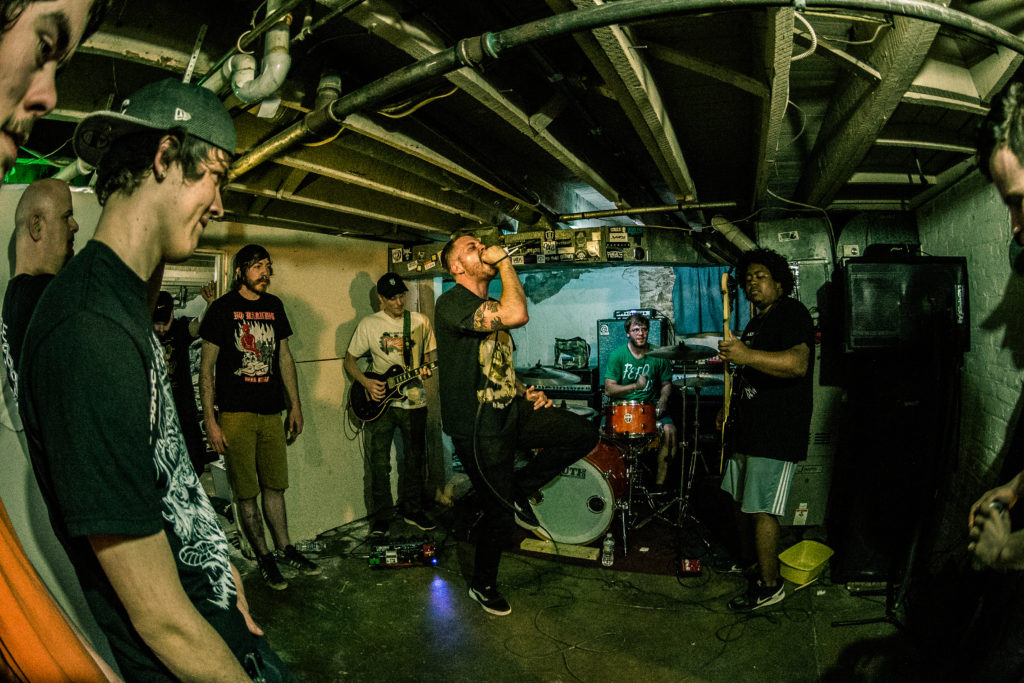 [photos by William Bates]
Virginia Beach metallic hardcore quartet ACCIDENT PRONE has issued a new video from their Deep Wound Red EP which saw release in August. The video, filmed for the track "Jonestown Family Reunion," has been premiered at No Echo alongside a brief interrogation of the band about the song and its new visual accompaniment.
Unloading six tracks in less than fifteen minutes, ACCIDENT PRONE's high-octane attack sound bleeds with technical elements and slamming grooves which merges a classic '90s metalcore sound with a modern hardcore vibe on the Deep Wound Red EP. The record was produced by Lee Dyess (Against Me!, From First to Last, Evergreen Terrace), mastered by Brad Boatright (Oathbreaker, Code Orange, Full Of Hell), and completed with artwork by Rusty Painter.
With the premiere of the "Jonestown Family Reunion" video, No Echo states in part, "Deep Wound Red is a nasty piece of work. The guitar work is especially deranged, slithering around the EP like it's on a fix of speed pills. David's vocals should also be noted here because he sounds like he's coming apart at the seams, a good thing for this kind of music."
See ACCIDENT PRONE's "Jonestown Family Reunion" video at No Echo RIGHT HERE.
Deep Wound Red can be streamed in its entirety and purchased digitally HERE; watch for CD preorders in the weeks ahead
Following an extensive US summer tour and a subsequent EP-release weekend, ACCIDENT PRONE will hit the road again in October to support Deep Wound Red further.
Formed in late 2011, ACCIDENT PRONE began their journey by traveling out of town to play shows as often as possible soon after their local debut. After a string of EPs, a split, a full-length record, and several lineup changes, the band fully honed-in on their blend of modern hardcore and spastic metalcore, culminating with the release of their 2016 EP, Love. Hate., produced by Andreas Magnusson (Oh, Sleeper, The Black Dahlia Murder, Scarlet). The band has continued to develop as musicians and songwriters by reaching a new apex on Deep Wound Red, the EP exhibiting the band's savagely unique guitar riffs and seething, aggressive vocals layered on top of the technical, crushing rhythm section. Even as they've strayed into new territory with a refreshing display harmonious melodic sections, ACCIDENT PRONE has continued to stay true to their hardcore roots with an attitude and intensity matched by few in the current DIY scene.
ACCIDENT PRONE Live:
11/17/2018 O'Malleys – Margate, FL
12/15/2018 TBA – Baltimore, MD
https://accidentproneva.bandcamp.com
https://www.facebook.com/accidentproneva
https://www.instagram.com/accidentproneva
https://twitter.com/accidentproneva
https://www.youtube.com/accidentproneva