[photo by Kathleen Kennedy]
Noisey is playing the entire sophomore album by Texas-based apocalyptic metal seven-piece, DEAD TO A DYING WORLD, entitled Litany, as the massive 2xLP is prepared for release this Friday and the band continues to tour the Western US on their way to Southwest Terror Fest this week.
"If you ever wanted to hear the sound of the apocalypse, look no further, the Vice Magazine-founded Noisey blog issues with the album stream of the Billy Anderson-produced (Atriarch, Eight Bells, Tragedy, Arabrot) album. It continues, "DEAD TO A DYING WORLD are here with a ripping hour and thirteen minutes of epic doom-crust black metal on their sophomore release, Litany. We all know that Dallas, Texas can churn out some monster bands of all different varieties. But this right here. Seriously. There are some moments where you want to bang your head, and others where you feel more appropriate kneeling down to pray."
Unload DEAD TO A DYING WORLD's Litany in its entirety via Noisey HERE.
Litany will see release in digital, gatefold CD and deluxe 200-gram 2xLP on October 16th, a cooperative release between three labels; preorders can be placed through Tofu Carnage Records, Gilead Media or Alerta Antifascista.
DEAD TO A DYING WORLD continues to tear through the Western US on tour in support of Litany, including their return to Southwest Terror Fest where they'll play this Thursday, October 15th with Thou & The Body, In The Company Of Serpents, Heat Dust, Gale, Abstracter, Hanta and Methra. The band will also endure their maiden European tour this Spring, including a performance at Roadburn 2016 alongside Neurosis, Amenra, La Muerte, Astrosoniq, Skeptiscim and more.
DEAD TO A DYING WORLD Tour Dates:
10/12/2015 Club 66 – Ashland, OR [info]
10/13/2015 The Golden Bull – Oakland, CA [info]
10/14/2015 The Complex – Los Angeles, CA [info]
10/15/2015 191 Toole – Tucson, AZ @ Southwest Terror Fest [info]
10/16/2015 The Sandbox – El Paso, TX [info]
10/17/2015 Sound Crater – San Antonio, TX [info]
4/16/2015 013 – Tilburg, NL @ Roadburn Festival [info]
On Litany, DEAD TO A DYING WORLD delivers six massive tracks consuming two full LPs, the seven-member lineup incorporating violas, pianos, concert bass, multiple types of guitars and percussion and more into the more than seventy-three minute opus, the album also including guest appearances by members of Pallbearer, Sabbath Assembly, and Pinkish Black. Litany was recorded, produced, engineered, and mixed by Billy Anderson at The Echo Lab with additional engineering by Matt Pence and Justin Collins, pre-production by Chris Williams at Tidepool Studios, with mastering duties handled by Brad Boatright at Audiosiege, the artwork handled by Sera Timms and the layout and design by Kevin Gan Yuen. The band's sound reaches brilliant new heights on Litany; the record is a statement, a mantra, an epilogue, yet it gives just a hint to the musical manuscript underwritten by DEAD TO A DYING WORLD.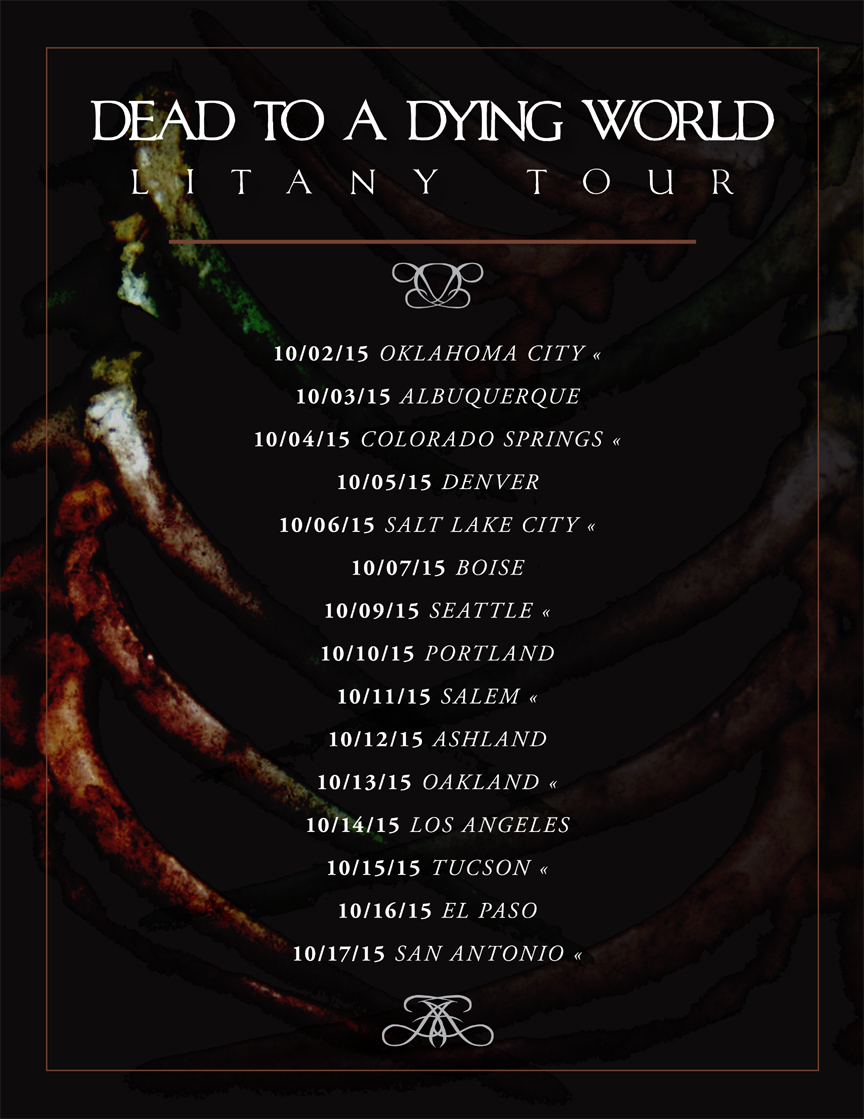 http://www.deadtoadyingworld.com
http://www.facebook.com/DeadToADyingWorld
http://www.deadtoadyingworld.bandcamp.com
http://www.tofucarnage.com
http://www.gileadmedia.net
http://www.doomrock.com