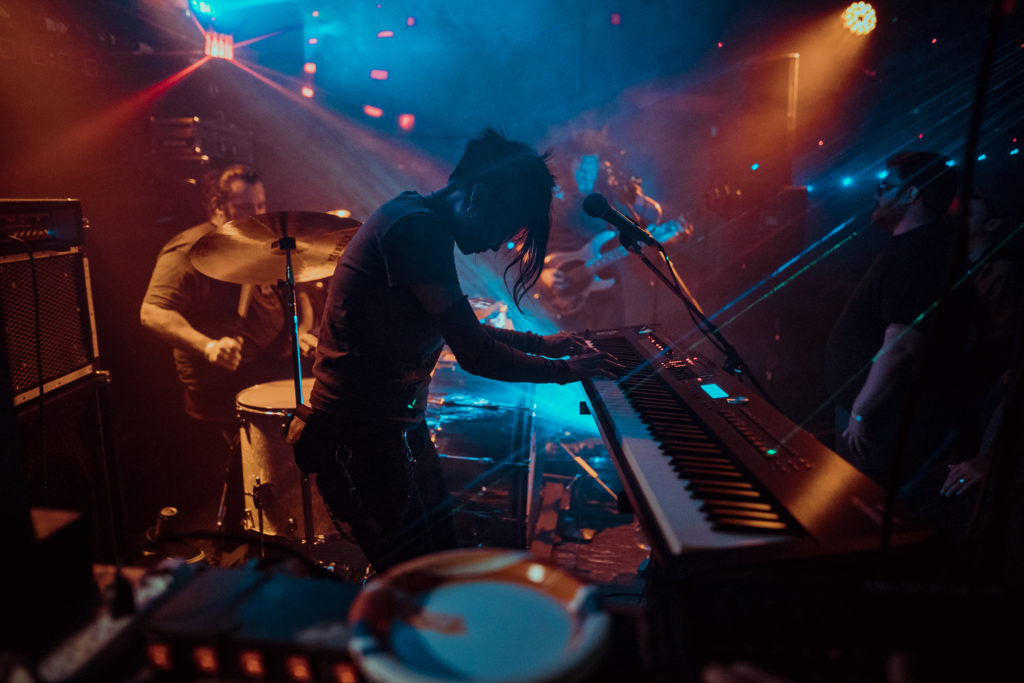 photo by Oscar Moreno
Atlanta-based post-rock/alt metal trio DEAD REGISTER has announced a three-week Eastern US Fall tour supporting their second album, Alive, out now on Seeing Red Records.
DEAD REGISTER sees husband-and-wife team M. Chvasta (vocals, bass VI, bass) and Avril Che (keys, synthetic bass, backing vocals, visuals) along with R. Garcia on drums delivering a genre-bending, gloomy dual-bass/sub bass attack that is at once immersive and consuming. The band released their second LP, Alive, earlier this year, the album recorded by the members of the band, mixed/mastered by Dan Dixon, and completed with artwork by the late Stephen Kasner. Amidst a wealth of positive media and fan response to the record, DEAD REGISTER began supporting the album live locally and completed a Summer tour.
DEAD REGISTER now announces their latest tour on Alive. The trek sees the band following a counterclockwise trail through seventeen cities throughout the East Coast and Midwest US from October 20th through November 12th. The first few shows see them joined by Lost Hours, as well as shows alongside Darsombra, Lotus Thrones, Osi And The Jupiter, Rebreather, Mothership, and many others. See all confirmed dates below and watch for additional live updates from the band in the months ahead.
Stream DEAD REGISTER's Alive LP everywhere including Bandcamp HERE and Spotify HERE and watch the official video for the title track and more at YouTube HERE.
Find Alive on CD and LP – 150 Clear Color-in-Color Swamp Green w/ Orange splatter, 150 A Side / B Side Black, Gold, & Maroon combo – and digitally HERE.
DEAD REGISTER Fall Tour 2022:
10/20/2022 The Odd – Asheville, NC w/ Lost Hours, All Hell
10/21/2022 Boggs Social & Supply – Atlanta, GA w/ Lost Hours, Empty Black, Less Dead
10/22/2022 Art Bar – Columbia, SC w/ Lost Hours, MNRVA
10/28/2022 Monstercade – Winston-Salem, NC w/ Darsombra, Elevated Weirdo Gameshow
10/29/2022 Riff House Pub – Chesapeake, VA
10/30/2022 Kingsland – Brooklyn, NY w/ Dark Knights Of The Soul, Glass Mimic
11/01/2022 O'Brien's – Boston, MA
11/02/2022 Century Bar – Philadelphia, PA w/ Lotus Thrones, Worst Ones
11/03/2022 Westside Bowl – Youngstown, OH w/ Osi And The Jupiter
11/04/2022 Buzzbin Shop – Akron, OH w/ Rebreather, Supercorrupter
11/05/2022 Outer Limits Lounge – Detroit, MI w/ Vazum, Bbbomit
11/06/2022 Reggie's Music Joint – Chicago, IL w/ Mothership, Jason Kane And The Jive, The Waterfall King
11/08/2022 Brass Rail – Fort Wayne, IN w/ Piss On Feet
11/09/2022 Planet Of The Tapes – Louisville, KY w/ Isolation Tank Ensemble, Deady
11/10/2022 Brickyard Bar & Grill – Knoxville, TN w/ Deconbrio, Kanashii
11/11/2022 True Story Brewing – Birmingham, AL w/ Art By Burx
11/12/2022 Flicker Theatre – Athens, GA w/ Aunt Moth, Needle Teeth
"Overflowing with the heaviest, most tone-laden, blackened post-punk melodies that you've been craving. 10/10" – Abysmal Hymns
"Nothing else sounds like DEAD REGISTER." – The KillChain
"Fantastic…" – Post Punk Magazine
"Infinite choruses… chords that grab my skin making invisible wounds without cruelty." – Doom In Aeternum
"True to its title it's one of the most vital, alive records I've heard in 2022." – Nine Circles
"8 out of 10" – Decibel Magazine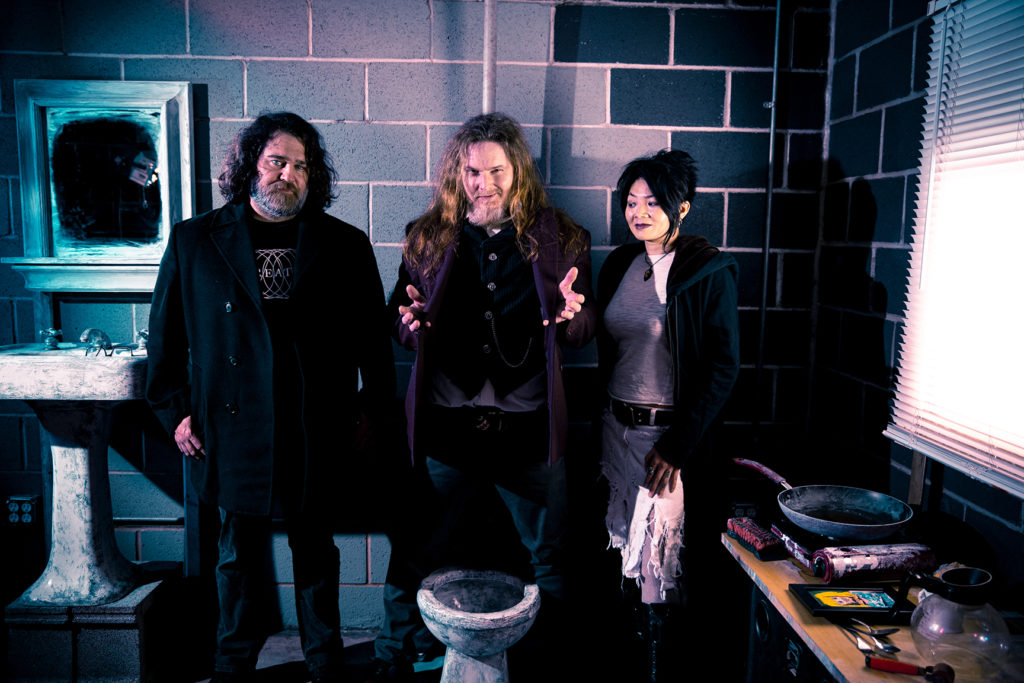 photo by Keeley Kennahan
https://www.deadregister.com
https://deadregister.bandcamp.com
https://www.youtube.com/deadregister
https://www.facebook.com/deadregister
https://www.instagram.com/dead_register
https://twitter.com/deadregister