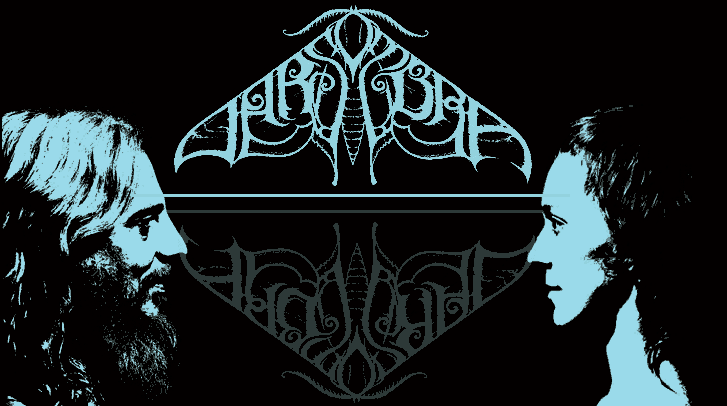 Baltimore-based psychedelic/experimental duo DARSOMBRA prepares to self-release their fifth LP, Transmission, in early August. The record will hit in conjunction with the band's impending two-month-long North American tour in support of the album, which begins next week. A new audio/visual trailer for Transmission and an updated tour routing have been posted.
Uniting Brian Daniloski on guitar, vocals, and effects, and Ann Everton on synthesizer, vocals, gong, and visuals, DARSOMBRA is a transcendental and emotive experience. Live, they create a symbiotic audio-video involvement that creates a temporary reality, woven by sight, sound, and movement. These psychedelic and transcendental characteristics are transferred to record as closely as possible.
Transmission consists of one seamless track delivering more than forty-one minutes of sprawling, mind-expanding bliss. Ranging from relentless, charged, and cinematic, to ephemeral, transcendent, and delicate, the song embraces its many qualities as it wraps itself into a thematic, uncompromising saga with a million different interpretations available to the listener. It is a unique experience as a piece of recorded sound, and an unforgettable spectacle to see live. Each format of the album bears slightly different artwork and design elements than the others.
See the new DARSOMBRA Transmission LP trailer RIGHT HERE.
DARSOMBRA will independently release Transmission, on LP, CD, cassette, and digital download on August 9th, but physical preorders ship out next week as the tour begins. Find a wide array of preorder options at the band's webshop HERE and Bandcamp HERE.
Transmission will be released barely a week into DARSOMBRA's massive two-month-long tour across the United States and Canada in support of the record. The latest excursion will begin on July 31st in Cleveland, Ohio and wind itself counterclockwise across the continent through October 5th, ending the run in their hometown. See all confirmed tour dates below and watch for much more from DARSOMBRA to be posted over the months ahead.
DARSOMBRA Tour Dates:
7/31/2019 Magalen – Cleveland, OH
8/01/2019 Sneaky Dee's – Toronto, ON
8/02/2019 Nietzsche's – Buffalo, NY @ Infringement Festival
8/03/2019 Hickory Urban Sanctuary – Buffalo, NY @ Infringement Festival
8/05/2019 Bug Jar – Rochester, NY
8/06/2019 Pauly's Hotel – Albany, NY
8/07/2019 AS220 – Providence, RI
8/08/2019 O'Brien's – Boston, MA
8/09/2019 Geno's – Portland, ME
8/10/2019 Loading Dock – Littleton, NH
8/11/2019 Junktiques – Burlington, VT
8/13/2019 Casa Del Popolo – Montreal, QC
8/15/2019 Pressed – Ottawa, ON
8/16/2019 The Asylum – Sudbury, ON
8/17/2019 New American – Sault Ste Marie, ON
8/20/2019 The Apollo – Thunder Bay, ON
8/22/2019 Times Changed High and Lonesome Club – Winnipeg, MB
8/23/2019 German Club – Regina, SK
8/24/2019 Amigo's – Saskatoon, SK
8/25/2019 9910 – Edmonton, AB
8/26/2019 Dickens – Calgary, AB
8/28/2019 Milkcrate Records – Kelowna, BC
8/29/2019 Avant Garden – Vancouver, BC
8/30/2019 The Cambie – Nanaimo, BC
8/31/2019 Vinyl Envy – Victoria, BC
9/04/2019 Cryptatropa – Olympia, WA
9/05/2019 Lofi – Seattle, WA
9/06/2019 The Space Concert Club – Salem, OR
9/07/2019 High Water Mark – Portland, OR
9/10/2019 Olympia – Boise, ID
9/12/2019 Filling Station – Bozeman, MT
9/13/2019 Kirks' Grocery – Billings, MT
9/14/2019 Cave Collective – Rapid City, SD
9/18/2019 Total Drag – Sioux Falls, SD
9/19/2019 Kitty Cat Club – Minneapolis, MN
9/20/2019 Blush – Duluth, MN
9/21/2019 The Crib – Marquette, MI
9/23/2019 Cactus Club – Milwaukee, WI
9/25/2019 Rozz-Tox – Rock Island, IL
9/26/2019 Trailside Event Center – Peoria, IL
9/27/2019 Charm School – Chicago, IL
9/28/2019 Trumbullplex – Detroit, MI
9/29/2019 3577 Studios – Pittsburgh, PA
10/05/2019 Gwynns Falls Leakin Park – Baltimore, MD @ Mushroom City Art Festival
Since forming in 2006, DARSOMBRA has released an extensive catalog of albums and smaller releases through a vast network of underground labels including At A Loss, Public Guilt, Exile On Mainstream, Translation Loss, and Noise Bombing, Transmission is being funded and released independently by the band.
Prolifically touring for well over a decade, DARSOMBRA has performed throughout North America, Asia, and Europe, at music venues, dive bars, house shows, galleries, festivals, city ruins, and storage units, as well as their legendary pop-up generator shows at national monuments, or just by the side of the road. Their expansive sound finds them fitting on all kinds of bills. They are equally at home on a metal or psych show as they are on a noise or experimental bill.
The band offers, "We're so excited to finally realize and self-release Transmission. We've been sitting on this egg for five years, and she's finally ready to hatch! Sometimes songs and video come to us very quickly, but sometimes they arrive very slowly, like a gradual radio broadcast trickling in from another planet – Transmission arrived in this way, continually delivering itself to us in tonal phrases and themes, in visions and realizations of synchronicity. Our plans are to perform it in as many locations as we can. Keep an eye out for us coming your way!"
[photo by Matt Condon]
https://www.darsombra.com
https://darsombra.bandcamp.com
https://www.facebook.com/darsombra
https://www.youtube.com/darsombra
https://www.instagram.com/darsombra