Baltimore, Maryland's audiovisual progressive/psychedelic duo DARSOMBRA will be headlining the 8th Annual Mushroom City Art Festival online this Sunday, October 4th, from 8-9pm EDT. The band has performed at Baltimore's Mushroom City Art Festival in their local Leakin Park for the past four years, so this year, instead of a strict music performance for that hour of online entertainment, the band has created a TV show, A Trip With Darsombra, which serves as the first episode of their new channel, Darsombra TV.
Since forming in 2006, DARSOMBRA has released an extensive catalog of albums and smaller releases through a vast network of underground labels including At A Loss, Public Guilt, Exile On Mainstream, Translation Loss, and Noise Bombing, before releasing their fourth LP, Transmission, independently in 2019. Uniting Brian Daniloski on guitar, vocals, and effects, and Ann Everton on synthesizer, vocals, gong, and visuals, DARSOMBRA is a transcendental and emotive experience. Live, they create a symbiotic audio-video involvement that creates a temporary reality, woven by sight, sound, and movement. These psychedelic and transcendental characteristics are transferred to record as closely as possible. . . and live, it is a truly cinematic rock 'n' roll show.
Transmission consists of one continuous forty-one-minute flood of sprawling, mind-expanding, musical exploration. Ranging from relentless, charged, and cinematic, to ephemeral, transcendent, and delicate, the song embraces its many qualities as it wraps itself into a thematic, uncompromising saga with a million different interpretations available to the listener.
The band offers with the launch of their new channel, "Darsombra TV is here! Performances, scenes of life around Maryland, and a first listen to some rapidly developing new tracks from DARSOMBRA are some of what fans can expect from our upcoming online performance for Baltimore's 8th Annual Mushroom City Art Festival! A Trip With Darsombra is an hour-long variety show featuring the music of DARSOMBRA, as well as scenes from band members Ann Everton and Brian Daniloski's adventures in Maryland. Come take a trip with Ann and Brian as they journey from Baltimore's notorious Leakin Park and the original locations of their previous performances for Mushroom City Art Festival, to their garden in nearby West Baltimore for an intimate rooftop show, to A Day At The Beach With Darsombra at Assateague Island National Seashore, and finally ending up back in Leakin Park for a very special surprise performance! This action-packed hour of Darsombra TV also includes exercises for screen-weary eyeballs, a bawdy pony gatehouse adventure, and a Leakin Park Mushroom Extravaganza showing some fungal developments in the park since lockdown in March 2020. DARSOMBRA fans will also appreciate exclusive previews of upcoming tracks from the band. . . come and join us on A Trip With Darsombra!"
A Trip With Darsombra airs live this Sunday, October 4th at 8-9pm EDT at THIS LOCATION.
Transmission is out now on LP, CD, cassette, and digital download directly through DARSOMBRA. Each format of the album bears slightly different artwork and design elements than the others.
Find a wide array of options at the band's webshop HERE and Bandcamp where the entire album is streaming HERE.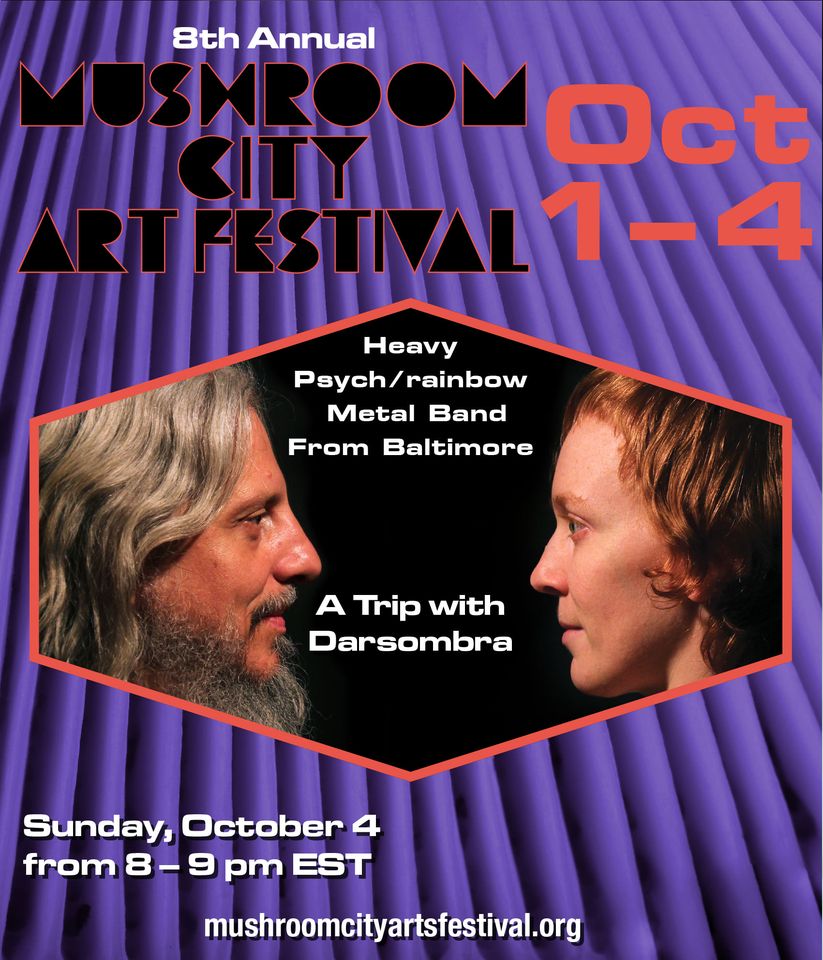 https://www.darsombra.com
https://darsombra.bandcamp.com
https://www.facebook.com/darsombra
https://www.youtube.com/darsombra
https://www.instagram.com/darsombra