The debut full-length from Doncaster, England-based DAMNATION ANGELS is out now on Germany's Massacre Records.
DAMNATION ANGELS have been taking the symphonic/power metal world by storm since their 2006 inception, with a reputation for huge drum beats, monstrous riffing, powerful and expertly performed vocals, all blended with the massive power of the orchestra. In February 2009 the band headed to the Grindstone Studio in Ipswich to create a new benchmark in symphonic metal with the aid of esteemed producer Scott Atkins (Sylosis, Cradle Of Filth). After many months of hard work, their first EP Shadow Symphony was born. The EP went on to sell well worldwide and after touring it extensively throughout the UK the band decided it was time to construct their debut album, Bringer Of Light.
After many negotiations with record labels worldwide, DAMNATION ANGELS struck a deal with Radtone Music (Japan) and released their debut album in Japan in March 2012 with the rest of the world to follow. Bringer Of Light was immediately greeted with rave reviews. Downloads and pre-orders were topping the Amazon Japan charts (over 500 sales in the first 2 weeks) and their video "Pride (The Warrior's Way)" got over 100,000 views on YouTube. The band signed a multi-album deal with Germany's Massacre Records, who released Bringer Of Light in Europe in February 2013 and has since released it in North America.
Once again produced by Scott Atkins, Bringer Of Light boasts just shy of an hour of epic metal DAMNATION ANGELS' name has become synonymous with. Band main man Will Graney conducted and arranged the choirs on the album, with the amazing quality of the work he did pulling similar duties with the vocal arrangements on the latest Cradle Of Filth album, The Manticore and Other Horrors. The band brought Jan Yrlund of Darkgrove Design (Apocalyptica, Manowar, Impaled Nazarene, Stratovarius) back in to execute the album's cover art as with their debut EP.
DAMNATION ANGELS are also scheduled to make their debut North American appearance at ProgPower USA on September 6th, 2013, where the outfit will that evening share the stage with Myrath, Xandria, Wolverine, Ashes of Ares, Soilwork and Shadow Gallery.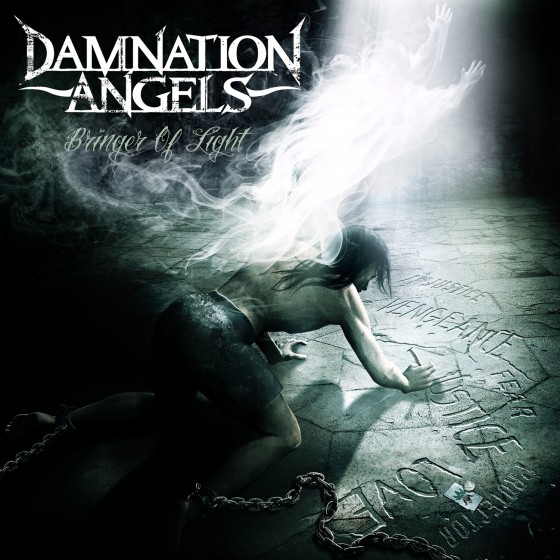 Bringer Of Light Track Listing:
1. Ad Finem
2. The Longest Day Of My Life
3. Reborn
4. I Hope
5. Pt 1 – Acerbus Inceptum
6. Pt 2 – Someone Else
7. Pt 3 – Bringer Of Light
8. Pt 4 – Shadow Symphony
9. No Leaf Clover
10. Pride (The Warrior's Way)
DAMNATION ANGELS:
William Graney – guitars, orchestration, backing vocals
Per Fredrik "Pelle K" Asly – vocals
John Graney – drums
Stephen Averill – bass
Dawn Trigg – piano
https://www.facebook.com/damnationangels
http://www.damnationangels.com
http://www.massacre-records.com
https://www.facebook.com/massacrerecordseurope