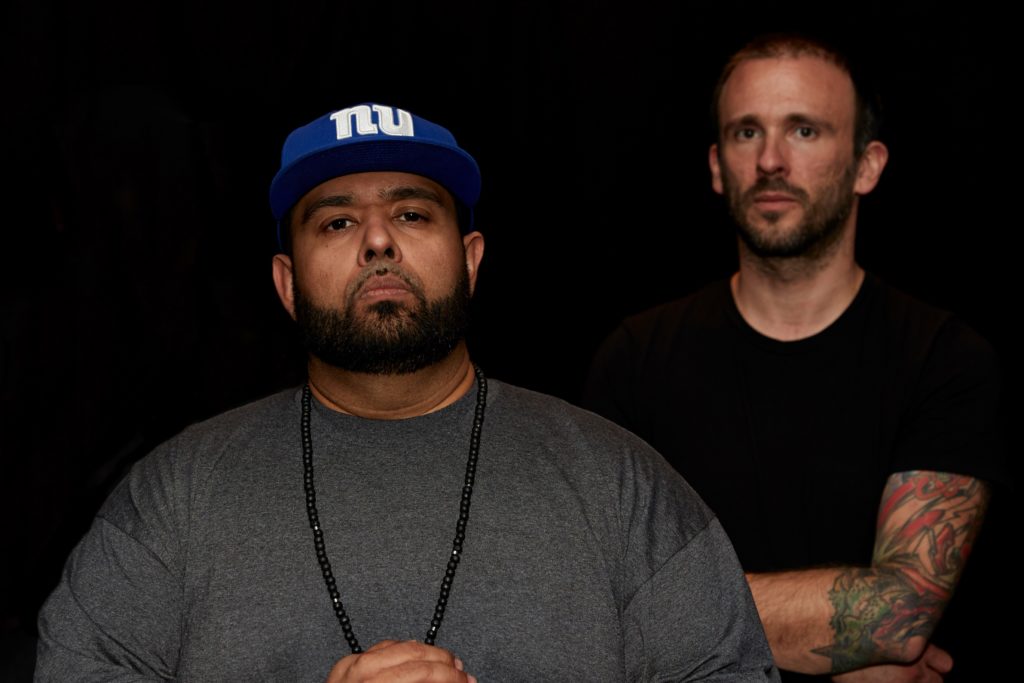 Union City, New Jersey alt hip-hop group DÄLEK presents an animated official video for "With These Mics," one of the six new tracks on their limited/vinyl-only 12″ EP, Respect To The Authors. The record recently saw release through Germany's Exile On Mainstream in conjunction with a European tour and performances at the label's 20th Anniversary festival celebrations.
The video for "With These Mics" brings the song to life through an explosive Claymation sequence by Vincent Cretara. DÄLEK reveals, "We were introduced to Vincent Cretara's work through a mutual friend. We are always interested in seeing how artists that we respect interpret our work. We were curious to see where Vincent would go visually with 'With These Mics' and just knew we didn't want a literal interpretation for the video. What he came back with was dope animation and storytelling that really complements the song. As Vincent puts it: 'The music video for 'With These Mics' is an '80s style Ray Harryhausen / Akira Kurosawa inspired storyline visualizing the rising momentum of the song. An old Samurai wanders in search of immortality. A map leads him to his fate."
See DÄLEK's "With These Mics" video at BrooklynVegan RIGHT HERE.
Respect To The Authors is out on 180-gram 12″ black pure virgin vinyl packed in a 3mm-spined sleeve with gloss laminate, with a black polylined inner sleeve. This is a vinyl-only title; there is no download card or digital version of the album available. Find the record at the Exile On Mainstream webshop HERE.
DÄLEK will return to Europe this week with another two weeks of performances, including several gigs performing as Anguish. See confirmed dates below and watch for further developments to be disclosed in the weeks ahead.
DÄLEK Tour Dates:
7/20/2019 Thomas House – Dublin, IE
7/21/2019 Supersonic Festival – Birmingham, UK
7/22/2019 Soup Kitchen – Manchester, UK
7/23/2019 Craufurd Arms – Milton Keynes, UK
7/26/2016 GrillX – Vienna, AT
7/27/2019 Curtarock Fest – Curta, IT
7/28/2019 Jazzgalerie Konfrontation Festival – Nickelsdorf, AT *
7/29/2019 Palac Akropolis – Prague, CZ *
7/30/2019 In Situ Art Society – Bonn, DE *
7/31/2019 A L'Arme Festival – Berlin, DE *
8/02/2019 Supernormal Festival – Braziers Park, UK
* performing as Anguish
New Jersey tone evangelists DÄLEK — dubbed "alt hip-hop" by their iconic label, Ipecac Records – create a sound that is indeed an alternative: being hip-hop for those who don't pigeonhole themselves as typical diehards of the genre, attracting those listening outside the box. Subversive. Paradigm-changing. Mind blowing.
DÄLEK does not have a message; they are the message. Focusing both on tone and content while staying true to the roots of hip-hop but bringing in the love for monolithic sound arrangements as well as dream-like haze of sheer volume, they combine both the powers of sound and words with a singular and indisputable style. For Exile On Mainstream, it's nothing less than a longtime dream coming true to release Respect To The Authors. The artist and the label have been friends for well over seventeen years and this release brings their like-minded efforts full circle.
https://deadverse.com
https://www.facebook.com/dalekmusic
https://twitter.com/daleknwk
https://www.instagram.com/daleknwk
http://www.mainstreamrecords.de