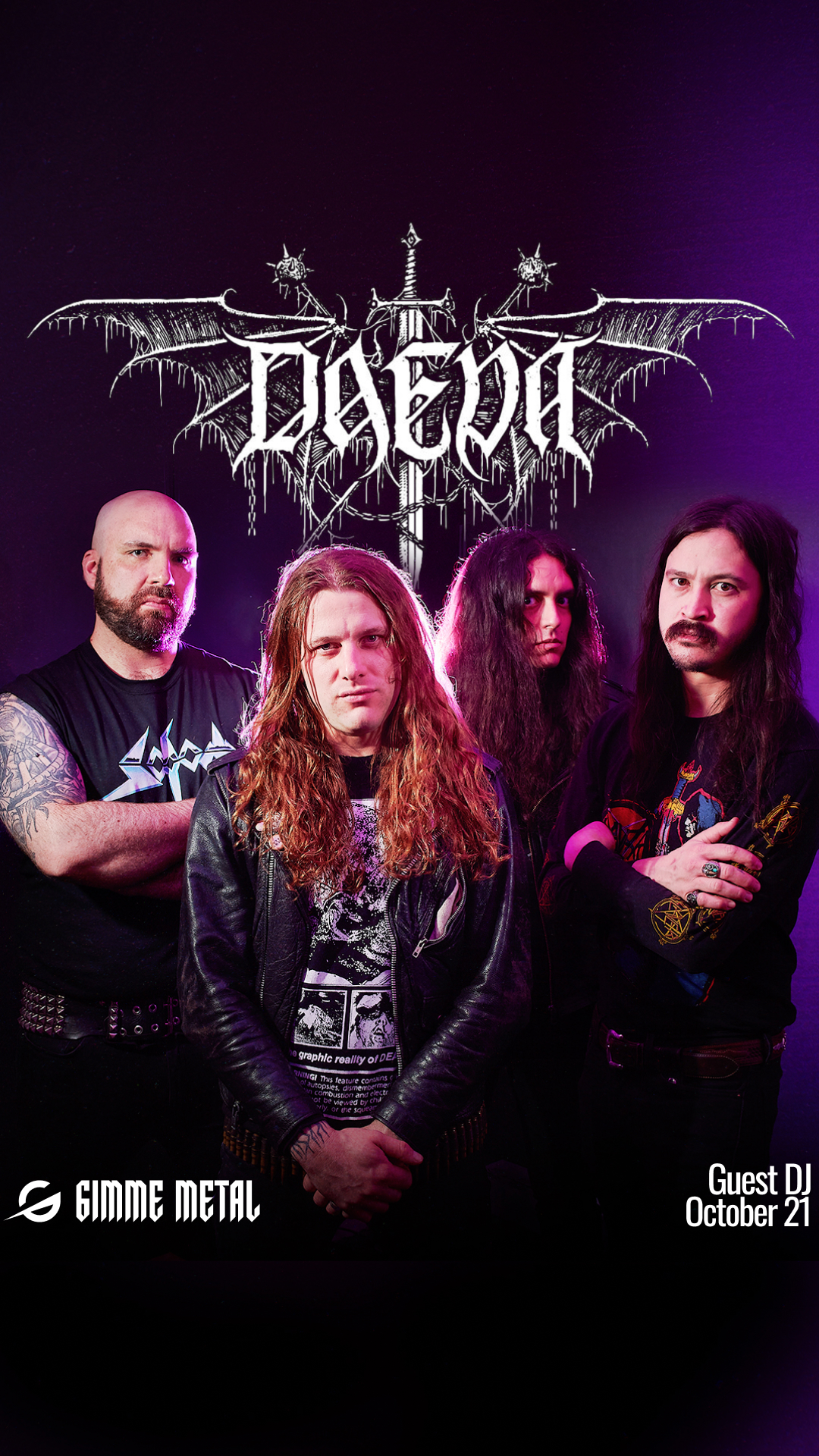 photos by Scott Kinkade
This week, Philadelphia-based black/thrash metal henchmen DAEVA will host a Gimme Metal Guest DJ session, delivering some of their collective favorite burners from across the metal spectrum. Tune in this Friday, October 21st at 12pm PT/3pm ET at GimmeMetal.com.
Five years on from the wantonly indecent Pulsing Dark Absorptions debut EP, DAEVA rises like blistering flames from the hellish depths with their smoldering Through Sheer Will And Black Magic… A fiery maelstrom of early demonic black metal and jagged edge thrash convulsions forms the inherent basis of the album, where DAEVA has perfected their art like gleaming forged steel, the band featuring three members of Crypt Sermon, among other acts. Within this blueprint for madness, guitarist Steve Jansson imposes a deliberate brandishing of death metal's maggot-strewn corpse and a vigorously lethal dose of pure '80s metal spirit and zeal. The journey through these scorched wastelands persistently guided by the venomously inventive acid-tongue of vocalist Edward Gonet, while bassist Frank Chin and drummer Enrique Sagarnaga deploy an earth-shattering display of low-end percussive decimation.
Song after song, riff after riff, Through Sheer Will And Black Magic… is an insatiable and unstoppable whirlwind of unearthly pleasures and infernal butchery. Storming the gates of heaven with voracious exhilaration DAEVA inflicts the ultimate triumph of hell upon the feeble sheep of the light. Fans of Aura Noir, Nifelheim, Dodheimsgard's Monumental Possession, Condor, Bathory, Slayer, Voivod, Egregore, Predatory Light, Hulder, Darkthrone, and Dark Angel should not miss DAEVA's Through Sheer Will And Black Magic…
Produced, mixed, and mastered by Arthur Rizk (Kreator, Power Trip, Gravesend) at Redwoods in Philadelphia, DAEVA's Through Sheer Will And Black Magic… is visually delivered with the rare painting style artwork by Karmazid (Mournful Congregation, Egregore), layout by Dan Fried, photography by Scott Kinkade, and logo by Misanthropic Art.
Stream DAEVA's Through Sheer Will And Black Magic… in its entirety at YouTube  HERE and Bandcamp HERE.
Through Sheer Will And Black Magic… is now available on LP, CD, cassette, and digital formats via the 20 Buck Spin webshop HERE and at Bandcamp HERE. Also watch the "Polluting The Sanctuary (Revolutions Against Faith)" video HERE.
DAEVA has also confirmed an upcoming hometown performance November 4th at Sumerlands' Dreamkiller record release show also joined by Eternal Champion and Tower. Watch for additional shows to be announced in the weeks ahead.
DAEVA Live:
11/04/2022 Union Transfer – Philadelphia, PA w/ Sumerlands, Eternal Champion, Tower [info]
"…an album that is sure to be on many a shortlist for best underground metal album of 2022." – Guitar World
"This is all-action extremity, riffs crashing into each other, guitars double-dosed with technical ecstasy. Seriously, it's like Steve Jansson woke up and took his vitamins E, V and H before grabbing his guitar and tracking this." – Decibel Magazine
"Blackened thrash hasn't sounded this exciting in years… the album's substance and high quality is simply undeniable. Hopefully DAEVA will gain traction, because this is exactly what old-school inspired extreme metal, especially in the United States, needs right now." – Blabbermouth
"DAEVA are unavoidably and aggressively palpable, and Through Sheer Will And Black Magic… leaves you gored on Satan's horns by the time it's over. There's really no two ways about it. It's a proclamation of power, a heretical boot planted on the throat of moral decency, and I love every minute of it. If you have a dark twinkle in your eye, and your skin starts boiling when passing by a church, this album may very well awake the fiend in you." – Everything Is Noise
"Prepare for yet another mad riot, a paroxysm of thunderous drumming, mind-scouring vocal ferocity, and fast-hanging riff-gasms that blare, spasm, jitter, and cavort like demons in the throes of lust, plus grandiose heavy metal chords, a fret-melting solo, and a general air of unchained wildness… hell awaits!" – No Clean Singing
https://www.facebook.com/daevablackthrash
https://www.instagram.com/daevablackthrash
https://www.20buckspin.com
https://listen.20buckspin.com
https://www.facebook.com/20buckspin
https://twitter.com/20buckspinlabel
https://www.instagram.com/20buckspinlabel