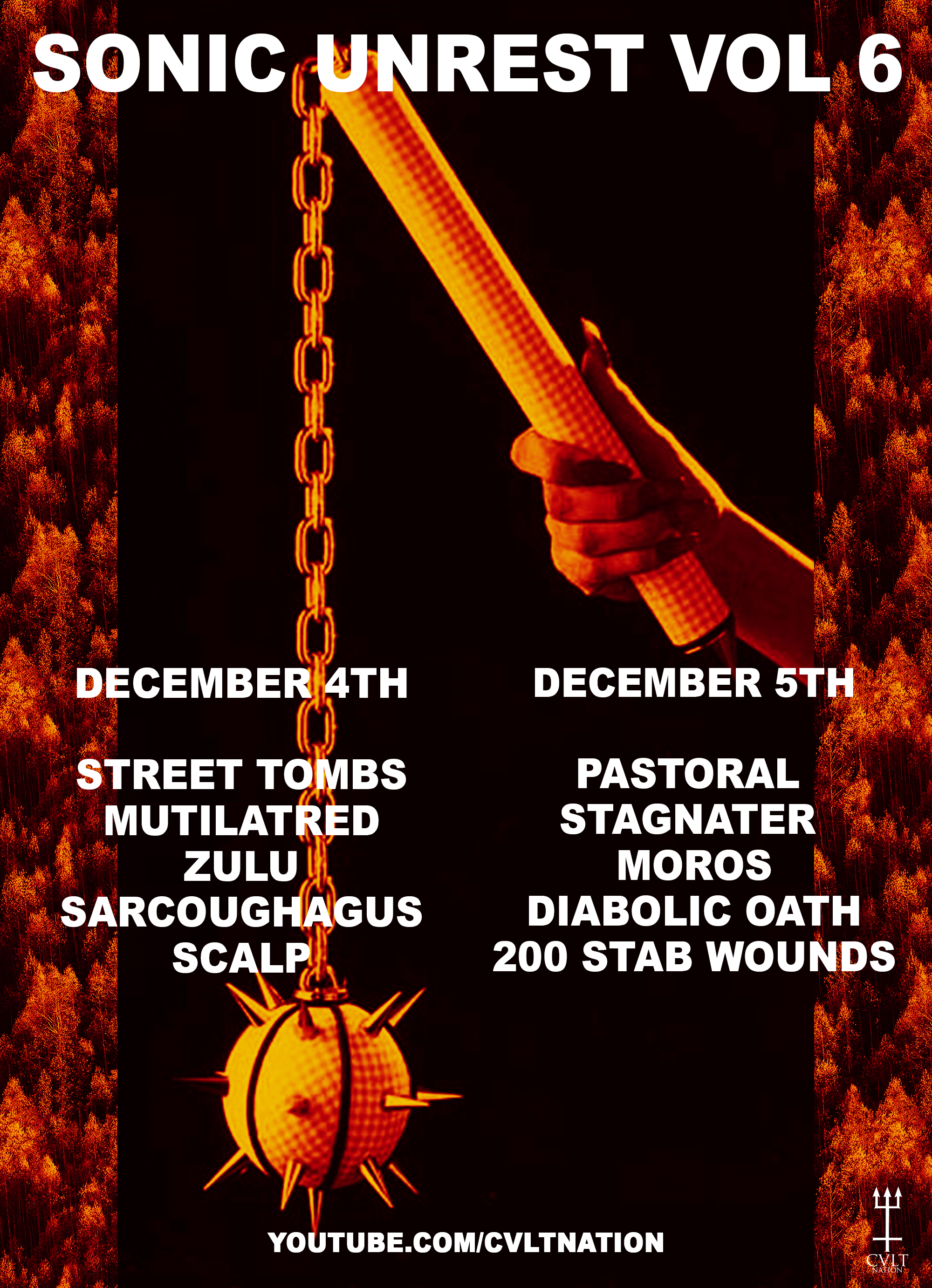 Underground music/arts portal CVLT Nation expands their ongoing live content and presents the sixth installment in their ongoing virtual concert series, with Sonic Unrest Vol. 6, featuring ten live sets, taking place this Friday, December 4th and Saturday, December 5th
Sonic Unrest Vol. 6 Day One features STREET TOMBS, MUTILATRED, ZULU, SARCOUGHAGUS, and SCALP, and Day Two features PASTORAL, STAGNATER, MOROS, DIABOLIC OATH, and 200 STAB WOUNDS. It's two days of powerviolence, death metal, hardcore, black death, and sludge, all hosted on youtube.com/cvltnation. Each artist has donation links so that the audience can support them directly. The poster art for Sonic Unrest Vol. 6 was created by Antonio Riello.
Tune in to CVLT Nation's Sonic Unrest Vol. 5 this Friday and Saturday via the YouTube playlist RIGHT HERE.
Find Facebook event pages for Day One HERE and Day Two HERE and find individual links to each band's impending set below.
Sonic Unrest Vol. 6 Day One / Friday, December 4th (all times Pacific):
4:00 PM STREET TOMBS https://youtu.be/1OuR4Ebvnhg
4:30 PM MUTILATRED https://youtu.be/gsgQVHJIYyk
5:00 PM ZULU – TBD
5:30 PM SARCOUGHAGUS https://youtu.be/IWKjpu6FAKg
6:00 PM SCALP – TBD
Sonic Unrest Vol. 6 Day Two / Saturday, December 5th (all times Pacific):
4:00 PM PASTORAL https://youtu.be/WPaE1fIfVdw
4:45 PM STAGNATER https://youtu.be/u9bB5q0Cmes
5:15 PM MOROS https://youtu.be/6zJmRW_zA_4
5:45 PM DIABOLIC OATH https://youtu.be/92R3FcpOd8w
6:15 PM 200 STAB WOUNDS https://youtu.be/PjRf2VC_xAs
Watch for additional CVLT Nation and Sonic Unrest updates to be issued in the months ahead and find more info at the following links:
https://cvltnation.com
https://www.instagram.com/cvltnation
https://www.facebook.com/cvltnationofficial
https://www.youtube.com/c/Cvltnationofficial