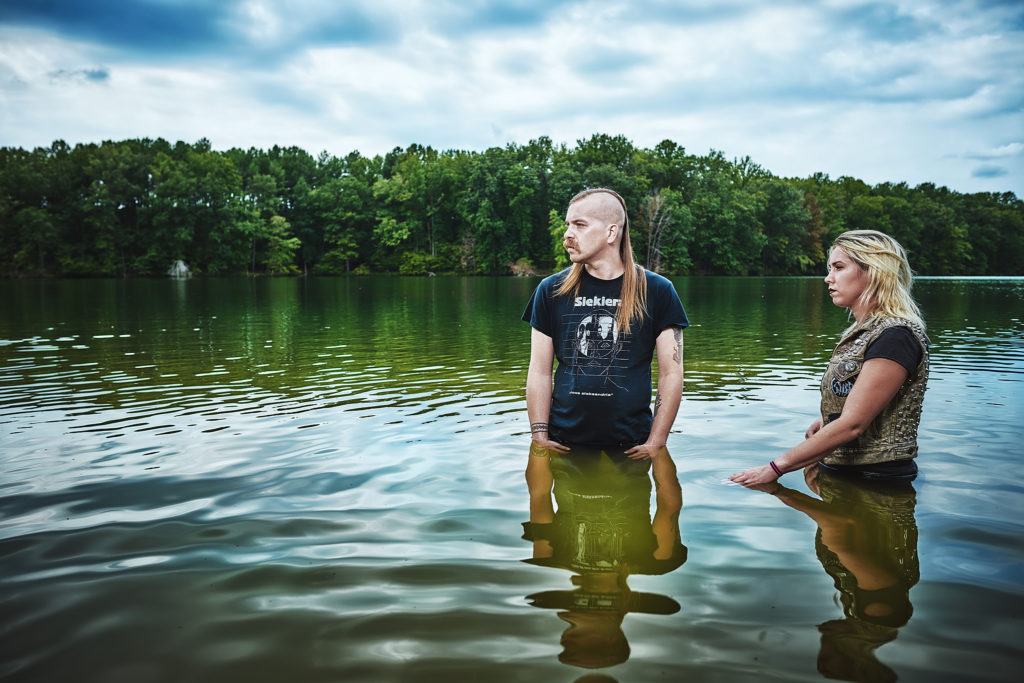 [photos by Shane Gardner]
Baltimore, Maryland-based synthpunk/doomwave duo CURSE will release their third full-length album, Metamorphism, through Fake Crab Records next Friday, October 25th. With the album nearing its public unveiling, the album's opening track "Universe 25" is now streaming, and preorders for the LP have been posted. The band also currently touring across the country in support of the record.
CURSE is the work of Jane Vincent and Logan Terkelsen. They came from the disparate worlds of grindcore, experimental electronic music, and goth bands to form this two-piece outfit, which consists of live electronics and keyboards, and both live and programmed drums. Since their 2011 inception, the duo has recorded three full-length albums, four EPs, and two split 7″ EPs, one with Street Sects, and the other a four-way split with all Baltimore-based acts that are at least half female members, including Big Mouth, Wet Brain, and Hive Bent.
The third CURSE album, Metamorphism, is a departure from prior material, musically and thematically. With eight expansive new songs, the record conceptually explores man's effect on his environment, and how it will be recorded in the geological record.
The drums and vocals for Metamorphism were recorded at Tempo House Studios by Craig Bowen, the rest of the album recorded by CURSE. The record was mixed at Curse Headquarters by Logan Terkelsen, mastered at Mobtown Studios by Mat Leffler-Schulman, and completed with artwork and design by G. Ray Mak.
Stream the new CURSE track "Universe 25" at Bandcamp RIGHT HERE.
Metamorphism will be released on vinyl and digital formats through Fake Crab Records next Friday, October 25th. Find preorders at the label webshop HERE and Bandcamp HERE.
Metamorphism Track Listing:
1. Universe 25
2. Cassini
3. The Last Whole Earth
4. Suspect Terrain
5. Last Transmissions From Saturn
6. Withered Rivers
7. Aricebo On Deaf Ears
8. Universal Veil
The CURSE duo has been touring the United States, Mexico, and Canada extensively since their formation, along the way having played with countless notable bands including Pharmakon, Youth Code, Clipping, The Body, and many others.
Now underway for over a month, CURSE is currently touring across North America in support of the Metamorphism LP. The trek continues across the West Coast this week before cutting across the southern realm of the US with a show in Mexico, and up the East Coast, ending in Washington, DC on November 20th, playing with Pinkish Blaci, Wolf Eyes, and more along the way. CURSE has also locked an official hometown release show for Metamorphism on Saturday, November 30th with Darsombra and more.
CURSE Tour Dates:
10/16/2019 Naked Lounge – Chico, CA
10/17/2019 Pro Arts – Oakland, CA
10/18/2019 La Maison Kabob – Fresno, CA
10/19/2019 Coaxial – Los Angeles, CA
10/20/2019 The Void – Riverside, CA
10/21/2019 Characters – Pomona, CA
10/22/2019 Lycanthro Pub – Tijuana, MX
10/24/2019 Owls Club – Tucson, AZ
10/25/2019 Mousetrap – Prescott, AZ
10/26/2019 UNIT 6 – Phoenix, AZ
10/29/2019 Ennui Gallery – Taos, NM
10/30/2019 Long Hair Records – Albuquerque, NM
10/31/2019 Neon Rose – El Paso, TX
11/01/2019 Roastery Shed – Marfa, TX
11/02/2019 El Luchador – San Antonio, TX
11/03/2019 523 Thompson – Austin, TX
11/04/2019 RBC – Dallas, TX w/ Pinkish Black
11/05/2019 Rubber Gloves Studios – Denton, TX w/ Wolf Eyes
11/07/2019 Chimera – Tulsa, OK
11/08/2019 ask a punk – Little Rock, AR
11/09/2019 BEAR – Shreveport, LA
11/11/2019 Circle Bar – New Orleans, LA
11/12/2019 Firehouse – Birmingham, AL
11/13/2019 Night Moves – Pensacola, FL
11/14/2019 The Atlantic – Gainesville, FL
11/15/2019 Eraser Records – Jacksonville, FL
11/16/2019 Hunter Gatherer – Columbia, NC
11/17/2019 Fantasy Ultra Lounge – Greensboro, NC
11/18/2019 Delurk Gallery – Winston-Salem, NC
11/19/2019 Sediment Gallery – Richmond, VA
11/20/2019 Rhizome – Washington DC
11/30/2019 Metro Gallery – Baltimore, MD *LP release show w/ Darsombra, Bust Down, Blowboater [info]
https://www.instagram.com/cursebaltimore
https://cursebaltimore.bandcamp.com
https://www.facebook.com/Cursebaltimore
https://fakecrab.com
https://fakecrab.bandcamp.com
https://www.facebook.com/fakecrabrecords
https://twitter.com/fakecrabrecs
http://fakecrab.storenvy.com