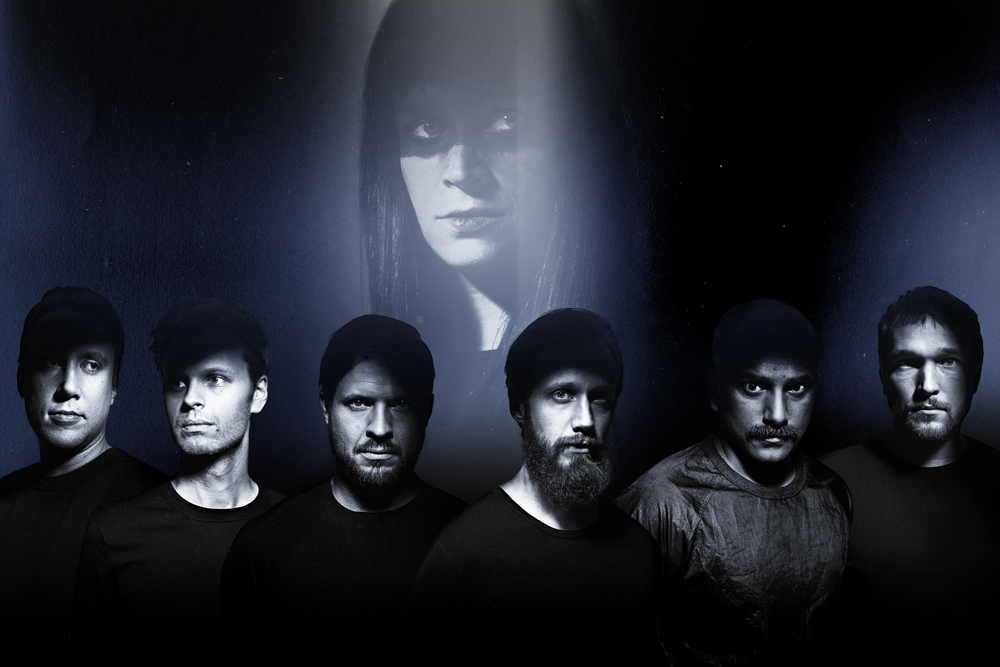 [photo by Pär Olofsson]
Mariner is the mind-melting collaboration between CULT OF LUNA and JULIE CHRISTMAS. Slated for release on April 8th via Indie Recordings, with Mariner, CULT OF LUNA and JULIE CHRISTMAS bring listeners to the outer rim of the ever-expanding boundaries of the cosmos – where the rules of man are not applicable and the cold, dark nothing envelops the harsh realities of the universe.
In advance of its impending release, Stereogum unveils third movement, "'The Wreck Of S.S. Needle,' for public inebriation noting, "CHRISTMAS' schizophrenic delivery seems like an odd match for CULT OF LUNA's astral plod, but it's not without precedent in her catalog, as she did great work fronting the supergroup-y post-metal project Battle Of Mice. Her dynamism works even better over CULT OF LUNA's sparser soundscapes, lending their tectonic shifts in mood an uncomfortably personal physicality – as ever, CHRISTMAS sounds like she's screaming at you from about an inch away from your face whenever the claws come out. But that's not how much of 'The Wreck Of S.S. Needle' plays out, and she matches the band's slow burn with breathy whispers and moans for much of the song's first half. Its most thrilling moments, however, arrive when CHRISTMAS combines her varied delivery and skills as an arranger with CULT OF LUNA's penchant for patiently building tension. The song concludes with a massive full-band landslide, atop which CHRISTMAS layers a haunting mass of harmonies and screams. It's been great to hear CHRISTMAS get back into the music game via guest spots for acts like Pigs and Spylacopa, but hearing her go all-out in combination with a linchpin act like CULT OF LUNA is a thrilling reminder of how much both she and the band can bring to the table."
Hear "The Wreck Of S.S. Needle" at THIS LOCATION.
You can also sample first single, opening track "A Greater Call" below:
"Invoking shades of Godspeed You! Black Emperor and Mogwai, the song ['The Wreck Of S.S. Needle'] quickly gives way to thunderous riffing and percussive madness," issues Svbterranean in an unprecedented 11/10 rating, "The controlled chaos on this song is very impressive. They manage to keep a groove and strong riffing, while still interjecting it with light, airy melodies courtesy of well-placed keyboard, and perfect chord and single note choices with the guitars… Mariner should be seen as a benchmark for what collaboration albums sound like." In a perfect 10/10 review of Mariner, Wickedchannel gushes, "From start to finish, there is not one flaw on this record… Metal has just found its savior…. a must buy, if there ever was one." In a 4.5/5 score, Metal Riot concurs, celebrating "Five lengthy songs that build on the success of [CULT OF LUNA's] Vertikal with further exploration of cosmic metaphor, psyche and innerspace," furthering, "The combination of CULT OF CHRISTMAS is winning, fit to score a space opera or serve well in a fight sequence between Punisher and Daredevil in an urban locale with equal potency. Put these parties together and you have quite the remarkable pairing which will make fans of any of the artist's current or past related projects gush."
Mariner was captured in multiple locations with drums and bass recorded by Magnus Lindberg at Tonteknik Recording in Umeå, Sweden and additional recordings by Kristian Karlsson at Studio Hufvudstaden in Söderköping, Sweden. JULIE CHRISTMAS' vocals were produced and engineered by Andrew Schneider at Translator Audio and Loho Studios in New York City. The entire five-track gem was mixed and mastered by Magnus Lindberg at Redmount Studios in Stockholm, Sweden. Mariner will be available on CD, LP and vinyl with preorders available at the following locations. Amazon HERE. iTunes HERE. Indie Shop HERE.
Since uniting in 1998, CULT OF LUNA has released seven albums, been awarded the top rock/metal award at the Swedish national radio awards and cemented their status as one of the true innovators of the metal genre. In 2013, the Swedes teamed up with Indie Recordings for the release of perhaps their most successful work to date in the shape of Vertikal I and Vertikal II. These cohesive pieces of work received worldwide recognition and praise and only elevated the band's status to greater heights. For their eighth effort, the post-metal pioneers join forces with the talented JULIE CHRISTMAS (Battle Of Mice, Made Out Of Babies) from Brooklyn, who adds an even larger depth to CULT OF LUNA's sound – powerfully displayed on Mariner.
http://www.cultofluna.com
http://www.facebook.com/cultoflunamusic
http://www.twitter.com/cultoflunaoffical
http://www.facebook.com/Julie-Christmas
http://www.indierecordings.no