Texas death bringers CREEPING DEATH will support Dying Fetus on their upcoming US Fall headlining run. The Make Them Beg For Death tour commences on October 17th in Cincinnati, Ohio and runs through November 19th in Boston, Massachusetts. Additional support will be provided by The Acacia Strain and Despised Icon, as well as Chamber and Gates To Hell on select dates. The journey follows CREEPING DEATH's massive two-part Summer headlining tour and their recent show opening for Amon Amarth. Tickets are on sale now at: creepingdeath.net. See all confirmed dates below.
CREEPING DEATH w/ Dying Fetus, Despised Icon, The Acacia Strain, Chamber:
10/17/2023 Bogarts – Cincinnati, OH
10/18/2023 Roxian Theatre – Pittsburgh, PA
10/19/2023 Brooklyn Bowl – Philadelphia, PA
10/20/2023 Canal Club – Richmond, VA
10/21/2023 Hangar 1819 – Greensboro, NC
10/22/2023 The Masquerade – Atlanta, GA
10/24/2023 The Beacham – Orlando, FL
10/26/2023 Warehouse Live – Houston, TX
10/28/2023 Come And Take It Live – Austin, TX
w/ Dying Fetus, Despised Icon, The Acacia Strain, Gates To Hell:
10/30/2023 Sunshine Theater – Albuquerque, NM
10/31/2023 The Marquee – Phoenix, AZ
11/01/2023 House Of Blues – San Diego, CA
11/02/2023 The Belasco – Los Angeles, CA
11/03/2023 The Catalyst – Santa Cruz, CA
11/04/2023 Ace Of Spades – Sacramento, CA
11/05/2023 The Observatory – Santa Ana, CA
11/07/2023 The Depot – Salt Lake City, UT
11/09/2023 Summit Music Hall – Denver, CO
11/10/2023 The Granada – Lawrence, KS
11/11/2023 The Lyric At Skyway – Minneapolis, MN
11/12/2023 Concord Music Hall – Chicago, IL
11/13/2023 St. Andrew's Hall – Detroit, MI
11/14/2023 House Of Blues – Cleveland, OH
11/15/2023 Water Street Music Hall – Rochester, NY
11/17/2023 Warsaw – Brooklyn, NY
11/18/2023 Rams Head Live – Baltimore, MD
11/19/2023 Paradise Rock Club – Boston, MA
CREEPING DEATH released their Boundless Domain full-length in June via MNRK Heavy. The critically lauded offering was produced by Killswitch Engage guitarist Adam Dutkiewicz (As I Lay Dying, The Acacia Strain, Underoath) and is, without question, a certified ripper from start to finish and stands towering among this year's most volatile death metal offerings.
Boundless Domain is available on CD, LP, cassette, and digital formats on MNRK Heavy at THIS LOCATION.  
Watch CREEPING DEATH's previously released video for "Intestinal Wrap," featuring George "Corpsegrinder" Fisher of Cannibal Corpse, HERE, "The Common Breed" HERE, and "Vitrified Earth" HERE.
CREEPING DEATH is on a fast and feverish climb from the underground summoning a vibrant sound that is somehow both familiar and fresh. Their initial outburst, 2016's three-song Sacrament Of Death, introduced them to death and thrash metal audiences, followed two years later by the Specter Of War EP, and the following year saw the release of their debut LP. 2021's The Edge Of Existence EP further demonstrated the power, fury, and revelry at the heart of their identity. Tours with High On Fire, The Acacia Strain, Rotting Out, Terror, and The Warriors have spread the CREEPING DEATH message. The band repeatedly delivers a relentless bludgeoning summoned from the furthest reaches of the genre's past, present, and future. A triumphant celebration of the style itself, the Lone Star State fivesome whips up gruesome riffage and Southern grooves with an improbable cathartic glee.
"…a sophomore beatdown that matches the old-school death metal onslaught of their 2019 Wretched Illusions while upping the songwriting's sophistication." — Decibel Magazine
"…the band at their destructive best." — Knotfest
"…high energy death metal that winds up being as fun as it is nasty." — Metal Injection
"… single No. 2 fucking bangs… the mosh-pit-ready rager proves CREEPING DEATH to be part of an all-too-uncommon breed blazing the path for heavy music into the future. It arrived accompanied with a stark, black-and-white music video capturing the band at their crowd-killing best." — Revolver on "The Common Breed"
"Boundless Domain fulfills all of CREEPING DEATH's self-evident potential, while saluting the past, relishing the present and absolutely wrecking the place. Top work." — Blabbermouth
"…CREEPING DEATH has perfected a stormy, hammering take on old-school death metal." – Stereogum
"There're precious few moments of respite on this second album. From the moment the title-track erupts from its twangy intro into the sort of disgusting churn evocative of a cement-mixer filled with boulders and human remains, there's an adamant refusal to fuck around." – Kerrrang!
"… another immensely impressive showing from these Texans and it beats away a lot of the competition essentially through a combination of range, urgency and sheer riff-driven power." — Distorted Sound
"Boundless Domain may be CREEPING DEATH at their most dynamic." — Northern Transmissions
"Boundless Domain adds some new layers of complexity but still stays true to what makes them a consistently entertaining death metal band. If you need death metal that's directly to the point and still slays, look no further than this newest offering from CREEPING DEATH." – Heavy Music HQ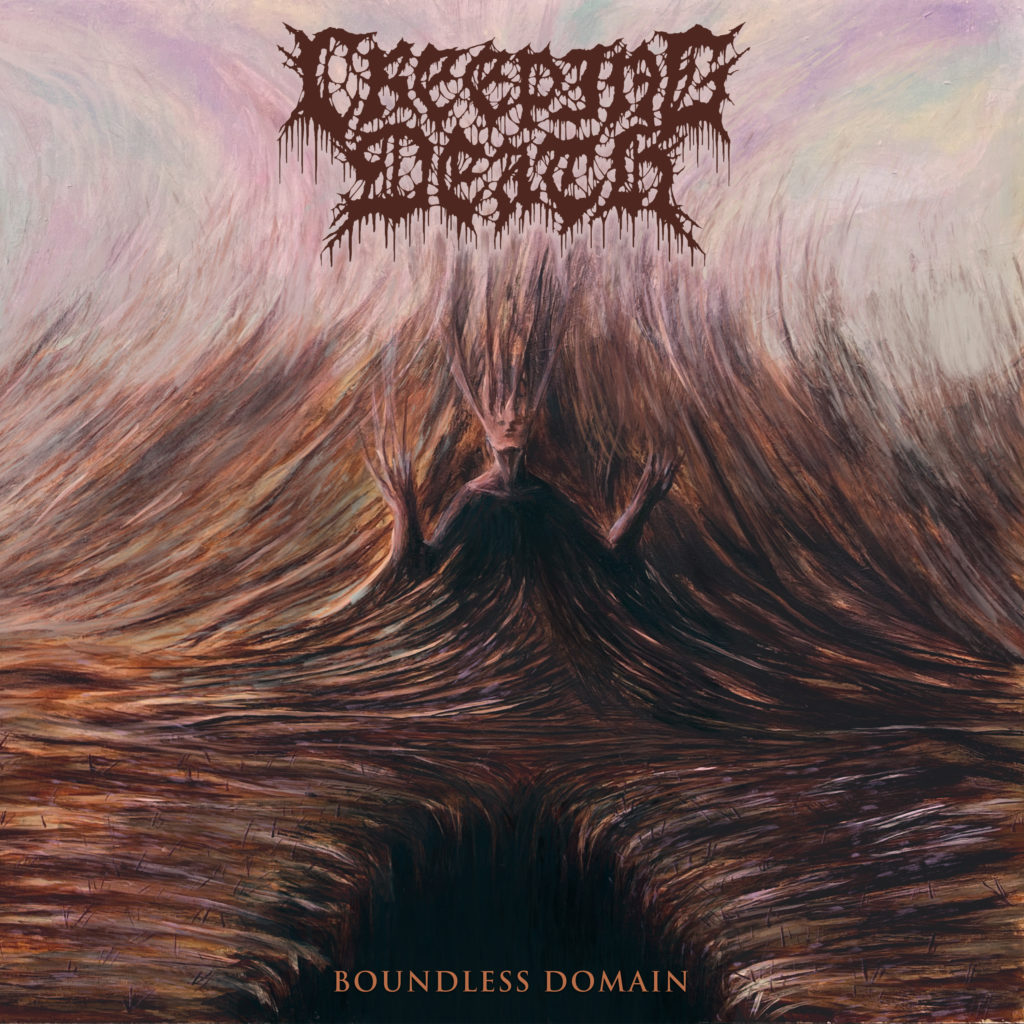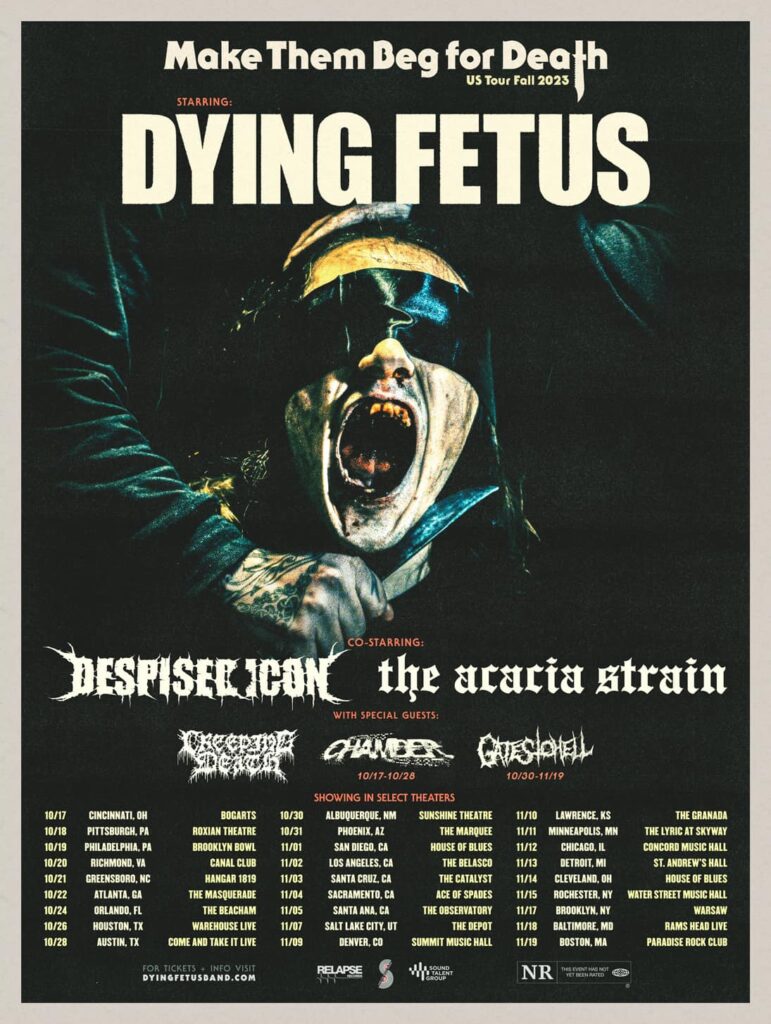 http://www.creepingdeath.net
http://www.facebook.com/creepingdeathtx
http://twitter.com/creepingdeathtx
http://www.instagram.com/creepingdeathtx
http://www.mnrkheavy.com
http://www.facebook.com/MNRKHeavy
http://www.twitter.com/MNRKHeavy
http://www.instagram.com/MNRK_heavy