CREEPING DEATH will join death metal behemoths Carcass and Immolation for a string of live performances later this Spring. CREEPING DEATH's journey runs from May 14th through May 26th. Tickets go on sale this Friday at 10:00am local time! Don't miss it! See all confirmed dates below.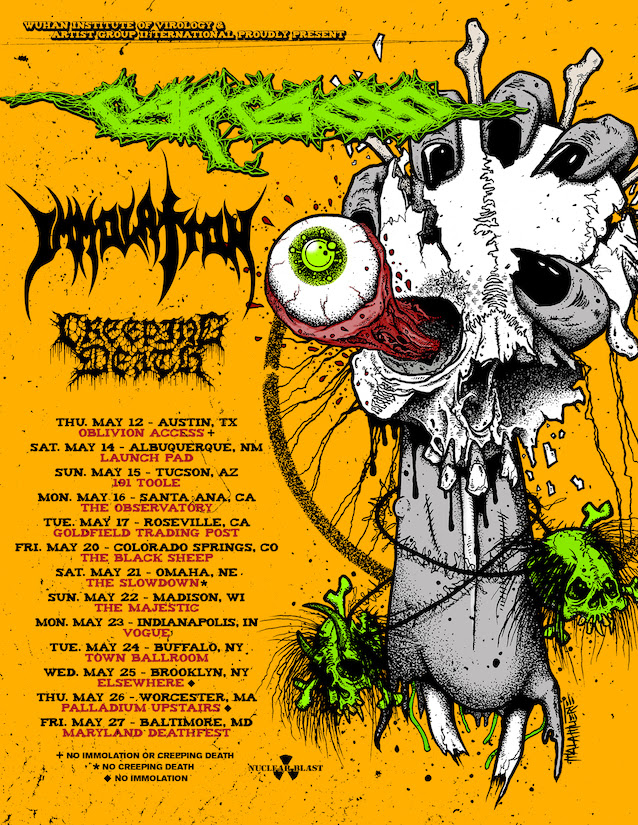 CREEPING DEATH w/ Carcass, Immolation
5/14/2022 Launch Pad – Albuquerque, NM
5/15/2022 101 Toole – Tucson, AZ
5/16/2022 The Observatory – Santa Ana, CA
5/17/2022 Goldfield Trading Post – Roseville, CA
5/20/2022 The Black Sheep – Colorado Springs, CO
5/22/2022 The Majestic – Madison, WI
5/23/2022 Vogue – Indianapolis, IN
5/24/2022 Town Ballroom – Buffalo, NY
5/25/2022 Elsewhere – Brooklyn, NY
5/26/2022 Palladium Upstairs -Worcester, MA
* No Immolation
CREEPING DEATH will be touring in support of their most recent release The Edge Of Existence EP, unleashed last year via MNRK Heavy. With a nod to crossover masters Iron Age, a bit of the tech-death of Cryptopsy, a foundation of forebearers Death, CREEPING DEATH summons a vibrant sound somehow both familiar and fresh. The Edge Of Existence EP further demonstrates the power, fury, and outright revelry at the heart of the band's identity.
Captured at Homewrecker Recording Studio in Tucson, Arizona and produced and mixed by Ryan Bram (Gatecreeper, Bitter Rivals, Sex Prisoner), the six-song EP introduces three new certified hellraisers — "Relics From The Past," "Humanity Transcends," and the title track — alongside remade and revitalized versions of the three songs from the band's 2016 debut EP — "Sacrament Of Death," "Doused In Flames," and "Skinned Alive."
The Edge Of Existence EP is available on CD, cassette, digitally, and now vinyl, at THIS LOCATION.
View the band's previously released video for the EP's title track HERE and a visualizer for "Humanity Transcends" HERE.
Originally hailing from Denton, Texas and now situated in the greater Dallas-Fort Worth area, guitarist Trey Pemberton, Iranian-American singer Reese Alavi, bassist Eric "Rico" Mejia, drummer Lincoln Mullins, and guitarist A.J. Ross III comprises the group Revolver called the, "Power Trip-endorsed band leading the next wave of Texas metal." They refused to let the 2020 pandemic destroy their momentum, even after COVID sidelined two of them for several weeks. The group emerged from lockdown with a punishing array of their most crushing material yet. Ross (also of Kombat and Torture Tomb, with Cole Crutchfield of Knocked Loose) made his recorded debut with CREEPING DEATH, adding another heavy dimension to their massive bellow on The Edge Of Existence.
"CREEPING DEATH play with a vigor that puts them above most of their contemporaries." — Spin
"The butt-ugly vocals, gurgling guitar tones and straightforward, almost instinctual thrust provides a legible map for the moshers, but there's enough happening on top to please OSDM addicts." — Revolver
"'Guttural' does not begin to describe the vocals. 'Heavy' cannot capture the guitars. There are no words for drums this fast and assaulting. CREEPING DEATH serves up cold, sonic violence…" — Metal Injection
"The perfect soundtrack to a dying, plague-ridden planet, title track 'The Edge of Existence' looks like it was filmed after the fall of humankind." — Dallas Observer on "The Edge Of Existence" video
http://www.creepingdeath.net
http://www.facebook.com/creepingdeathtx
http://twitter.com/creepingdeathtx
http://www.instagram.com/creepingdeathtx
http://www.mnrkheavy.com
http://www.facebook.com/MNRKHeavy
http://www.twitter.com/MNRKHeavy
http://www.instagram.com/MNARK_heavy