Texas death metal unit CREEPING DEATH will kick off a short US tour supporting Inter Arma later this week. The trek officially begins August 30th in Washington, DC and runs through September 7th in Harrisonburg, Virginia with various one-off headlining dates scheduled prior to, during, and following the tour's duration. Additionally, the band will appear at Slaughter Que 2019 featuring Exodus, Kataklysm, Battlecross, and more September 21st. CREEPING DEATH will close out the year supporting High On Fire and Power Trip on a massive North American live takeover. The journey will commence November 7th at Levitation Fest in Austin, Texas and ravage its way through over two dozen cities upon its conclusion December 7th in Los Angeles, California. Additional support will be provided by Devil Master. See all confirmed dates below.
CREEPING DEATH will be touring in support of their impending debut, Wretched Illusions, set for worldwide release via Entertainment One ("eOne") on September 27th. Summoned forth from the fertile metal grounds of the Lone Star State, the DIY-subculture bred miscreants of CREEPING DEATH are staging their own sort of musical Alamo, entrenched with their fierce dedication to traditional death metal brutality and the fury of classic thrash. Revolver Magazine declared CREEPING DEATH an Artist You Need To Know, celebrating the band's 2018 Specter Of War EP as, "simple and brutal, much like a baseball bat to the face." No Echo was among th first to shine a light on the Denton, Texas band, admiring the sludgy guitar tones and riffing style of old school death metal and swinging pit-friendly groove. A celebrated performance at Thrasher Magazine's Death Match 2019 and a buzzed-about co-headlining tour with Fuming Mouth further demonstrated why MetalSucks encouraged readers to "Get Your Old-School Death Metal Fix With New School Band CREEPING DEATH."
Devotees of influential death metal merchants like Blood Red Throne, Gorguts, and Grave have a new American band to champion. CREEPING DEATH draw liberally from the template set by those bands along with the speed of early Sepultura and the hammering epic crush of Bolt Thrower. All of these classic sounds are re-forged together and reflected through CREEPING DEATH's own fresh and unique prism. Produced by close comrade Daniel Schmuck (Power Trip, Messengers, End Times) and mixed and mastered by burgeoning tastemaker Arthur Rizk (Ghostmane, Cavalera Conspiracy, Outer Heaven), Wretched Illusions is a confident missive of percussive bombast. It's beyond CREEPING DEAH's already impressive early rumblings – it's fast, challenging, and decisive.
CREEPING DEATH's Wretched Illusions will be released on CD, digital, and vinyl formats. For preorders go to THIS LOCATION. View the band's video for "Bloodlust Contamination" below.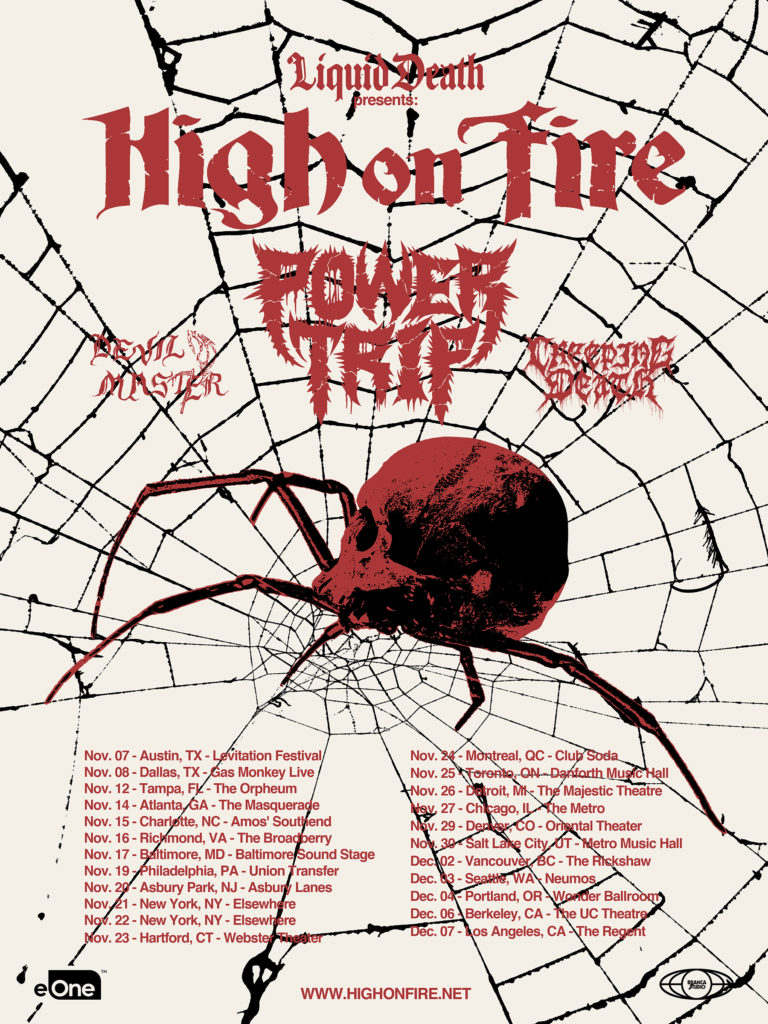 CREEPING DEATH:
8/28/2019 Vino's Pizza-Pub Brewery – Little Rock, AR
8/29/2019 The End – Nashville, TN
w/ Inter Arma:
8/30/2019 Atlas Brew Works – Washington, DC
8/31/2019 Kung Fu Necktie – Philadelphia, PA
9/01/2019 RPM Fest – Northampton, MA
9/02/2019 Geno's Rock Club – Portland, ME
9/03/2019 Saint Vitus Bar – Brooklyn, NY
9/04/2019 Mohawk Place – Buffalo, NY
9/05/2019 Small's – Hamtramck, MI
9/06/2019 Spinelli's – Louisville, KY *CREEPING DEATH only
9/07/2019 The Golden Pony – Harrisonburg, VA
End Tour
9/20/2019 The Firehouse – Birmingham, AL
9/21/2019 Slaughter Que 2019 @ The Masquerade – Atlanta, GA w/ Exodus, Kataklysm, Battlecross, more
9/22/2019 Hi-Tone – Memphis, TN
w/ High On Fire, Power Trip, Devil Master:
11/07/2019 Levitation Festival @ Mohawk – Austin, TX
11/08/2019 Gas Monkey Live – Dallas, TX
11/12/2019 The Orpheum – Tampa, FL
11/13/2019 Masquerade – Atlanta, GA
11/15/2019 Amos' Southend – Charlotte, NC
11/16/2019 The Broadberry – Richmond, VA
11/17/2019 Baltimore Soundstage – Baltimore, MD
11/19/2019 Union Transfer – Philadelphia, PA
11/20/2019 Asbury Lanes – Asbury Park, NJ
11/21/2019 Elsewhere – New York, NY
11/22/2019 Elsewhere – New York, NY
11/23/2019 Webster – Hartford, CT
11/24/2019 Club Soda – Montreal, QC
11/25/2019 Danforth Music Hall – Toronto, ON
11/26/2019 The Majestic – Detroit, MI
11/27/2019 The Metro – Chicago, IL
11/29/2019 Oriental Theater – Denver, CO
11/30/2019 Metro Music Hall – Salt Lake City, UT
12/02/2019 Neumos – Seattle, WA
12/03/2019 The Rickshaw – Vancouver, BC
12/04/2019 Wonder Ballroom – Portland, OR
12/06/2019 The UC Theatre – Berkeley, CA
12/07/2019 The Regent – Los Angeles, CA
CREEPING DEATH:
Reese Alavi – vocals
Trey Pemberton – guitar
Eric Mejia – bass
Lincoln Mullins – drums
"…a quality banger that reflects the band's influences (Grave, Bolt Thrower, and early Sepultura) as it seamlessly blends elements of black and thrash metal into a decidedly death-metal structure – giving CREEPING DEATH a solid edge in the new wave of OSDM bands to crop up over the past few years." – Revolver on "Bloodlust Contamination"
"…the band is such a ferocious unit that their guttural churn pretty much sells itself. They go straight for the jugular and never relent, a song like 'Bloodlust Contamination' roaring with raw, meaty riffs and beats that feel like being pelted in the ribcage with heavy, smoothed stones." — Treble Best Metal Tracks Of August 2019
"CREEPING DEATH toe the line between death metal and thrash with flashes of hardcore, reminiscent of a time before these labels were slapped on brutish, ugly sounds and they were more or less one in the same." — Loudwire
http://www.creepingdeath.net
http://www.facebook.com/creepingdeathtx
http://twitter.com/creepingdeathtx
http://www.instagram.com/creepingdeathtx
http://www.entertainmentone.com
http://www.facebook.com/eOneMusicUS
http://twitter.com/eonemusicus
http://www.instagram.com/eone_music