Texas death metal road warriors CREEPING DEATH will continue their live takeover this Spring supporting hardcore icons Hatebreed. The band will join the tour on May 4th in Nashville, Tennessee and remain through May 15th in Huntington, New York. Additional support will be provided by After The Burial and Havok.
The journey will follow the band's extensive North American run with The Acacia Strain, currently underway. This latest trek finds CREEPING DEATH annihilating stages through March 11th. The band will take a short recess before rejoining the tour on March 20th and remaining through its conclusion April 5th. Additional support is being provided by Rotting Out, Chamber, and Fuming Mouth.
CREEPING DEATH also will appear on Oblivion Access 2020 in Austin, Texas this June featuring Carcass, Youth Of Today, Daughters, Swans, Autopsy, as well as this year's edition of Psycho Las Vegas in Las Vegas, Nevada in August performing alongside the likes of Danzig, Mercyful Fate, and Emperor, with more live incursions to be announced in the weeks to come. See all confirmed dates below.
CREEPING DEATH continues to tour in support of their critically lauded Wretched Illusions debut, out now worldwide via Entertainment One ("eOne"). The record was recently listed among Kerrang's 50 Greatest Death Metal Bands Right Now, the esteemed publication noting, "Naming one's band after Metallica's most epic anthem takes balls, but Texans CREEPING DEATH are happy to back up their moniker. The band's full-length debut, last year's Wretched Illusions, goes absolutely huge, with a hardcore-tinged bulk that will have listeners throttling along (and is just a damn pleasure to witness live). The band's earlier material certainly slays, but even they agree that their new album is their greatest triumph." Produced by Daniel Schmuck (Power Trip, Messengers, End Times) and mixed and mastered by Arthur Rizk (Ghostmane, Cavalera Conspiracy, Outer Heaven), Wretched Illusions is available CD, digital, and vinyl formats.
Order your copy today at THIS LOCATION.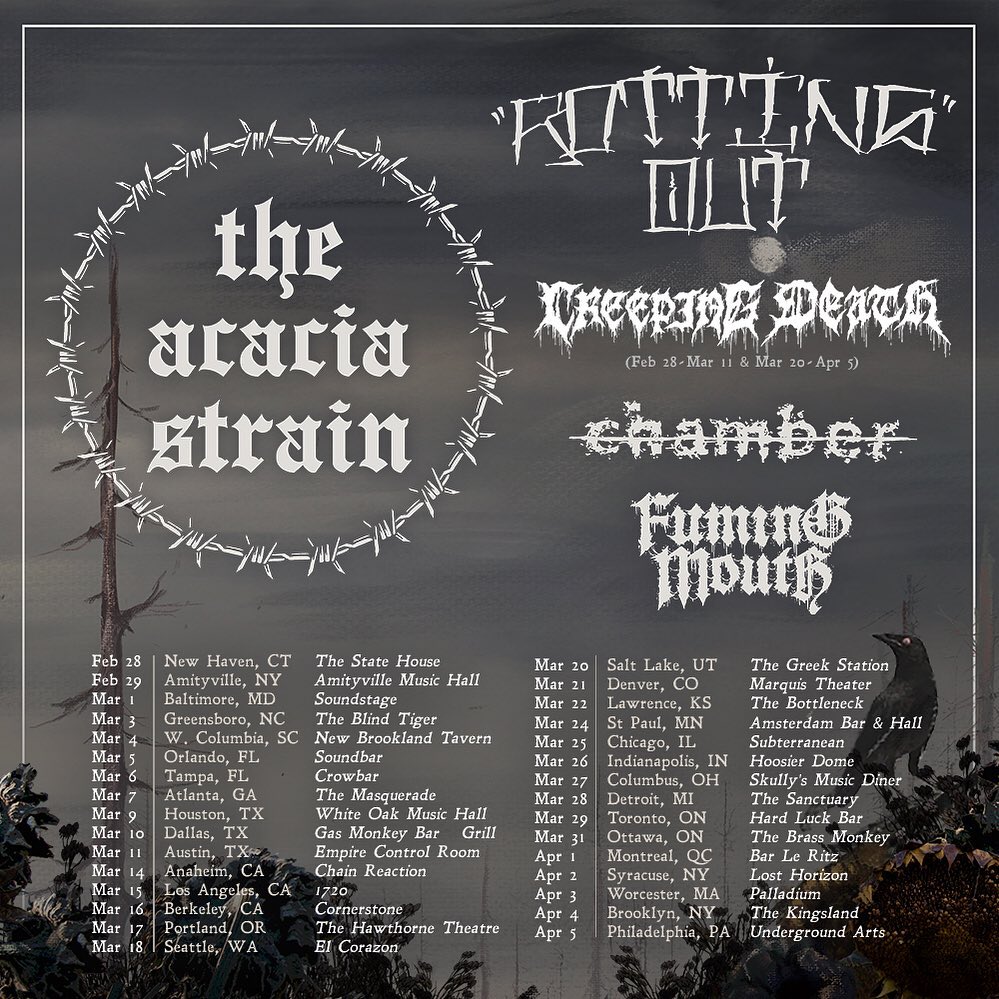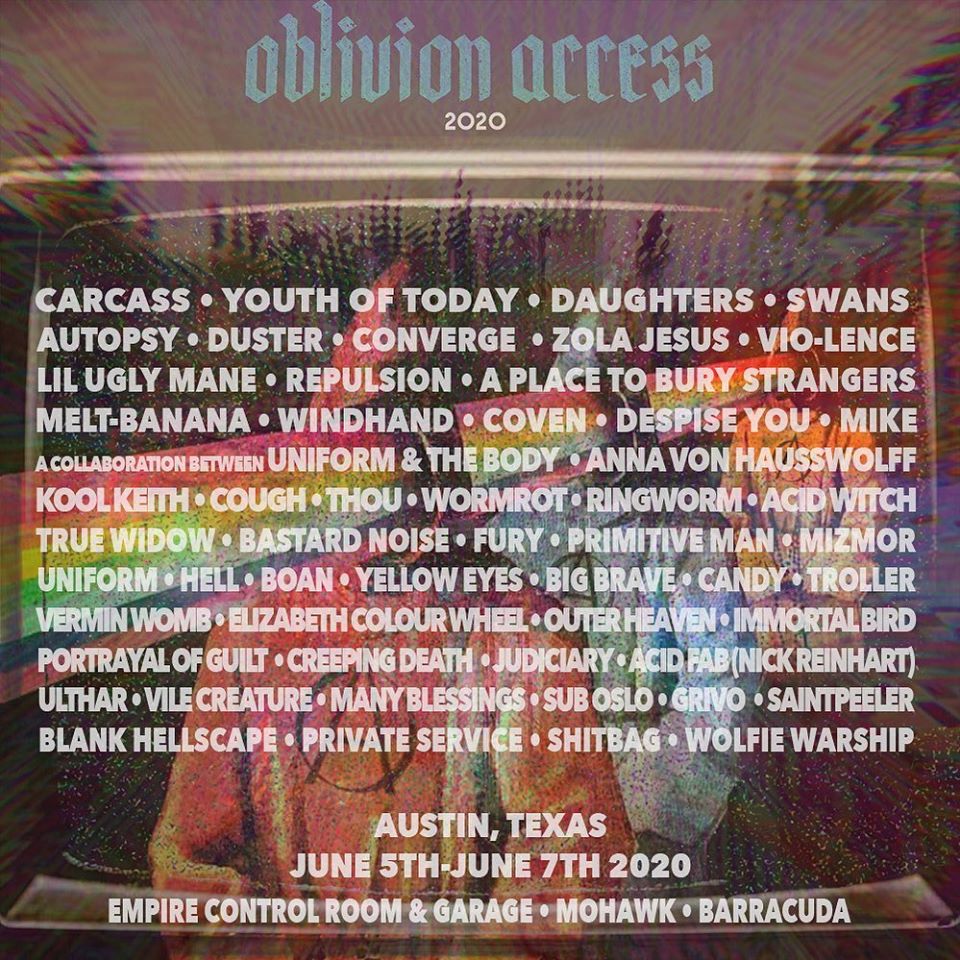 CREEPING DEATH w/ The Acacia Strain, Rotting Out, Chamber, Fuming Mouth [remaining dates]:
3/03/2020 The Blind Tiger – Greensboro, NC
3/04/2020 New Brookland Tavern – W. Columbia, SC
3/05/2020 Soundbar – Orlando, FL
3/06/2020 Crowbar – Tampa, FL
3/07/2020 The Masquerade – Atlanta, GA
3/09/2020 White Oak Music Hall – Houston, TX
3/10/2020 Gas Monkey Bar & Grill – Dallas, TX
3/11/2020 Empire Control Room – Austin, TX
3/20/2020 The Greek Station – Salt Lake City, UT
3/21/2020 Marquis Theater – Denver, CO
3/22/2020 The Bottleneck – Lawrence, KS
3/23/2020 Blackhawk Room – Moline, IL * CREEPING DEATH only
3/24/2020 Amsterdam Bar & Hall – St. Paul, MN
3/25/2020 Subterranean – Chicago, IL
3/26/2020 Hoosier Dome – Indianapolis, IN
3/27/2020 Skully's Music Diner – Columbus, OH
3/28/2020 The Sanctuary – Detroit, MI
3/29/2020 Hard Luck Bar – Toronto, ON
3/31/2020 The Brass Monkey – Ottawa, ON
4/01/2020 Bar le Ritz – Montreal, QC
4/02/2020 Lost Horizon – Syracuse, NY
4/03/2020 Palladium – Worcester, MA
4/04/2020 The Kingsland – Brooklyn, NY
4/05/2020 Underground Arts – Philadelphia, PA
w/ Hatebreed, After The Burial, Havok:
5/04/2020 Brooklyn Bowl Nashville – Nashville, TN
5/05/2020 Vinyl Music Hall – Pensacola, FL
5/07/2020 Pop's – Sauget, IL
5/08/2020 The Rust Belt – East Moline, IL
5/09/2020 Manchester Music Hall – Lexington, KY
5/10/2020 The Jefferson Theater – Charlottesville, VA
5/12/2020 The Orange Peel – Asheville, NC
5/13/2020 Elevation 27 – Virginia Beach, VA
5/14/2020 The Chance – Poughkeepsie, NY
5/15/2020 The Paramount – Huntington, NY
6/05-07/2020 Oblivion Access 2020 – Austin, TX
8/14-16/2020 Psycho Las Vegas – Las Vegas, NV
"Death metal's new breed of old ghouls mutates vintage fringe into the modern mainstream. Leveraging the rhythmic latitude of thrash and hardcore, CREEPING DEATH torque the genre's thick guttural trademarks with a ramrod propulsion and knockout delivery that's seemingly innate." – Decibel
"Wretched Illusions doubles-down on the intensity, delivering ten tracks that coalesce high-velocity attacks with Lone Star State–styled smackdowns akin to Power Trip." – Revolver
"One thing can be said about CREEPING DEATH: they're committed to their name… on the material from their upcoming new album Wretched Illusions, the band are exploring a moldier, more clammy-to-the-touch sound that oozes and lumbers as much as it rips…" – Kerrang
"Everything about this is ugly. Like the aborted lovechild of Dismember and '89 Bolt Thrower, CREEPING DEATH immediately raise the stakes for the wave of hardcore-infested death metal sweeping the United States." – Loudwire
"…a formidable debut that ensures CREEPING DEATH's place near the forefront of the OSDM resurgence." -– Exclaim
"Unrelenting in both its ferocity and listenability… I personally found tracks such as 'Bloodlust Contamination' and the doomier 'Corroded From Within' akin to very pleasant jackhammers to the face." -– Colorado Springs Independent
About eOne
Entertainment One Ltd. (eOne) is a talent-driven independent studio that specializes in the development, acquisition, production, financing, distribution and sales of entertainment content. As part of global play and entertainment company Hasbro (NASDAQ: HAS), eOne's expertise spans across film, television and music production and sales; family programming, merchandising and licensing; digital content; and live entertainment. Through its extensive reach and scale, and a deep commitment to high-quality entertainment, eOne unlocks the power and value of creativity.
eOne brings to market both original and existing content, sourcing IP from Hasbro's portfolio of 1500+ brands, and through a diversified network of creative partners and eOne companies including: international feature film distribution company Sierra/Affinity; Amblin Partners with DreamWorks Studios, Participant Media, and Reliance Entertainment; Makeready with Brad Weston; unscripted television production companies Renegade 83, Daisybeck, Blackfin and Whizz Kid Entertainment; live entertainment leaders Round Room Live; world-class music companies Audio Network, Dualtone Music Group and Last Gang; and award-winning emerging content and technology studio Secret Location.
http://www.creepingdeath.net
http://www.facebook.com/creepingdeathtx
http://twitter.com/creepingdeathtx
http://www.instagram.com/creepingdeathtx
http://www.entertainmentone.com
http://www.facebook.com/eOneMusicUS
http://twitter.com/eonemusicus
http://www.instagram.com/eone_music