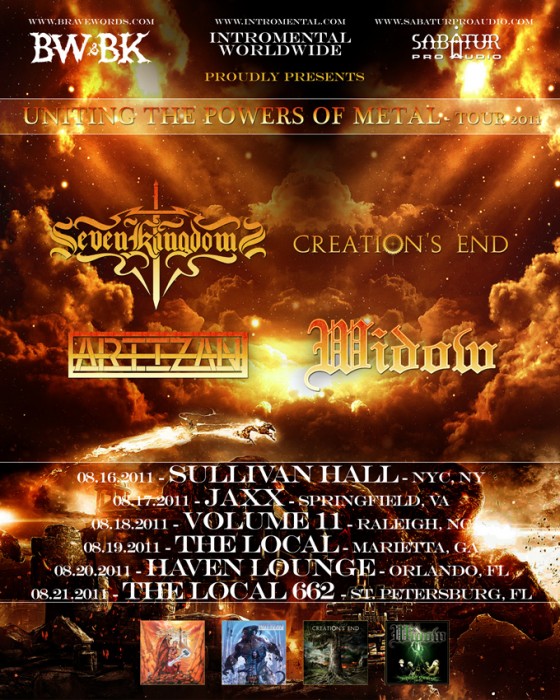 Progressive metal faction CREATION'S END are preparing to kick off their next leg of live appearances next week, this time in the form of the first Uniting The Powers Of Metal Tour.
Bringing together several like-minded forces within the North American metal scene, Uniting The Powers Of Metal's first official tour will showcase Artizan, Seven Kingdoms and Widow as well as CREATION'S END for a co-headlining six-date East Coast tour, where all four acts will trade headlining spots show-to-show. The festivities officially kick off this Tuesday, August 16 at Manhattan's Sullivan Hall, with shows in North Carolina, Georgia and Florida to follow, including a special one-off headlining appearance by Adrenaline Mob — featuring Mike Portnoy (ex-Dream Theater) and Russell Allen (Symphony X) — this Sunday at Jaxx in Springfield, Virginia.
Uniting The Powers Of Metal East Coast Tour 2011
Featuring: Artizan, Creation's End, Seven Kingdoms, Widow
8/16/2011 Sullivan Hall – New York, NY [tickets]
8/17/2011 Jaxx – Springfield, VA w/ Adrenaline Mob
8/18/2011 Volume 11 – Raleigh, NC
8/19/2011 The Local at Sidelines – Marietta, GA
8/20/2011 The Haven – Orlando, FL
8/21/2011 The Local 662 – St. Petersburg, FL
The debut Uniting The Powers Of Metal Tour is presented by Intromental Worldwide, Sabatur Pro Audio and Brave Words & Bloody Knuckles, with endorsements from Taye Drums and ENGL. Check out the official tour page here.
CREATION'S END features guitarists Rudy Albert (ex-Zandelle) and Marco Sfogli (James LaBrie Band), drummer Dario Rodriguez, vocalist Mike DiMeo (ex-Masterplan, ex-Riot) and bassist Joe Black (Chris Caffery, ex-Zandelle). The incredibly layered, explosive eight tracks unleashed on the band's critically acclaimed 2010 Sensory Records-released debut album, A New Beginning showcase the band's versatility, incorporating powerful melodies and dark, groove-laden displays of crushing, progressive metal. The band are currently constructing their anticipated follow-up to the album now, which will be released sometime in 2012.
"…simply one of the best progressive metal albums of the past year.15/16" – Progression Magazine
"The quintet blows through these epics with precision and grace, making a case for this band being one of the subgenre's future stars." – Outburn
"…complete with dazzling guitar leads and stabbing synths, the results are extraordinary. To top it all off, Neil Kernon handled the engineering on the album, and as you can imagine, it sounds great." – Sea of Tranquility
"With all this talent it is refreshing to hear that they don't really focus so much on the actual technical wizardry of the musicianship but on the writing of great dark, brooding melodic songs… " – Hellbound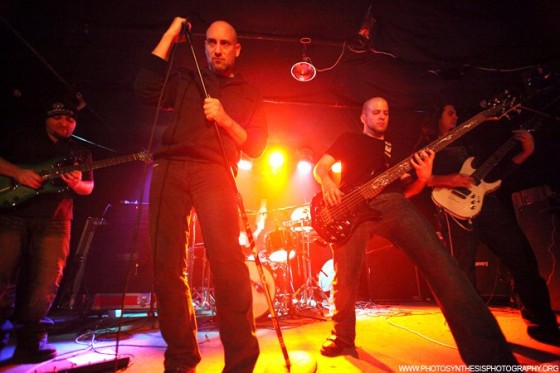 http://www.creationsend.net
http://www.facebook.com/creationsend
http://www.myspace.com/creationsendnyc
http://www.lasersedgegroup.com
http://www.intromental.com