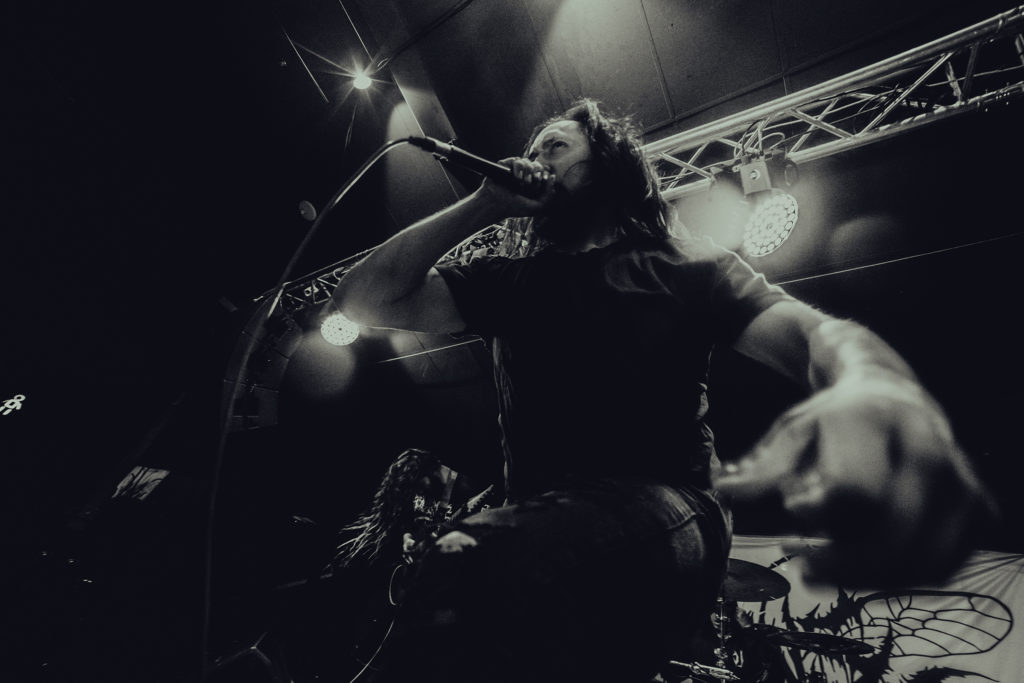 photos by Dylan Gould
Innerstrength Records is preparing to issue Texas' melodic deathcore quartet CRAFTING THE CONSPIRACY's The Cosmic Key II in late August. With the record's release less than a month away, Toilet Ov Hell is hosting the premiere of the new single, "Equilibrium (Earthbound II)."
The middle story in their ongoing Cosmic Key trilogy, CRAFTING THE CONSPIRACY's The Cosmic Key II delivers seven encompassing, dynamic tracks. The album was recorded by Connor Reibling of Hollowed Studios and Brojob and is completed with cover artwork by Caelan Stokkermans of Caelan Stokkermans Arts (The Acacia Strain, Soreption, Lorna Shore). Additionally, the album features guest vocals from Michael Alvarez (Flub), Jamie Hanks (I Declare War), and Christina Rotondo.
Reveals bassist Marcus Denzel Williams of the "Equilibrium (Earthbound II)" single, "I wrote the lyrics to this song in a way that could both tell the story clearly as well as be relatable in a real-world sense! At this point in the story our two characters are coming to terms with accepting that the only way to defeat the villain Serenisis is that they both must sacrifice themselves to create a power strong enough to take him down. Their love for each other and the bond they created were keys needed to do just that. The main idea I wanted to get across in this song is that love truly does conquer all when it's all said and done!"
Toilet Ov Hell writes, "the band unleash a cosmic torrent of aggression. Guitarist Sebastian Bracamontes shreds with a blazing solo that burns with the intensity of a red giant. Bassist Marcus Denzel Williams and drummer Gilbert Gonzales III pummel and drive the song like an asteroid breaking up in the atmosphere and slamming into the vulnerable earth below. What really brings 'Equilibrium (Earthbound II)' to the next level is the smooth and catchy clean vocals of Christina Rotondo. So many metalcore and deathcore bands try and fail at the 'good cop/bad cop' style of vocals, but Rotondo and Miranda nail it. It's harsh and yielding at the same time."
Stream CRAFTING THE CONSPIRACY's "Equilibrium (Earthbound II)" early at Toilet Ov Hell at THIS LOCATION.
Innerstrength Records will release The Cosmic Key II on CD and all digital formats on August 28th.
Find preorders at Apple Music and Spotify HERE, and Bandcamp including merch bundles HERE.
Watch for additional updates from CRAFTING THE CONSPIRACY to post in the weeks ahead and see the previously issued lyric video for "Cosmic Key III Dream Sequence" HERE.
West Texas is known for its endless oilfields more than anything, but it is also home to an emerging heavy band that's reaching for the stars. CRAFTING THE CONSPIRACY's seeds were planted in 2014 when guitarist Sebastian Bracamontes and then-drummer Edwin Aguilar approached bassist Marcus Denzel Williams and singer Josh Miranda, and within months, the band was formed. While members have come and gone, Miranda, Bracamontes, and Williams eventually rounded out the lineup with Gilbert Gonzales behind the drum kit.
With a sound in the vein of The Black Dahlia Murder, Rings Of Saturn, Fallujah, Born Of Osiris, and Thy Art Is Murder, CRAFTING THE CONSPIRACY released their first EP, Human Error, in 2015, followed by their debut full-length, The Cosmic Key, in late 2018. Since their inception, the heavy hitters have opened for the likes of Asking Alexandria, Thy Art Is Murder, Whitechapel, Aborted, Rings Of Saturn, and many others.
https://twitter.com/ctcbandofficial
https://www.instagram.com/ctcbandofficial
https://www.facebook.com/CTCbandofficial
https://craftingtheconspiracy.bandcamp.com
https://craftingtheconspiracyband.bigcartel.com
https://www.innerstrengthmusic.com
https://twitter.com/innerstrengthhc
https://www.facebook.com/innerstrengthrecords
https://www.instagram.com/innerstrengthrecords