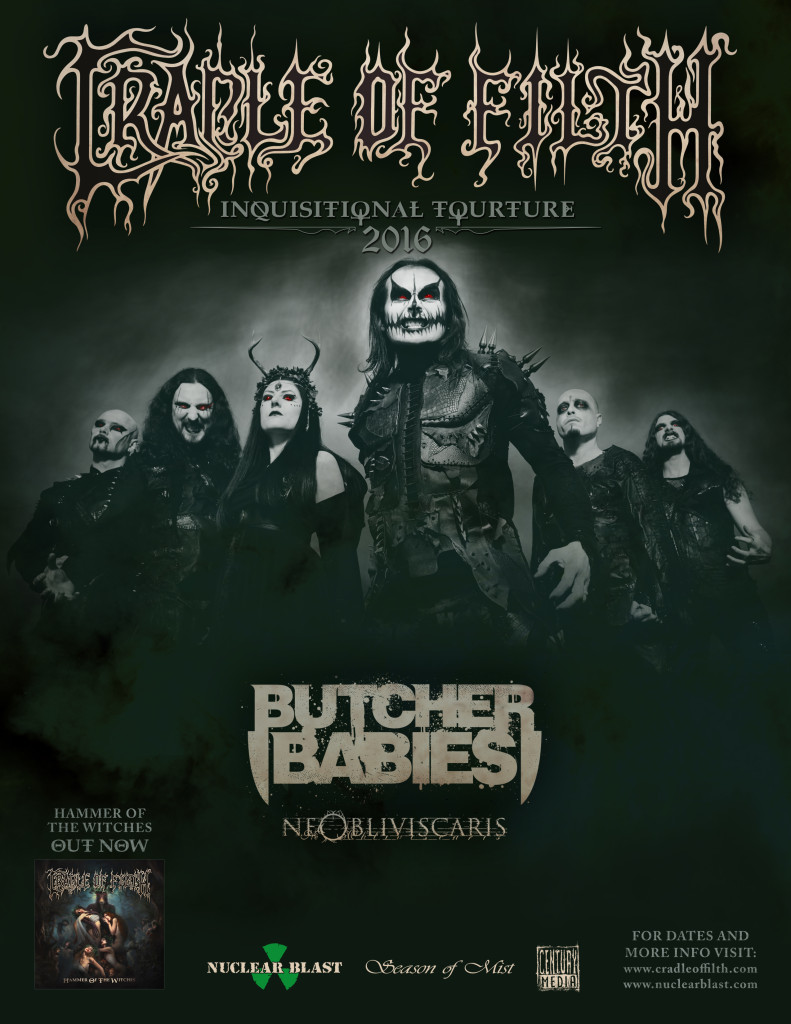 Barbarous hellhounds, CRADLE OF FILTH, will return to North America next year on the Inquisitional Torture Tour 2016! The debaucherous trek will run from January 26th through March 8th, leveling a total of twenty-seven cities. Support will be provided by Butcher Babies and Ne Obliviscaris. Tickets are now available at THIS LOCATION.
CRADLE OF FILTH w/ Butcher Babies, Ne Obliviscaris:
1/26/2016 Theater Of The Living Arts – Philadelphia, PA
1/27/2016 House Of Blues – Boston, MA
1/28/2016 Baltimore Soundstage – Baltimore, MD
1/29/2016 The Ritz – Raleigh, NC
1/31/2016 Filmore Charlotte – Charlotte, NC
2/01/2016 The Masquerade – Heaven – Atlanta, GA
2/02/2016 Venue 578 – Orlando, FL
2/03/2016 State Theater – St. Petersburg, FL
2/09/2016 New Daisy Theater – Memphis, TN
2/10/2016 House Of Blues – Dallas, TX
2/11/2016 House Of Blues – Houston, TX
2/12/2016 The Aztec Theater – San Antonio, TX
2/14/2016 Gothic Theater – Eaglewood, CO
2/15/2016 The Complex – Salt Lake City, UT
2/17/2016 Avalon – Los Angeles, CA
2/18/2016 House Of Blues – San Diego, CA
2/20/2016 Ace Of Spades – Sacramento, CA
2/21/2016 The Fillmore – San Francisco, CA
2/23/2016 The Showbox – Seattle, WA
2/29/2016 Q And Z Expo Center – Ringle, WI
3/01/2016 House Of Blues – Chicago, IL
3/02/2016 Bogart's – Cincinnati, OH
3/03/2016 House Of Blues – Cleveland, OH
3/05/2016 St. Andrew's Hall – Detroit, MI
3/06/2016 Phoenix Concert Theater – Toronto, ON
3/07/2016 Corona Theater – Montreal, QC
3/08/2016 Webster Hall – New York, NY
CRADLE OF FILTH's latest album, Hammer Of The Witches, was brought to fruition in Britain's Witch County, in darkest rural Suffolk at the reputedly haunted Grindstone Studios. The album's title is named after the "Malleus Maleficarum," a medieval document of guidelines regarding the persecution and torture of witches – but CRADLE OF FILTH's title version is more retributory: It's the Hammer Of The Witches; the hammer is in the witches' hands and it's payback time.
CRADLE OF FILTH have cast a commanding and macabre shadow across the metal scene for nearly a quarter of a century. Armed with their trademark, cross-pollinated assault that taps into myriad strands of sonic extremity and morbid opulence, they have steadily conquered the entire world, unleashing a malevolent slew of classic albums along the way. From the raw and rambunctious savagery of their 1994 debut The Principle Of Evil Made Flesh to the wickedly monstrous, technicolor bombast of 2012's The Manticore & Other Horrors, the CRADLE ethos and aesthetic has had a huge impact on the evolution of metal, the band's insatiable appetite for performing live and frontman Dani Filth's unerring charisma and sense of occasion ensuring that they have established a powerful and enduring connection with Hell-bound acolytes everywhere.
For live coverage inquiries contact liz@earsplitcompound.com.
http://www.cradleoffilth.com
http://www.facebook.com/cradleoffilth
http://www.nuclearblast.de/cradleoffilth